20-Minute Leaders
"I'm kind of curious. I like to learn a lot. It's something that I didn't do as a kid"
Miki Shifman, co-founder and CTO of Cylus, speaks to Michael Matias about great opportunities he saw in the railway sector
Railways may seem like a strange place to find a cybersecurity company, but Miki Shifman and his co-founder discovered that this 200-year old industry was a sector with great opportunity. In some places, trains are autonomous, and many trains are extremely fast, with systems in place to aid a driver who can't really keep up. As critical infrastructure, trains and railroads were also vulnerable to threats. Shifman helped found Cylus, where he is CTO, to provide solutions to keep trains running safely. In doing so, they started a category and gave Israel a real presence in the railway industry. He shares that there are advantages to starting a category and being able to focus on solutions for customers rather than beating the competition. He says a measure of their success in defining the category is that now Cylus does have competitors.

Click Here For More 20MinuteLeaders

You're the CTO of a company called Cylus and you're doing cybersecurity for trains and railroads. But I want to take you back to chess first. Candidate master, ranked top five in Israel. How did you get into chess?

When I was approximately 10, they had a chess class at school. Then I went to the local chess club. And ever since, I found myself liking this hobby. Chess taught me a lot about the world. I played a lot in tournaments. I learned what it means to be competitive but also how to be more patient, how to think about strategy and tactic things, and basically, how to analyze different situations. I still play it online.

You served in an elite unit in the IDF, Israel Prize for National Security?

After finishing high school, I went to university at something called "the academic reserve." Then, I was lucky enough to get elected to a unit called 81, probably one of the only interview sets I did in my life. They were quite hard. I remember my first day in the military and understanding that I had my computer science degree and I still didn't understand anything. I was lucky enough to serve next to an amazing set of people and learned a lot. What I learned was how to execute very complicated projects under constraint situations.

Being in a military setting, working on technologies in columns that are far beyond what we're seeing in the "default" world, was that a contradiction?

I think there's some advantage of working in the military on those projects because the military has a lot of resources. In Israel at least, you get to serve next to the smartest people. The challenges that I worked on were very meaningful. That's what also drove people to work extra hours and to work under very short timeframes.

The motto of our unit was something like, "Making the impossible possible." You've got very high-level problems that most people immediately said, "It's impossible." Then you somehow break it down into something that you can work on. That's what we did.
Miki Shifman, co-founder and CTO of Cylus. Photo: Cylus
Your co-founder, Amir, was in your chain of command, right?
I was lucky I used to work with him in the military, and he was my commander in my latest role. I was managing projects in the cyber department, and Amir was managing the whole department. Once we finished military service, we understood we wanted to work together in the next chapter.
Tell me the founding story.
We wanted to work on a big mission that somehow involves cybersecurity because we understood that, as a founder, you need also to focus on your strengths and focus on your experience and make sure that if you form a team, your team is going to be one of the best in the world in doing what you do. Cybersecurity is an area in which we both have experience from military service.
What fascinated us about railways was actually in Israel not many people know about them. But of course, for example, in Europe, it's very involved. When we started analyzing the transportation market, we realized that railways are already autonomous in some countries. We started to learn about those technologies. Of course, we consulted with a lot of industry experts. Today, we still consult with and hire people who are domain experts to make sure that we have the right knowledge. When we looked at railways, we understood there is a global challenge. You already have autonomous ones somewhere in the world, but you also have trains that are driving very fast.
It sounds like the combination is a point of opportunity.
When you understand that the train drives 350 kilometers per hour, you're thinking to yourself, "How can the driver even understand what's happening?" But he doesn't need to because he has systems that are in charge of making sure the train will operate safely. When you understand that, you realize that there is some sort of mechanism that gives the train commands, and that's the wireless section mechanisms. As a cyber person, when you look at such mechanisms, you see there's probably a cyber gap over there. That's what we understood back then.
We understood that trains will need to behave similarly from the cyber perspective. They need to be secure. Around the same time, companies in the railway business, also trains, have started to be targeted by threat actors. In the end, it's critical infrastructure. Since our founding back in 2017, we see that the industry realized that cyber security is a big challenge. Recently, there was an official standard in Europe that speaks about cybersecurity for railways. They started working on it a few months after we founded the company.
When you're starting this company, you don't have a train to work on. How does a startup get started?
Yeah, we don't have a train. First, what we did was go to speak with people from the industry. We asked them about the problem. When we understood there is a challenge, our next goal was to start developing some sort of a product, a proof of concept based on simulations. Those simulations helped us to emulate a railway environment and then how our product can actually protect such an environment from specific threats.
As a next step, we used this demo basically to get our first pilot with a national railway company in Europe. It helped us, of course, to get more information. Based on the experience that began in one project, we could accelerate our knowledge and then to get to the current level. We don't need physical trains to do that. We just need the equipment that actually produces the communication, for example, of the digital critical commands.
When you're looking at the people that are working with you, do they understand this mission?
What we decided to do was to go to this blue ocean, which is railways, and define a category. Maybe some indication for the success of this definition was that since then also competitors joined this category. We are happy with that. I think that what thrills people for working in Cylus is that, as someone who defines a category, you actually get more privileges than others because you're not necessarily needing to beat the competition. Here you actually need to start from nothing and build the optimal solution for the customer's challenge.
I think people here in Cylus are getting cranked up for the mission. We believe that when someone comes to work with us, he also needs to be connected to the startup and also understand the business context and how we impact the rail market globally.
Besides chess, what else fascinated you as a kid?
I didn't have one subject that fascinated me. I like computers a lot and all sorts of more scientific domains: math, chemistry and others.
What inspires you today?
Today it inspires me to build an impactful company. When we started with it, we didn't see Israel present in this arena. Two years ago, we were awarded an award by the International Railway Organization. It was, I think, the first time that Israeli company won such an award.
Three words you would use to describe yourself?
Optimistic, always trying to think about what the opportunities are in everything. I'm trying to be a warm person. It's important to me to be accessible. I'm kind of curious. I like to learn a lot. It's something that I didn't do as a kid, actually, but I'm doing it more and more now.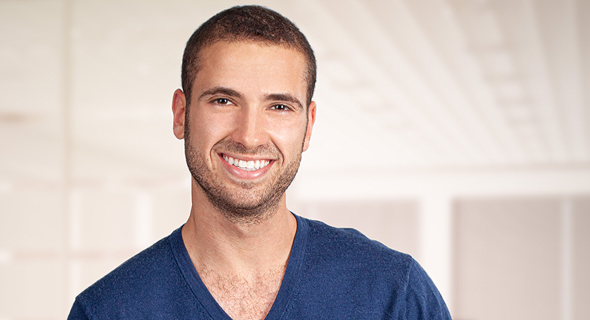 Michael Matias. Photo: Courtesy
Michael Matias, Forbes 30 Under 30, is the author of Age is Only an Int: Lessons I Learned as a Young Entrepreneur. He studies Artificial Intelligence at Stanford University, while working as a software engineer at Hippo Insurance and as a Senior Associate at J-Ventures. Matias previously served as an officer in the 8200 unit. 20MinuteLeaders is a tech entrepreneurship interview series featuring one-on-one interviews with fascinating founders, innovators and thought leaders sharing their journeys and experiences.
Contributing editors: Michael Matias, Megan Ryan