Cyber company Hunters bags $30 million Series B
The new round puts the company over $50 million raised so far. Hunters is expected to add dozens of new employees in the next year
Israeli cyber company Hunters raised $30 million in its Series B round led by the American venture capital fund Bessemer Venture Partners, and with the participation of the venture capital funds YL Ventures and Blumberg Capital, U.S. Venture Partners and M12, Microsoft's investment fund. This investment brings Hunters' total fundraising to $50.4 million, with the previous round involving strategic investors Okta Ventures and U.S. software company Snowflake.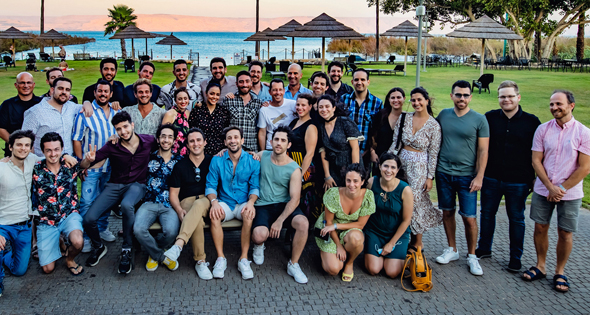 Hunters employees Photo: Victor Levi

Founded by Uri May and Tomer Kazaz, Hunters is developing a platform designed to protect organizations from intrusion and unidentified attacks on the cloud, the corporate network, and endpoints. According to May, the company's CEO and co-founder: "In the cloud era, in which the amount of the data organizations produce is huge, traditional security tools fail to provide a satisfactory answer to security teams' needs to identify and immediately investigate cyber threats ​​in the various computing environments, which leaves critical gaps. Our approach enables the integration of data from all computing environments and from all the organization's information security products. The system cross-checks data and automatically identifies suspicious events, ranks and prioritizes them according to its investigation and presents security teams clear information about any security incident which it recognized "

May added that "the new funds will be used to continue promoting innovation and expanding the platform, growing into new markets and hiring across the company's departments."

Hunters is expected to double in size within a year and add about 45-50 employees in Israel in R&D, operations, marketing, and finance positions. The company currently employs 65 people in Israel and the U.S.

According to Alex Ferrara, a partner at Bessemer Venture Partners. "Hunters' unique ability to identify minimal signals of attack that could not be detected in the past, and automatically cross-reference them to create a complete and context-based snapshot of the attack, is changing the rules of the game."