20-Minute Leaders
"Understanding the culture is a very different thing than understanding the language."
Speaking with Michael Matias, Mira Brancu, founder and CEO of Brancu & Associates explains how many problems are caused when we make assumptions about others
Having a mentor made a tremendous difference to Mira Brancu, founder and CEO of Brancu & Associates, when she started a new career path. In her first job, she had difficulty navigating the culture despite having immigrated to the U.S. at the age of 6. But with a mentor's help in a new field, she quickly moved to more prominent leadership roles. Brancu shares that not everyone has access to that kind of mentorship and the knowledge that comes with it, which is why she wants to provide helpful information to others. She has done that through co-writing a book on workplace politics, providing leadership coaching, and being a university professor, among other things. Brancu explains that many problems are caused when we make assumptions about others. Having a better understanding of your own perspective and biases can help you be a better leader, she advises.

Click Here For More 20MinuteLeaders

Mira, you're a consulting psychologist, leadership coach, writer, and speaker. I want to hear about your journey.

I live in the U.S. in North Carolina now. But I emigrated from Romania to New York with my parents a long time ago when I was six years old, and we were political refugees. Everything was a little bit more challenging than your typical move to a different country. I didn't understand the language at all. I think this started really early my interest and fascination with psychology and how people work. Because I couldn't speak with people in your normal, traditional way using the language, I would just really observe: How did people talk with each other? How did they navigate working together? Who was popular? Who had power and influence? How did they get to that position?

Once I finally learned the language and I started finally excelling in school, then I started a job in my first career as a school counselor. And I thought, "I'm going to be successful with the knowledge that I've gained so far." Lo and behold, that wasn't necessarily the case. Understanding the culture is a very different thing than understanding the language. And if you don't understand the culture and how to navigate the people, systems, and networks, just being able to read the policies, rules, and regulations are not going to get you far enough.

Later on, I started a new career as a psychologist. In that case, I had a really great mentor who really helped me understand those things. The difference was night and day in terms of my career success. My career catapulted to degrees I would've never imagined for myself. I had more and more leadership roles with larger national scope. That is not something that I imagined for myself. But it came from understanding how to navigate these complex systems and how work gets done.

That's how I came to really being passionate about helping women in leadership roles and how I became really interested in workplace politics. The fact is that not a lot of people have access to that mentorship. I was lucky enough to have that kind of special mentorship with that kind of information. As a result, I feel like it's not fair to keep that information to myself. I like to make it more accessible to other people. That's how I ended up co-writing Millenials' Guide to Workplace Politics.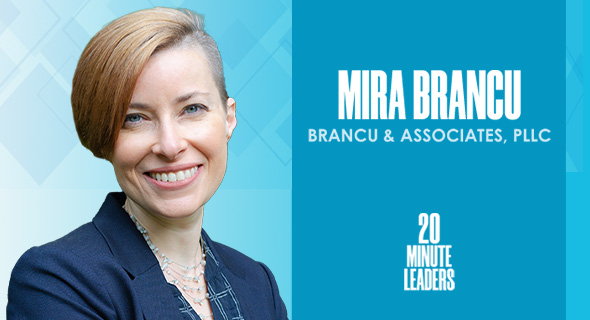 Mira Brancu, founder and CEO of Brancu & Associates. Photo: Mira Brancu/Brancu & Associates
What does it come down to that you're seeing that, with the mentorship, you had a jump in your career that many other people don't have?
Let me share with you a story of being without sufficient mentorship. In my previous career, there was this situation where I had read a policy or I saw training about ethics. I wrote this very long, thought-out email to the leader of my organization about how I thought that what she was doing was unethical. I thought back then she would receive it well, like, "Wow. Thank you, Mira, for helping me realize the error of my ways."
But my immediate boss came to me and she said, "Mira, you really messed things up." It only dawned on me then that maybe I did something wrong. She said, "Don't worry about it. I fixed it. I just told her that English was a second language for you and that sometimes you miss things." I thought, "But I have no problem with the language anymore." The problem was the cultural understanding. I felt like now this big fat "clueless" label was just smacked onto my head. I thought, "You know what? Clearly there's a lot of complexity to this that I didn't realize about navigating people who have power and influence."
A lot of what I learned later on was: How do you first have access to understanding your leaders and the way they think and what is influencing them? How do you get to the point where you can sit in on those decision-making bodies so that you can have an influence? That's one aspect of what I learned over time. The other is understanding that there are many people who have influence in the organization and could make a great impact, but they might not be in the positions you think they're in, and that could really help you. Maybe you can get to know them and grow your network and you can sort of grow your influence informally that way.
What are those key moments from your journey that would be relevant for the masses?
The first thing that comes up often is we all make a lot of assumptions about what we think is happening that are just based on our own perceptions. The first thing to really start working on as an emerging leader is understanding yourself well enough to know what you bring to the table. We all have our biases, but know what they are because you're in a position of greater strength when you know how to stop yourself from escalating a problem and making it worse.
Also being able to understand where someone else is coming from. I would say 80% of the problems happen because you're making assumptions from your own lens, your own perspective, and being able to take a step back from that (is important). You can do it through assessments, coaching like what I offer, therapy, mentorship and supervision, training, education. The more you do it, the better you get at it. I don't think this is a one-stop, one-shot deal. Our own personal development and understanding who we are makes us better leaders, makes us better as people who can manage politics.
Frankly, politics, in my opinion, is a combination of three things. One is very strong emotional intelligence, all of that self-awareness and how you work with other people. The number two is understanding systems, where you are in the context of the things around you and understanding all those things. And number three, understanding how to drive results. If you can understand those three things, then you can be much more effective.
I want to hear the story of how you proposed to your husband.
Yes, I proposed to my husband. I figured, "Why wait?" We had some friends over for New Year's Eve, 1999 turning into 2000. I was going to propose to him when the clock struck midnight. I created this entire scavenger hunt and it led our friends to a place outside where they found a camera and a note that says, "Feel free to take pictures while I propose." His clues led him to eventually one that said, "Sit down on this couch, close your eyes." He followed the clues. He sat down, counted to 10, opened his eyes, and there I am on my knee proposing to him with a ring. Our friends were barging in, screaming, taking pictures. It was great.
What really fascinated you as a child?
It really was sort of observing people and how they interact. I really was an observer.
What inspires you today?
I feel like it is the local leaders in my own community who are making such a big difference in the community. There's many people in the community that are "normal people," everyday people like you and me who have a vision, have a passion, and are making things happen that improve the lives of many people. That inspires me. I want to be like that.
What are three words you would use to describe yourself?
Intuitive or insightful; strategic or intentional; and compassionate or kind or thoughtful.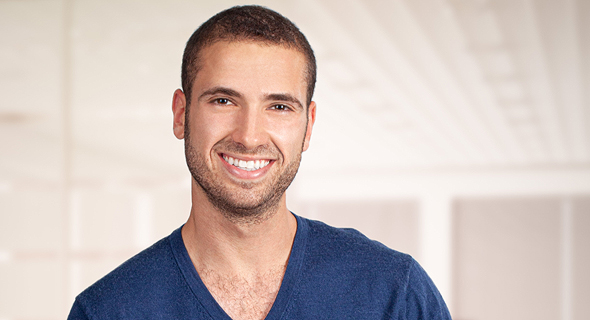 Michael Matias. Photo: Courtesy
Michael Matias, Forbes 30 Under 30, is the author of Age is Only an Int: Lessons I Learned as a Young Entrepreneur. He studies Artificial Intelligence at Stanford University, while working as a software engineer at Hippo Insurance and as a Senior Associate at J-Ventures. Matias previously served as an officer in the 8200 unit. 20MinuteLeaders is a tech entrepreneurship interview series featuring one-on-one interviews with fascinating founders, innovators and thought leaders sharing their journeys and experiences.
Contributing editors: Michael Matias, Megan Ryan