Appointments
Synthetic data startup Datagen adds four new VP's to management team
The company develops visual simulations and recreations of the real world
Israeli AI startup Datagen Technologies has announced the appointment of four new VP's. Tal Darom will serve as VP of R&D, Dr. Jonathon Laserson as Head of AI Research, Karine Regev as VP of Marketing, and Hadas Sheinfeld as VP of Product.

Datagen was founded in 2018 by Ofir Chakon (CEO) and Gil Elbaz (CTO) after the two had met while studying at the Technion - Israel Institute of Technology, specializing in three-dimensional computer vision.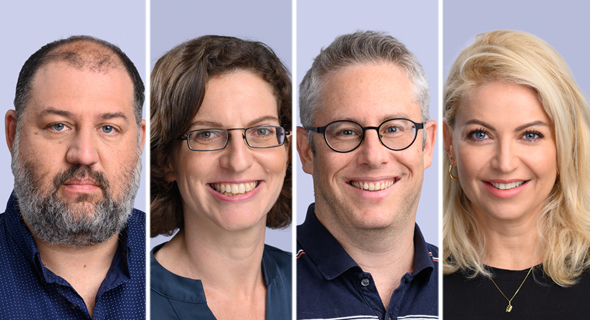 Karine Regev (from right), Jonathon Laserson, Hadas Sheinfeld and Tal Darom. Photo: David Garb

The company develops visual simulations and recreations of the real world. Controlling the physics of a simulated environment allows machine learning models to be trained more efficiently and at a far greater scale, eliminating current bottlenecks of relying on manual collection of real-world imagery. Datagen's simulations that mimic the statistical patterns found in the "real world" offer a solution to the publicly available datasets currently being used by computer vision teams which often include images of real people and places scraped off the internet or manually captured from the real-world using labor-intensive operations. Datagen customers include Fortune 100 companies across a variety of industries.

Tal Darom, Datagen's new VP of R&D, previously held the position of senior R&D officer at Amazon Laboratories Israel. As Director of Computer Vision and Machine Learning, he led the development of computer vision-based features for Echo Look and Amazon Halo.

Dr. Jonathon Laserson, the new Head of AI Research, has extensive experience in the field of AI and holds a Ph.D. in the field from Stanford University. Previously, he served as a senior software engineer at Google and as a lead researcher at PointGrab. Most recently he was the chief AI strategist at Zebra Medical (recently acquired by Nano-X).

Karine Regev is the company's new VP of Marketing. Regev has extensive experience in marketing and business development, leading projects with market leaders such as Alcide, acquired by Rapid7, and Aqua Security.

Hadas Sheinfeld, who joins Datagen as its VP of Product, was at Google previously, where she was responsible for the infrastructure of massive scale, serving over 100 products and their respective engineering teams.