20-Minute Leaders
"I love being around people that have these really big dreams."
Mor Assia, founding partner and co-CEO of iAngels, joins Michael Matias for a talk about entrepreneurship and her experience in 8200 and the Technion
Being around people with really big dreams inspires Mor Assia, founding partner and co-CEO of iAngels. She shares that huge, scary dreams are a crucial element they look for in entrepreneurs. Assia says they like to invest in companies that have the potential to be category leaders and the conviction to make it happen. She explains that the founding of iAngels as a VC firm and investment platform came from a desire to be a bridge between interested investors and the Israeli ecosystem. Through her time in 8200 and the Technion, Assia had a lot of connections to founders she could leverage. She also gained many lessons on her leadership journey through those experiences. In the military, she got to learn from a lot of specialists around her. In her math and computer science program at the Technion, she learned about resilience and pushing through very stressful situations.

Click Here For More 20MinuteLeaders

Go all the way back even to when you were in 8200. What really drove you throughout your career?

The first conscious decision that I made to dive into the space was in 11th grade. In Israel, when you are in high school, you already choose a major. I chose physics, computer science, and the top math. It's kind of funny to think that through that elimination process where I really wanted to choose the things that I felt I was the strongest at because it was easy to me, these are the choices that were very important down the road. Because you choose computer science and physics, then you are scouted by the top units in the military.

This has definitely been helpful to being on the radar of 8200. And 8200 was one of the best experiences and I think one of the most interesting roles that women have in the military. I had a technological role in 8200 and an opportunity to see some unique technologies, working with people who are specialists in encryption, algorithms, and data science. I had an opportunity to learn from different people around me. I think this was very much an experience that grounds you or helps you become a better leader.

And afterwards, I was accepted to the Technion to study mathematics and computer science. It's a very, very intense program. I just wanted to get through that first year. Then the second year, you're like, "Oh my God, what have I done?" By the third year, you're just, "Okay. I have to finish. I have to pedal through and finish the best way I can." And that's what I did. It also kind of taught me a lot about pedaling through and how much you can endure, how much you can really work through in situations where everything is so stressed, so much work.

What gets you through it? When you're in the middle of the trenches and all the difficulty, you have a lot of people around you that chose different paths, right?

The first year is very, very difficult. The drop rate from my program in the first year is over 50%. So, the fact that you're there in the second year and you see around you just barely half the people, you're like, "There is a reason I'm here, and I'm not going to throw out the window everything that brought me to this day." The people who stayed really became the glue of one another (and) helped people make it through. It almost feels like a team effort. It's very, very difficult to be alone and do it by yourself.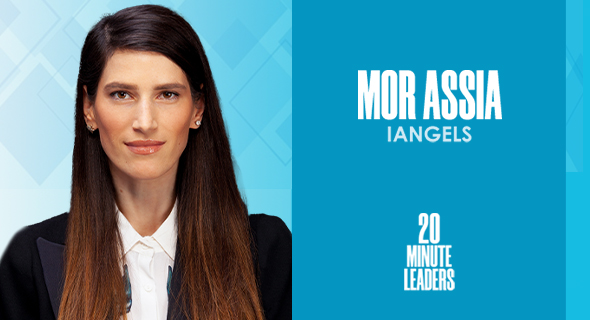 Mor Assia, founding partner and co-CEO of iAngels. Photo: iAngels
Talk to me about the founding of iAngels. What led you to think of creating this VC fund?
I was always working in corporate. I started my career as a software engineer. I had an experience in New York that connected all the dots that all of a sudden you realize that you are in this hub of business. People really want to engage with what's going on in Israel, but they almost feel like outsiders. They don't really know who to trust, where to go, how to navigate. People are used to being very active in managing their own investments in the US and feel like they should be doing the same thing in a different region. They are really seeing this as a major challenge.
I met Shelly, my partner, when I was in New York. When I was pregnant with my second child, I told her, "Listen, there's a real gap. We can be a bridge between everybody who wants to engage with the Israeli ecosystem. Nobody has this kind of access. Nobody understands the ecosystem like an industry insider. Somebody who grew up here, who knows all the founders. We can be the eyes and ears on the ground of everyone who wants to come in." She's like, "You're crazy," and maybe I was because both of us had great things going. It took a few months for me to convince her that this makes sense.
We became essentially entrepreneurs. We founded this business like a startup company. This is a product company. At the same time, we're creating a marketplace. We want to bring on members and people into our VC platform. And on the other hand, create a state-of-the-art, institutional grade offering where we originate and do due diligence and everything on these opportunities and enable a very high-quality group investing.
We wanted to enable each investor, whether it's institutional, semi-institutional, family office, or individual, to be your own VC. This is what we wanted to do for ourselves. This was like a challenge that we recognize as young professionals. We were like, "Who does angel investing like in the old age?" You don't even know what's going on with the companies. That was the key motivation. We wanted to bring it to the next generation. I wanted to do it much better, more efficient, more transparent.
You're focusing on specific trends within the Israeli ecosystem. What are those? And why those specifically?
As somebody who's been following the Israeli ecosystem for many years, you can really recognize cycles and innovation around specific sectors, like the automotive space or agri-tech. We really try to recognize it, really, before it happens. Develop a thesis around a specific sector and then make the investment in the companies that we feel can have a real opportunity to be a category leader and be positioned well in the global setting. We generally like to invest in companies that at least have the opportunity to be a billion-dollar company or to really make a change in the world, really be a category leader. We want to back the companies that believe that they have a chance at making it really big.
Tell me about where you're at today with iAngels.
We just recently announced our new fund, iAngels Ventures Fund. It's the new institutional fund that we collaborated on with the European Investment Fund, one of the top institutional investors in the world. We also have plans for the next offerings or next products, like a growth fund and an additional early-stage fund. We see our companies mature and we want to be able to not only support our portfolio companies, but also come in where it makes sense. It's also exciting to be an entrepreneur these days. I think it's a great time.
What sparked your curiosity as a kid?
I grew up with two brothers. It was always gaming, sci-fi movies, futuristic movies. These are the kinds of things that made me look at the future or what I think the future might look like. I'm a total sci-fi geek. I'm shocked that some of the movies that I enjoyed growing up, in terms of the technology, we're not there yet.
What inspires you today?
I love being around people that have these really big dreams. And they know, they have the conviction that this is what's going to happen. As Richard Branson said, "If your dreams don't scare you, they're too small." This is the kind of environment that we cultivate in our company and the kind of DNA that we look for in entrepreneurs. And at the end of the day, we want to have fun.
What are three words you would use to describe yourself?
Maybe other people will describe me as problem-solver, creative, and funny.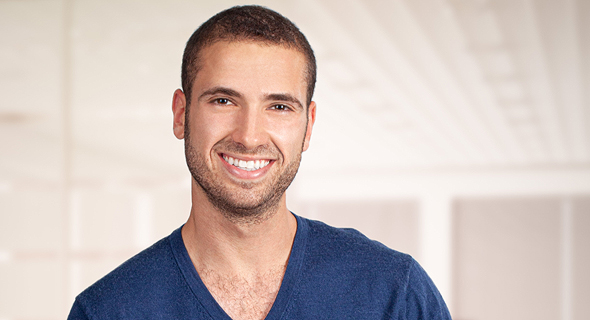 Michael Matias. Photo: Courtesy

Michael Matias, Forbes 30 Under 30, is the author of Age is Only an Int: Lessons I Learned as a Young Entrepreneur. He studies Artificial Intelligence at Stanford University, while working as a software engineer at Hippo Insurance and as a Senior Associate at J-Ventures. Matias previously served as an officer in the 8200 unit. 20MinuteLeaders is a tech entrepreneurship interview series featuring one-on-one interviews with fascinating founders, innovators and thought leaders sharing their journeys and experiences.

Contributing editors: Michael Matias, Megan Ryan