Interview
"An Israeli company can reach not only a $20 or $50 billion valuation but also $100 billion"
Michael Reitblat and Liron Damri met at 15 and today their fraud prevention company is rapidly growing and is valued at $3 billion
In December 2019, Michael Reitblat (39) and Liron Damari (38) signed a lease for two stories on one of the new office towers in Tel Aviv. Forter, the company they set up together in 2013, was supposed to move into the 31-story Recital H-tower as early as 2020, but the Coronavirus halted everything.

Just this past summer, in July, Forter, which specializes in identifying and preventing e-commerce fraud, unveiled its beautifully designed new floors. The celebrations, as is customary in the industry, were also beautiful and grand, but also presented a not-so-simple problem - the two floors were not enough to house the company's 200 employees in Israel.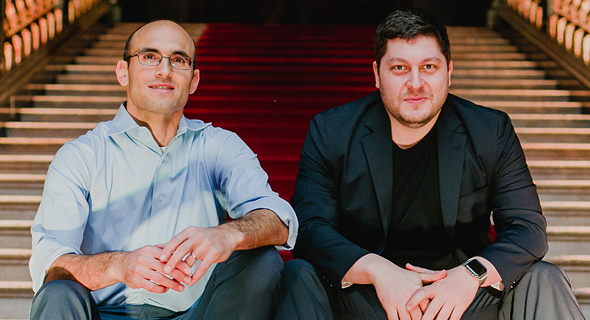 Forter founders Liron Damari (left) and Michael Reitblat. Photo: Avi Raul

And so, while the employees were celebrating, Damari and Reitblat were immersed in the search for new offices. Paradoxically, or not, in today's real estate high-tech reality, and despite the fact the paint has not yet dried and the parking lot still looks like a construction site, there is no single free cubicle left that Forter could grab. JFrog, which went through an IPO in 2020 and is valued on the Nasdaq at $4 billion, is occupying several floors, and Snyk, which is currently raising funds at a valuation of $8.5 billion, is also spread over a few of floors.

Meeting rooms in Ma'ale Adumim and Hatzor Haglilit

How did two talented founders of a company that raised $300 million at a valuation of $3 billion last May not think about securing more space in advance? The pre-Corona reality did not foretell Forter's spike in business, and especially in value. At the time of signing the lease for the offices, Forter was just another start-up out of many in Israel, however, it did create intrigue thanks to an investment from Sequoia, the most respected venture capital fund in the world.

Yet, the $50 million raised in 2018 was at a company value of about $300 million and the number of employees at the company stood at a few dozens. But as early as November 2020, amid the second wave of Covid, Forter became a unicorn with $125 million raised at a value of $1.2 billion before money, and six months later, its value doubled to $3 billion, making Forter one of Israel's biggest privately-owned tech companies in terms of value. It currently employs 320 people.

"No one will give up the floors he rents, everyone just wants more," Reitblat said in a special interview with Calcalist. This is Reitblat and Damari's first joint interview, which, under Covid restrictions is conducted in a manner that neither side has experienced before. Reitblat and I are sitting on the 30th floor of a Tel Aviv office, while Damari, who is in the U.S., joins via Zoom. Ironically, Damari lives in Israel, while Reitblat relocated to the U.S. in 2015 during the beginning of Forter's heyday.

And despite Forter's rise, unlike many other companies, the founders find themselves debating whether it would be more convenient to hold this interview in the Ma'ale Adumim or Hatzor Haglilit conference rooms. Not very glamorous titles, but for Reitblat and Damari, who came from these two cities, the social message is important. "If everyone who lives in the periphery reads what is written in the newspapers today, they will not even try to get into high-tech. We want to prove that you can make it even if you come from Hatzor, Ma'ale Adumim, or Kfar Yona, like Alon Shemesh, Forter's third founder who has since left," Reitblat said.

How did an immigrant from Russia from Ma'ale Adumim and a religious kid from Hatzor Haglilit grow to be worth more than a billion shekels?

"I wear the same shirt, sit in the same chair and eat from the same plate," Damari laughed. "While it is important to remember that valuation and net worth are not always the same, but yes, I am the example because I was just this nerd, and success for me meant heading a small law firm in Israel's north. That is why it is so important to show what success in high-tech looks like so that the children in the periphery know what to dream about."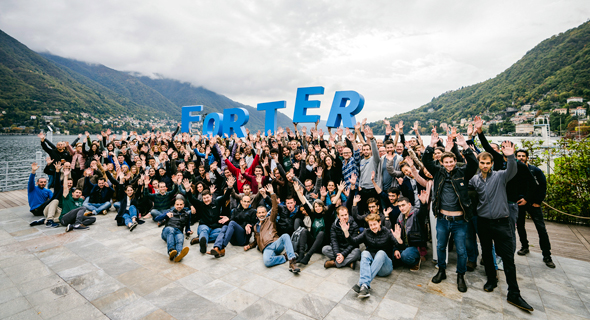 Forter employees. Photo: Avi Raul

"I generally do not think there is such a thing as a periphery in Israel. Our office in London is farther away for most employees than the distance between Tel Aviv and Beer Sheva. However the main issue preventing the tech workforce to scale from 10% to 30% isn't programming nor math, it is English. Israeli companies have an advantage over US or European ones since due to the small local market here they must be global immediately, but for that you need to know English."

The realistic conservative and the fantasizing technologist

The two met at 15, but it is not like they came up with the idea for a startup back in high school. The long-standing acquaintance, which is unusual even in Israel, where everyone knows everyone, is indeed evident in their body language and their communication, in their perfect coordination and clear role assignment. Reitblat is the visionary, he is the fantasizing technologist. Damari is the practical conservative who pulls Reitblat back to the ground when necessary. Reitblat is the one giving presentations to investors, getting them excited about the company's future, while Damari faces the employees.

Reitblat served as an officer at an Intelligence technology unit, a common stop on the Israeli start-up entrepreneur road. Damari, on the other hand, who wears a kippah, followed his service at the Intelligence Directorate with a Master's degree in philosophy.

"Unlike Michael, I was not a computer guy in high school," Damari recalled. "When I joined the military I did not have a connection to technology, but a friend offered me to join a start-up to pay for school." Reitblat stood out in the army and right after his service, he received an offer from to join Imperva, a cyber company founded by Shlomo Kramer after leaving Check Point. From Imperva, Reitblat eventually arrived at Fraud Sciences which was sold to PayPal for $169 million in 2008, Damari joined the company too, which became arguably, Forter's spiritual mother.

Four years after the PayPal deal, and about 15 years after they first met, Shemesh, Damari, and Reitblat went on a trip to the U.S. as the three were at a certain crossroads. "Liron was debating whether to accept an offer to work for PayPal Israel, but at the end of the trip we decided to make the leap," Reitblat recalled. "I got the ok from the family to work six months without a salary," Damari added.

Could you imagine that in less than ten years you would be worth $3 billion?

"We are still away from ten years for the company," Reitblat insisted. "We officially started in 2013 and by 2023 we will be far over the $3 billion valuation. I just showed someone the deck we made for Sequoia when we did our first $3 million round - then the entire US eCommerce market was $250 billion per year and now in the last year just at Forter we have handled over $250 billion. And that amount is just a fraction of what it would be in five years."
Forter's Tel Aviv office. Photo: Yair Sagi

Damari quickly cooled his partner's enthusiasm: "Michael always thinks very far and very big and that is the difference between us. I did not understand the levels and speed the online shopping world will reach. Many of the questions we first had were 'how big is it really?' But now we understand that what is happening is only the beginning of what is still to come."

The strategy: only automated tools

Forter is of course not the only company to identify the online shopping anti-fraud market's potential. In fact, less than a mile from its offices, there is Riskified, which since about a month ago is traded on Wall Street, currently at a value of about $4 billion. Riskified is only one among many companies that competes with Forter and, according to estimates, is larger than Forter in terms of revenue. However, Forter chose a unique strategy, which it adamantly adheres to - detection and prevention carried out only through automatic tools without human contact. Everything is based on artificial intelligence and analysis of past transactions. At Riskified, for example, the process is partly automated as it automatically flags suspicious transactions before human analysis.

Risikifed claims that not everything is possible with automation and that you also understood it and some things are done in a "human" manner.

"We understand and have always understood that complete automation is the right way. The only thing I am learning here is that Risikifed has not yet achieved full automation," Reitblat stated with characteristic determination. "In this context, I have an amazing statistic that can illustrate what it does. 2007 Cyber ​​Monday was the best day for Fraud Sciences because it processed 1,853 transactions. At Forter there are days we process 1,800 transactions per second. If it was not automatic, how could it have been done? Our technology also makes it possible to analyze 180,000 transactions per second, which is why I understand that in five years we will be in a different place in the market."

Every purchase of a product online is now examined in a prism of the buyer's credibility or the means of payment used. More specifically, anyone who buys on Asos or Shein, the most popular sites in Israel, goes through the Forter screening process, as the two giants are among its customers. Other big customers are major sports brands, American retail giant Nordstrom and the popular cosmetics retailer Sephora. Each buyer examination takes 0.3 seconds.

"We can work faster than everyone else because we ask a different question from most of our competitors," Damari explained. "We rather ask if the buyer is legitimate and not a thief than ask if the payment method is legitimate. It is not a credit card's fault if it gets stolen, you have to look at the person. In today's world, it is legitimate to use someone else's card when shopping online. It is also allowed to shop online from anywhere in the world. Unlike others, we want to get a maximum of people through and I am not interested in the individual thief. I am even willing to pay the price for it because I will learn from it and it will save me the cancellation of ten thousand other transactions. The best way for the machine to improve is to let it make mistakes."

"We reduce customers' rejection percentage by 60% to 90% and that translates into a 2% to 20% increase in sales. We have seen quite a few customers whose sales have increased by 20% since they use Forter and it is crazy of course because some of them do not grow like that in a year," Reitblat added.

How is it possible that all the rest miss so much examining suspicious transactions? Sounds like your strainer is too big.

"Once you take the human factor with its biases out of the picture, it changes dramatically," Reitblat claimed. "Back in the day at PayPal, there was an unwritten rule that every PayPal purchase attempt from China is stopped. The company never made that decision, but the American staff who examined the deals determined that every attempt to use an American card from China was fraud. After the merger, we led the decision to change that policy and understood that there may be an American who is relocating to China and wants to use his American credit card from there. Due to the change, PayPal sales in that region went up by 20% while fraud levels did not change."

$45 billion in quarterly transactions

Due to its fast processing method that is based on large quantities, Forter does not absorb "mistake" costs, i.e. approving a transaction that turns out to be problematic in retrospect, and in return takes a smaller percentage of each transaction that goes through it. Everything is based on size advantage. Reitblat and Damari also explained that the need to fill their "machine" with a lot of information resulted in slower growth and less revenue, leaving Forter smaller than Riskified. "Because of the different model, they have more revenue and more employees, but we have higher profitability rates than the 50% they have because we do not absorb the risk. We may get less per transaction, but we will keep more for ourselves," Reitblat said.

Forter's numbers are not disclosed in its financial statements because it is privately owned, but according to the company, it handled $45 billion in transactions in the first quarter. According to its reports, Risikifed reached $21.5 billion in the same period. Forter is estimated to have crossed the $100 million mark in revenue during 2020, meanwhile, Risikiefed expects revenue of $225 million in 2021 based on an annual growth rate of about 50%. "Riskified got a little stuck last year and we are growing at twice the rate as them today, although we are still at lower numbers. We are also more efficient per employee," Reitblat stated.

Eventually, our conversation keeps going back to Riskified. It is already valued at $5 billion, you are at $3 billion, and in the end, you are two players on the same field, why not merge instead of competing and create a real Israeli giant?

"This is a question we have been asked since 2013 because there is the trauma of Taboola and Outbrain (two competing Israeli companies operating in the same market with a similar product that had already signed a merger that was eventually canceled. Since then each has gone through an IPO). Our world is so much bigger and full of different players. In Israel, it seems that it is them or us, but there are many other companies in the world and customers who have not heard of them or us. That is all we are today - 1.5% of what e-commerce will be in five years," Reitblat said, as Damari immediately tries to soften things up a bit.'' We are crossing our fingers for them. The fact that there are other competitors saying things that sound similar to ours helps us change the industry. It is difficult, as an individual, to tell the customer - send us the transactions and we will check everything ourselves. We are even crazier because we say no one will examine these deals either."

So, if there is no merger with Riskified, eventually one of the credit card companies will come and buy you.

"Hell no," Reitblat quickly replied. "For our model to work we must be independent. All credit card companies have already bought a fraud detection company, but that does not completely solve the problem. Also, not all thefts are necessarily credit card related. Today, for example, the hot trend is to steal frequent flyer points."

Criminal organizations that trade with each other

Are there differences between thieves in expertise or geographical areas?

"Theft is an industry, it is not about the individual. These are criminal organizations that trade with each other," Reitblat explained. "One steals credit card numbers, another builds unique tools like non-existing entities, who do not steal but sell data. Cryptocurrency helps them develop because they trade among themselves."

If you aren't merging or selling then you must be planning on going public. You must have received offers from SPACs.

"SPAC calls are worse than robocalls," Reitblat said, "about 30-40 messages by email or LinkedIn, or text message, it comes from all directions. SPAC is a way to catch the wave quickly instead of building a healthy company. Our entire board does not care for it, and our investors understand that the most important thing is that Forter remains an independent company, and becoming a public company is one of the ways, but not the only one, to do so. Everyone is talking about the current momentum, but I was in tech in 1999, and 2001, and 2008. Everything goes up and down and you cannot catch the wave. But I do not care about it, I will be worth $50 billion," Reitblat declared, as Damari is quick to back his partner. "An Israeli company can reach not only $20 or $50 billion, but also $100 billion. It is simply that there have not been companies with such income and growth yet."

Reitblat continued by saying that "shortly after we concluded our first funding round, there was an interview published with our old boss from Imperva and he said there will not be another company as big as CheckPoint in Israel. I saved that file because it was obvious to me that there will be companies five and 10 times bigger than Check Point. In the past, people built the technology in Israel and gave it to IBM or Cisco, or EMC to sell it. Microsoft did it with Adallom whose product today probably generates $1 billion in revenue. EMC bought Xtremio and turned it into a billion-dollar business. I do not want to give my billions to EMC or Cisco, I want to make them myself and here in Israel. If we need to raise another $500 million, we will do it. In two years, there will be another 20-30 Israeli companies the size of Check Point more or less."

It is already boring to bring up the issue, but in pursuit of incredible valuations, financial standards have been neglected. What about profitability? It's hard to shake off the feeling that part of the growth comes from simply subsidizing the customer.

"Just because a company loses does not mean that customers are subsidized. But Forter can be profitable in one day, it's a decision because it will come at the expense of growth," Reitblat answered the regular answer from high-tech entrepreneurs. "There is a rule that says that if you grow by more than 40% you are allowed to lose, but if you are not growing, you better show revenue."

When fundraising at these rates the expectation is that everything will happen very quickly. The feeling here is that there is pressure to meet expectations and fast.

"We know the competition in the market, but we do not go out of our way to be in the game," Damari replied. "We need to keep the noise away, to deal with what is important to the employees. We decided for example to give employees another day off once every two weeks - this is a long-term relationship and it improves the work as well. If we go crazy and bring in 50 workers just because we need to do so fast, they will not adapt. If our goal is to recruit many employees and generate a buzz to get a high IPO - I am not in this game because I do not know when the music will stop. We are now building the company with the most satisfied customers and the most satisfied employees because in a decade we will be a company with billion-dollar profits."