Israel's Hip Mobility merging with US competitor and rebranding as HQ
The new corporate transport provider and booking platform is set to be one of the biggest in the world and reach one million journeys during next year
Israeli company Hip Mobility, which has developed a platform for commuter shuttling, is acquiring U.S. corporate ground transport specialist SummitQwest Ground to set up a new merged company named HQ. The new corporate provider and booking platform is set to be one of the biggest in the world and reach one million journeys during next year. The cash and shares deal is estimated to be valued at tens of millions of dollars.

HQ will compete with fellow Israeli company Gett, which offers similar services in Europe and the U.S.

Hip co-founder and CEO Amiad Solomon will serve as HQ's CEO. SummitQwest founder and CEO Jeff LaFave will continue as managing director of the SummitQuest business.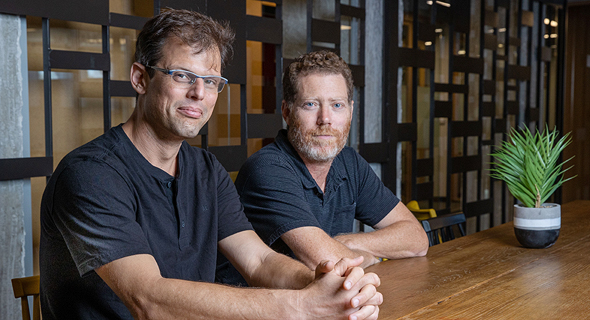 Hip Mobility co-founders Amiad Solomon (right) and Itay Ovits. Photo: Yahav Cohen

"We have built a platform that can accommodate journeys at a magnitude like that of Uber and Lyft," Solomon told Calcalist. Soloman estimates that his company is currently the biggest player in its sector in the U.S., reaching $100 million spent on journeys over one month. "We are the Booking.com of the corporate transport sector. Our system is being used by 40 major organizations to book all their ground transport - shuttles, rental cars and any corporate journey."

HQ provides services to dozens of Fortune 500 companies, including AIG, UBS and Goldman Sachs. The company has raised $12 million to date, including from NFX, Magenta Venture and AltaIR, and plans to embark on another funding round in the near future. It currently employs 36 people and is in the process of recruiting 20 additional developers for its R&D center in Israel.