Report: 36% of Israeli companies report weekly cyberattack attempts
The Cyber Readiness Report by Acronis explains the modern cybersecurity landscape and pain points faced by businesses around the world
A new report from Swiss-based cybersecurity company Acronis has highlighted that among the countries in the world, more than one-third of Israeli companies have witnessed cyberattack attempts at least once a week. The findings were from an independent survey of 3,600 IT managers and remote workers from SMBs in 18 countries.

"The cybercrime industry proved to be a well-oiled machine this year – relying on proven attack techniques, like phishing, malware, DDoS and others," explained Candid Wuest, Acronis VP of Cyber Protection Research. "Threat actors are increasingly expanding their targets, while organizations are held back by the growing complexity of IT infrastructure. Only a small number of companies have taken the time to modernize their IT stack with integrated data protection and cybersecurity. The threat landscape will continue to grow and automation is the only path to greater security, lower costs, improved efficiency, and reduced risks."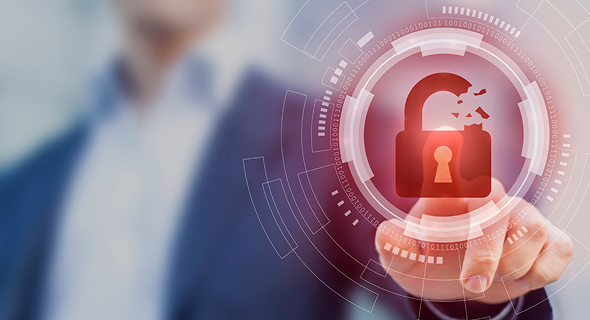 In Israel, 43% of employees reported that they receive 1-5 phishing attempts per week. Photo: Shutterstock

Israel rests within the EMEA which is the most reported region in the world for attacks. The country reported 36% of companies experiencing weekly attacks attempted, which is slightly more than the average rate of 30%. Bulgaria topped the list with 55% of IT managers reporting weekly risks.

The last year posed unprecedented challenges for SMBs and remote workers as everyone was sent to work from home, loosening security measures and ultimately making it easier for hackers to penetrate a network. One-quarter of remote workers aren't using a basic security measure, such as multi-factor authentication, and phishing attempts were reported at their highest ever levels (58%) as the main form of cybersecurity attacks. In Israel, 43% of employees reported that they receive 1-5 phishing attempts per week, the highest rate after the Netherlands and Switzerland.

One way to mitigate some of the risks with remote working is to adopt more SaaS and Cloud Computing services to help use trusted software that will keep employees and businesses safe from attacks. The demand for better secure remote monitoring and management tools grew from 10% to 35.7% this year, and the demand for antivirus solutions has grown by 30% - from 43% last year to 73.3% in 2021.

Acronis was founded in Singapore in 2003 and later incorporated in Switzerland in 2008. Today it has 1,700 employees in 34 locations in 19 countries. Its cybersecurity solutions are used by 5.5 million homes and 500,000 companies. Its annual Cyber Readiness Report was conducted in September-October 2021 and respondents were evenly split between remote workers and employees in corporate IT teams. Participating countries were Israel, Australia, Bulgaria, Canada, France, Germany, India, Italy, Japan, Netherlands, Singapore, South Africa, Spain, Sweden, Switzerland, UAE, UK, and the U.S.