Meet the Israeli unicorns and high tech stars at Mind The Tech NY
After a two-year break, the Calcalist and Bank Leumi conference will bring together the hottest American and Israeli names in the high tech industry in New York, between November 15-17
After a two-year break, the Calcalist and Bank Leumi conference is returning, featuring the hottest American and Israeli names in the high tech industry. The three-day conference will include social, business, and professional meetings, and take place between November 15-17 in New York City. The conference will feature interviews and lectures on the central stage as well as meetings at round tables led by international investment funds and leading Israeli firms. The conference will open with a celebratory cocktail party hosted by Bank Leumi that will take place at the Refinery Rooftop.
For more details and registration click here .
During the second evening, JVP will host a cocktail party at the international cyber center, Margalit Startup City in New York. On November 17, the America-Israel Friendship League - 50th Anniversary Gala will take place nearby, featuring former U.S. President George W. Bush and former Israeli President Reuven Rivlin. "We waited a long time to celebrate the win of science, innovation, and technology, and this will be a special meeting between both the American and Israeli high tech and business industries. We are just as excited as we were ahead of the first ever international conference that we held a few years ago," said Calcalist Publisher Yoel Esteron.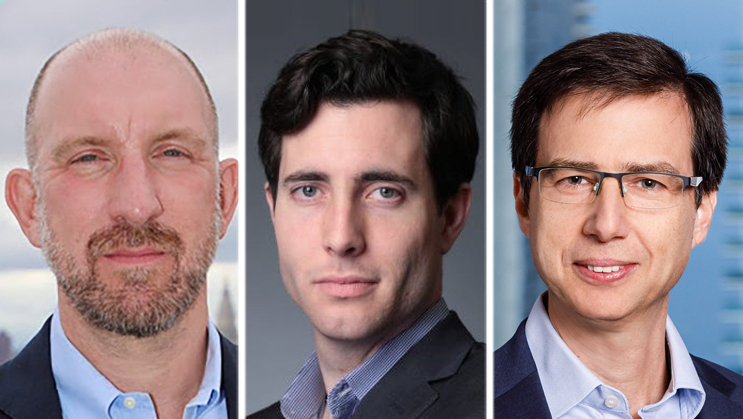 From right to left: Freidman, Curtius, Venables, and Zarmi. Photo: Calcalist

The opening day of the conference will begin with a lecture by Leumi CEO Hanan Friedman, Calcalist's main partner in organizing the conference, and will include some of the most interesting and sought-after speakers in the field:

John Curtius, a Partner at Tiger Global Management, a hedge fund that specializes in technology and was one of the first investors in global giants Facebook and LinkedIn. During the past two years, the fund gained meteoric momentum and became a particularly strong force in investing in startups in Israel and around the world. Some of Tiger's most prominent investments in Israel include SentinelOne, Rapyd, Redis Labs, Papaya Global, Snyk, and more.

Phil Venables, the CISO of Google Cloud and a member of the special presidential team for science and technology, is one of the world leaders in cyber risks and ways to cope with them with his unique knowledge of how enterprises, both large and small, need to be prepared to deal with the latest threats.

John Korngold of Blackstone, Director of the Growth Fund (BXG) and Co-Director of Technology Investments, who oversees some of the largest investments in technology at the largest investment firm in the world will also be attending. Blackstone, which opened a branch in Israel last year, raised $4.5 billion for its growth fund. It manages $619 billion in assets and employs over 3,000 people.

Rachel Loeb, the President and CEO of New York City Economic Development Corporation, the branch of the municipality which is meant to promote economic growth and supporte neighborhoods in New York City.

Carl Eschenbach, a Partner at Sequoia Capital will also be in attendance. The total valuation of the companies he's invested in stands at $400 billion, with the most prominent investments including Snowflake, which recorded the largest initial public offering (IPO) in history for a software company when it went public last year at a $33 billion valuation, and Zoom where he has been serving as a board member since 2016. Some of Eschenbach's most prominent investments in Israel include Gong, Armis, and Salt Security.

Jesse Laskaris, the Director for Performance Data, Operations, and Technology at Disney Streaming, is responsible for the company's development and operations for its streaming services, which include three significant mentions: Disney+, Hulu, and ESPN+ - featuring hits such as The Mandalorian and Wanda Vision, Disney is the most tangible threat to Netflix's hegemony in streaming, and is on its way to taking the crown as the most popular streaming service. Laskaris is responsible for technological operations of the company's complex set of services, which provides instant content to tens of millions of users worldwide.

For more details and registration click here .

Samer Jassar, born in the Israeli-Arab village of Jatt, is the Director of Basketball Strategy & Analytics at the NBA champion Milwaukee Bucks, and the most senior Israeli figure in the top basketball league in the world. Jassar is a former basketball player, and is responsible for building the team that led the Milwaukee Bucks to the championship.

Saagar Kulkarni, Partner at the American equity firm, Stripes Group, will also be in attendance. Some of his most prominent investments in Israel include Monday.com, Verbit, RapidAI, and Snyk.

Prof. Ellen Goodman from the prestigious law school at Rutgers University, a world expert in social media network regulation will also speak. She specializes in areas such as free speech, media regulation, privacy, information ethics, and empowering digital platforms. Her model for taxing social media and transferring money to publishers is considered a groundbreaking idea, and has inspired moves such as the tax on Facebook in Australia.

Exposure to venture capital

Senior partners and executives from prominent venture capital funds will also attend the conference, including Teddi Wardi, Managing Director at Insight Partners, which invested in companies such as Shopify, Hello Fresh, WalkMe, and Israeli Monday.com; Erel Margalit, one of the most senior figures in the Israeli venture capital industry, founder of JVP, which is considered a significant factor in promoting startups and companies in Jerusalem, the Galilee, and New York. In addition to his activity in the venture capital industry, Margalit conducts extensive social activities such as the JVP association that strives toward promoting equal opportunities in education. In attendance will be many other notable figures, including: Josh Brennan, Partner at YL Ventures, which has invested in companies such as Axonius, Orca, and Hunter; Yodfat Harel Buchris, Managing Director at Blumberg Capital, which has invested in Any.Do., Fundbox, and MediGate; Gideon Argov, General Partner at New Era Capital Partners, Natalie Refuah, Partner at Viola Growth, which has invested in SimilarWeb, Trigo, and BlueDot; Lotan Levkowitz, General Partner at Grove Ventures, which has invested in Lumigo, Neuroblade, and RapidAPI; and Oded Hermoni, Managing Partner at J-Ventures.

As part of the conference, as in previous years, the Qumra fund, headed by Boaz Dinte, Erez Shachar and Sivan Shimri Dahan, will unveil the ranking of the top ten companies with the highest potential to be market leaders in their fields. The ranking seeks to uncover innovative Israeli technology companies, which are growing rapidly and becoming market leaders. Some of the companies included in previous rankings include Snappy, which completed a $70 million funding round last May, nine months after raising $25 million, with the company's CEO also appearing on stage among the conference speakers; Vim, which raised $60 million in May led by insurance giant Anthem and pharmaceutical chain Walgreens; Papaya Global, which became a unicorn in March after raising $100 million; and Capitolis, which in August acquired American company LMRKTS for $50 million.
From right to left: Shimri-Dahan, Mokady, and Jassar. Photo: Calcalist

The conference will be hosted by Nimrod Kozlovski, a senior lecturer of the Cyber Department at Tel-Aviv University and the head of Cytactic, a company that manages cyber crises.

The conference will also be attended by Global X's head of research and strategy, Jay Jacobs; Israeli Mapped in NY founder and CEO, Guy Franklin; Israeli Consul in New York, Asaf Zamir; New York Economic Attaché Anat Katz; Senior Vice President, CIO and Director of Leumi Technologies at Bank Leumi, Haim Skolnik; Leumi Tech CEO Timor Arbel-Sadras; Amit Lang, former Director-General of the Israeli Economy Ministry, who currently heads EMS Mekorot Projects, a subsidiary of Mekorot that specializes in the design, construction and supply of infrastructure, facilities, and systems of water, sewage and treatment, and is considered a world leader in the infrastructure and water facilities; Partner and head of technology at KPMG Israel Dina Pasca-Raz, and KPMG Partner Itay Falb.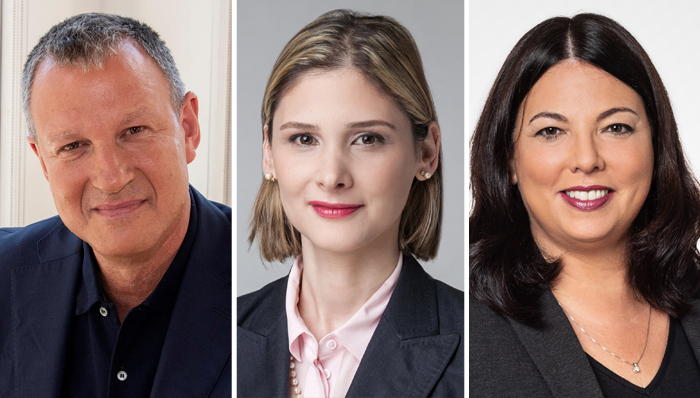 From right to left: Arbel-Sadras, Pasca-Raz, and Margalit. Photo: Calcalist

A unicorn parade

The unicorn parade on stage will include Udi Mokady, the founder and CEO of the Israeli cybersecurity company CyberArk. The company, which went public in 2014, is traded on the Nasdaq at a $7.5 billion valuation, and is considered one of Israel's pioneers in the cyber industry, leading the way for many of the companies that completed IPOs over the past year. Others include Riskified, which was founded by Assaf Feldman, who serves as the company's CTO. The company developed a platform to prevent credit card fraud for online retailers, banks, and other customers, and optimizes online purchases when making several purchases on many different platforms and channels. It's system increases the rate of transaction approvals by banks, and offers customers additional methods of payment. In 2019, after it completed a $165 million round, the company became a unicorn.

Michael Reitblat, the co-founder and CEO of Forter, a software company whose valuation has reached $3 billion will also be in attendance. Forter developed a combined platform to prevent fraud and currently protects over a billion customers around the world from credit card fraud, stolen identities, and account takeover.

Tal Chalozin, a co-founder and CTO of Innovid, will also be in attendance. Innovid has recently completed a merger with a special-purpose acquisition company (SPAC), and manages the largest independent platform in the world for digital ads on smart televisions, and was one of the industry's pioneers which examined how the internet and television platforms are interconnected. Innovid developed a technology that will enable consumers to connect to their televisions in an interactive way, before the market existed.

Prashant Fuloria, a Hindi born in Iraq, dreamed of becoming a rockstar when he was a young college student in New Delhi. He joined a young company, then-named Google, while it was still private, and went on to serve as CPO at Facebook. Today, he is the CEO of the large Israeli fintech startup Fundbox, and in his free time plays music with senior executives from Twitter, Dropbox and Facebook. Fundbox was founded by Eyal Shinar and so far raised $450 million. Today, it is in talks to merge with a SPAC at a $1.5 billion valuation.

Michael Shaulov, founder and CEO of the cryptocurrency company Fireblocks, which completed in July a $310 million round at a $2 billion valuation will also be attending. Fireblocks' platform extends the digital asset use beyond Bitcoin to areas such as payments, gaming, NFT, digital collateral, and enables any business to become active in the digital assets arena. Fireblocks' technology can be used as a white label service, enabling financial institutions to implement and market direct custody services without the need to rely on third-parties.

The Israeli startup K Health, which is owned by Allon Bloch, developed a digital health platform based on data. Last year the company raised $123 million at a $1.4 billion valuation, doubling its previous valuation. Its rapid growth is attributed, among other factors, to the coronavirus (Covid-19) pandemic which brought a leap in demand for its services as many couldn't access a doctor, so the company's solution was aptly timed and inexpensive.

Assaf Peled's Minute Media is preparing for an IPO at a valuation of over a billion dollars. The company enables sports fans to create rich multimedia content, videos, written content, and photos, through which they can act as storytellers, and present personal and behind-the-scenes clips of sporting events. The company, which was chosen in April as Calcalist's most promising startup for 2021, is expected to record this year an annual recurring revenue of $170 million.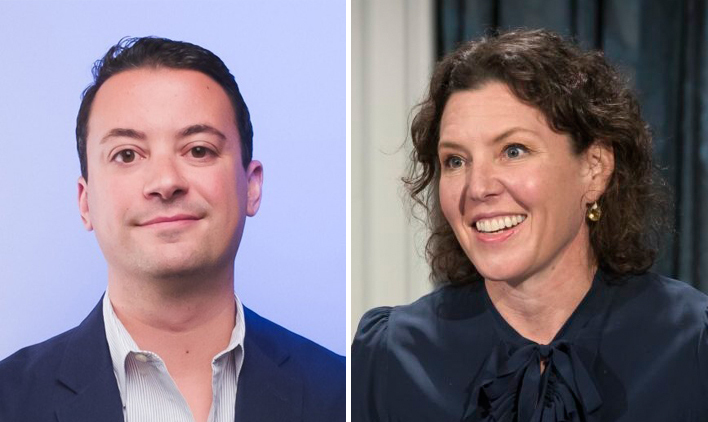 From right to left: Loeb and Lasakaris. Photo: Calcalist

Cybersecurity startup Orca Security raised a $550 million Series C round at a $1.8 billion valuation in October. Orca's technology is unique in that it doesn't rely on software agents that are often not properly implemented in organizations. The system is able to achieve total and rapid coverage within minutes, and does not use code to run on an enterprise's cloud. The CEO, Avi Shua, says that this solution is unlike others on the market which achieve coverage within a few weeks. In addition, the system does not generate workloads and prioritizes and filters through thousands of different security alerts, revealing the critical ones, while providing insights into proper security measures.

Other notable representatives from growth companies will join this year, and there is a high chance that they will go on to become the next unicorns. Those include Saar Yoskovitz, the founder and CEO of Augury, which develops an Internet of Things (IoT) platform, which enables continuous monitoring of industrial machines mechanical parts, using a system that detects vibrations, temperature changes, and more using sensors. The information is continuously collected, transmitted to the cloud and analyzed using algorithms that combine mechanical and operational models. Last year, the company raised $55 million in a round led by Qumra Capital and with the participation of well-known funds such as Qualcomm Ventures.

The $70 million that Salt Security raised in May joins the $30 million that it raised less than six months prior from Sequoia Capital, and took the cyber company's total funding to $131 million. The company is headed by Roey Eliyahu, and Salt develops an API (application programming interface) security system. Some 83% of the volume of all internet traffic passes through APIs, but despite the volume of information and its sensitivity, it is an easily-hackable interface.

The gifting platform Snappy Gifts is led by founder and CEO Hani Goldstein, which recently completed a $70 million round in May, which joins the $25 million that the company raised last year. Snappy grants gift receivers the ability to choose whatever present they desire from a variety of choices that have been carefully picked by smart algorithms. The platform also expedites the entire process, from logistics to being environmentally-friendly.

The delivery startup owned by Dekel Valtzer, AVO, completed a $45 million round in September of this year. The company operates in the delivery sector through the Association of Building Tenants, and provides its services to office workers and more. The company currently has thousands of registered buildings, corporations, universities and hospitals that it supplies with food and groceries, and office workers and tenants can simply order products through the member's website or app.

Shimon Elkabetz is the founder and CEO of the weather prediction company Tomorrow.io, which raised $77 million last March. The company, which was founded in the U.S. by three Israelis, developed a smart weather platform that allows users to receive an accurate weather forecast up to 500 meters every minute. This year, it also announced a particularly ambitious project, where it plans to launch dozens of radar satellites in the coming years, as part of an aim to significantly approve weather forecast capabilities.

Versatile, a company that engineers smart weather cranes, raised $80 million in September. Its CEO Meirav Oren, founded a company that develops sensors which can be attached to building cranes and enables them to avoid overtime and ensure they operate as efficiently as possible.

Lastly, Nadav Maman, is the founder and CTO of Deep Instinct. The cyber company developed a solution that uses artificial intelligence and deep learning algorithms to create an effective defensive solution that exists on devices and protects against zero-day threats and advanced cyberattacks. The system is capable of forecasting such events as well as the detection and prevention of cyberattacks.

For more details and registration click here .