Biotech startup Immunai earns unicorn status with $215 million Series B
The Israeli company has developed a technological platform that maps the entire immune system for better detection, diagnosis, and treatment of disease
Israeli biotech startup Immunai announced on Wednesday that it has raised a $215 million Series B at a valuation of just over $1 billion. Immunai, which uses single-cell genomics and machine learning to discover and develop novel therapeutics that reprogram the immune system, has raised $295 million to date, completing a $60 million Series A just eight months ago. The Series B was led by Koch Disruptive Technologies, with participation from Talos VC, 8VC, Alexandria Venture Investments, Piedmont, ICON, and more, including previous investors.

"We have developed a platform that analyzes and maps the immune system with very advanced single-cell genomic methods and artificial intelligence," Noam Solomon, Ph.D., CEO and co-founder of Immunai, told Calcalist. "Humanity celebrated 20 years ago the mapping of the human genome and we have mapped the entire immune system with millions of cells that are connected to one another. This has resulted in a bank of cells in different states of health and disease. Our technology shows what happens to our immune system and provides insights that allow us to develop new medicine and treatments.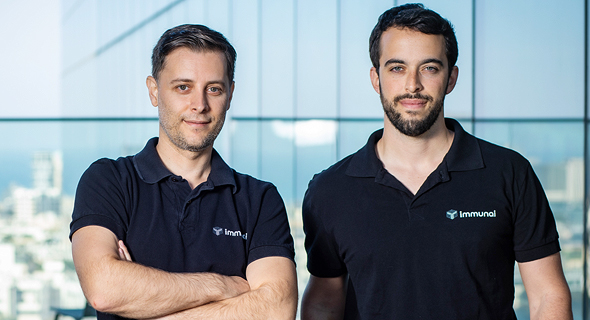 Immunai co-founders Noam Solomon (left) and Luis Voloch. Photo: Arik Sultan

"Our engine can evaluate the quality of the treatment and its chances of being approved by the FDA," Solomon added. "We help companies to test their best developments and accelerate a process that usually takes 10 years. We are like GPS guiding companies and helping them choose the right direction."

Immunai has leveraged its proprietary technologies and more than 25 academic partnerships to build AMICATM, the Annotated Multiomic Immune Cell Atlas, the world's largest data atlas of clinically-annotated single-cell immune data. This atlas, combined with Immunai's team of immunologists and computational biologists, provides unique insights into underlying biology that drives disease etiology, allowing the company and its partners to discover novel targets as well as analyze and develop existing pipeline compounds.

"I'm not interested in being acquired. You can't lead a real change in the world of pharma if you are acquired," explained Solomon. "We have a huge variety of employees, from former Unit 8200 members to former employees at Google and Facebook, who know how to build an engineering infrastructure. Each one of our samples is a full terabyte of data. My only incentive is to enable the quick development of treatments and I don't want to be acquired."

Solomon is very optimistic regarding the future of his company. "We will go public in the future but I'm not rushing anywhere. When we feel secure in our process we will go public. We can become one of the most significant companies in the world."

Immunai has tripled in size in the last year, with more than 120 employees (70 of whom are Ph.Ds or MDs) in New York City, Tel Aviv, Zurich, Prague, and San Francisco. The company employs 55 people in Israel and plans to double its workforce in the country over the coming year. Immunai has more than 30 partnerships with Fortune 100 pharmaceutical companies and leading academic institutions, including Harvard, Stanford, Memorial Sloan Kettering, and Baylor College of Medicine.

Immunai was founded in 2018 by Noam Solomon (CEO) and Luis Voloch (CTO) who were joined by Ansuman Satpathy, a professor of cancer immunology at Stanford University, Danny Wells, a current member of the Parker Institute for Cancer Immunotherapy, and Dan Littman, a professor of molecular immunology at New York University, all three of whom joined the team as founding scientists.

The funding comes on the heels of Immunai's acquisition of Nebion and the addition of world-renowned scientists and engineers, including Robert Langer, ScD, to the Board of Directors, Jacques Banchereau, Ph.D., as Chief Science Officer, and Mark Jacobstein as Chief Business Officer.