Insurtech company LeO completes $5 million Seed round
The round was led by iAngels and Menara Ventures, which will help the company expand its activities in the U.S. market
Israeli insurtech company LeO has announced that it completed a Seed round totaling $5 million, in order to help expand its operations in the U.S. market. The round was led by iAngels, who contributed $1.7 million in cooperation with the Menara Ventures public partnership, which invested a similar amount.

It is understood that Unicorn Technologies invested $750,000.

LeO is developing an artificial intelligence platform that produces and makes information more accessible for salespeople, insurance agents, and other officials. The company, founded in 2017 and run by Liri Halperin Segal, has developed a "personal AI sales assistant" in the industry. Prior to this round, LeO raised roughly $3 million from investors such as ICONYC and angel investors such as Eric Banoun, Dima Shafranovich, Jonathan Lampert, Gil Smolinski, and others. The Israel Innovation Authority received approvals for grants totaling NIS 1.8 million ($565,000).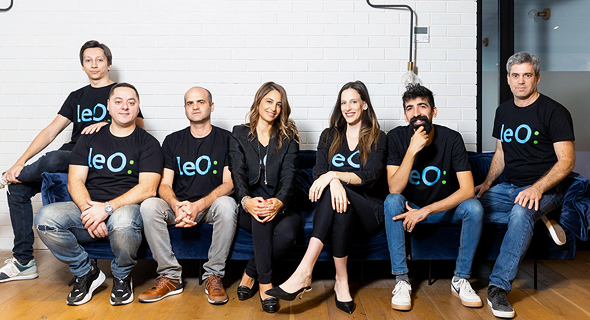 The LeO Team. Photo: Efi Semeach

"Completing the current round is an exciting milestone for us," said Halperin Segal, who is the company's CEO. "The fundraising - along with the knowledge and experience brought by the teams of iAngels, Menara Ventures, and Unicorn Technologies - will help us accelerate and deepen our activity in the U.S. market, which is our main target market, while at the same time expand our research and development activities in Israel. We are currently working with one of the leading agencies in the United States in the insurance market and are already in contact with several leading insurance agencies regarding the assimilation of our products within their operational and marketing system, and are also working to expand our market through a potential connection to a leading technology company."

In 2020, LeO was selected by Accord as one of the top 10 companies in innovation. It has signed a license and services agreement with one of the 10 largest insurance agencies in the U.S, as well as pilot agreements with other agencies. Today it has integrated with an unnamed American technology giant based in the insurance sector that boasts a value of $5 billion, and serves more than 500,000 users. In 2017, it received a $120,000 investment from Techstars and also also included investment from SFBI. The company has raised $8 million to date.