20-Minute Leaders
"Funding food-tech is exactly where I want to be. This is what is needed in Israel."
As the founder and CEO of Millennium Food-Tech, Chanan Schneider works toward solving problems by investing in late stage food-tech startups
Before he entered the food-tech space, Chanan Schneider had a conviction that it would change the world. Food-tech can affect how we deal with population growth and climate change, he explains, and help solve health issues like diabetes and obesity. Now the founder and CEO of Millennium Food-Tech, Schneider works toward solving those problems by investing in late stage food-tech startups, who have the technology and product ready but need to take the next step. Millennium also provides the help and support these companies need. He shares that many CEOs in food-tech are new to startups, even if they have food industry experience. He also sees more seasoned entrepreneurs from the medical field who know startups but not food. So he and others at Millenium take time to teach founders whatever they need to know to take their companies to the next level.

Click Here For More 20MinuteLeaders

Chanan, tell me a little bit about yourself, about your journey, who you are.

I'm all the time dancing between operational positions and investor positions. I started in the capital markets, Poalim Capital Markets and Discount Capital Markets. When I sat on the board of directors of several companies, I understood that for me to tell the CEO what to do or what I think he has to do, it has to be with merits.

I established a company with Yossi Gross, Beta-O2 Technologies. I started my journey as a CEO with a heavy operational background, managing R&D and activities, raising funds from Israeli and US-based venture capitalists. I did deals with big American companies. Then I moved to be a venture capitalist at Agate. I moved back to manage Nitiloop, where I did big clinical trials, FDA approvals, etc.

Then four years ago, I managed to be with Mr. Jacques Beer, the owner and CEO of Tempo Industries. He told me that a new tender is coming for the food-tech incubators up in the north of Israel. He said, "I don't know about startup companies, but I know that I want to be in food-tech." I said, "I know a lot about managing startups, but I don't know a lot about food-tech." But I knew that food-tech is going to change the world.

Then we merged, basically. I worked with the Tempo Group. We won the tender and established the Fresh Start incubator. Then I moved with a group of capital markets guys, and we co-founded Millennium Food-Tech, where I'm now the CEO. We invest in food-tech companies, but in their later stage. When you're talking about food and beverages, it's a trillion dollar market share. It's amazing, and it's affecting every one of us.

I will give you the framework of what we see in the Israeli ecosystem in food-tech.

About seven to eight years ago, we saw the big companies awakening and starting to find technologies in the places of sugar reduction, pork reduction, alternative proteins, etc. We saw a migration of scientists in Israel that got grants from outside of Israel. So, then came the science. About four and a half, five years ago, the first incubator in Israel, The Kitchen Hub, started together with the visionary Strauss Group. And we saw that a lot of these companies, about 300 companies, moved from the science and the technology to the "POC level." Maybe they've done some pilots. Now, they need money for scale-up, regulation, selling, etc.

This is exactly where I want to be. This is what is needed in Israel. There is almost no dedicated fund in food-tech in Israel. There are incubators, but the upper layer or the next in line investment vehicle, there were almost none until we came.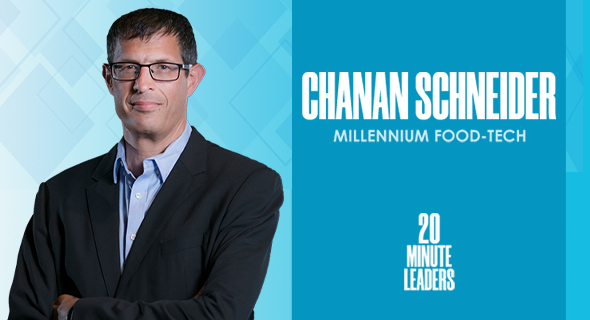 Chanan Schneider, founder and CEO of Millenium Food-Tech. Photo: Shlomi Harel
What has been happening over the last few years in food-tech? And what is it like even to build a company in the food-tech industry versus traditional industries?
We didn't used to see anything in food-tech. Entrepreneurs and CEOs of these companies came from other places, mainly the medical side. This is the closest field, I would say, to food-tech.
The population is rising, and the climate is in big change. On the medical side, you look at diabetes and weight gain: these are huge problems of the world. The food-tech industry that is now right in this start of the J-curve is trying to deal with that. The big companies of the world and also in Israel declare that they are going to do something in these areas and invest in that or do pilots in that field. This drives the business.
For example, if you look at the Technion, they used to have faculty with the title of "biotechnology and food engineering." In biotech, there were nine researchers, and food engineering was one old guy. Now, more than 60% of this faculty is dedicated to food-tech.
The tools the food industry used to use were salt, sugar, protein from animals, tastes and colorants, synthetics most of them. Today, all their tools have vanished because of the "red reform" where you have to give a sticker on the product that you have high sugar, high, fat, etc. They cannot use salt; they cannot use more sugar. They are changing the ways of getting colorant and taste because some of them are considered to be cancerous. Nobody wants to kill animals to get proteins. Nobody wants gluten anymore.
What is it like for the entrepreneur to be going through the earlier growth stages of a food-tech company versus more mainstream industries?
When we look at food-tech entrepreneurs, most of them weren't CEOs before. If you look at the cyber and the communication startups, you see a lot of second timers. In the food-tech area, a lot of these entrepreneurs don't know what it is to be a CEO of a startup company. This is something that we as Millennium will help them with and mentor them to do personal development in order to be a CEO of a successful startup company. We do also see CEOs coming from other industries that already have done something, mainly from the medical side. But in many ways, we see that the entrepreneur, you have to mentor them, you have to help them. They don't understand what is a term sheet, what are the terms in the term sheet, what is fully diluted, what is preference rights, etc.
Also, we take managers from the big companies in Israel, and they don't know what it is to be a startup. They understand the market; they have to understand what you need to do. They understand sales and marketing, but they don't understand what it is to build a startup.
When you do a due diligence process on a company in the food-tech sector, do you observe that is it a similar process to a traditional tech company?
Basically, it is very similar. But you have to take into account the special parameters that are there for the food-tech startup, such as regulation. This field is heavily regulated.
And when you look at these companies, it's very easy to understand the size of the market, which is huge. You cannot be overwhelmed with this big market. You have to find the niche that you are going into and how you're going to penetrate, what is your go-to market strategy. This is something that is very important in the due diligence process.
One of our board members, Nili Tzur, who had held managerial positions in Osem and with Nestle, is very good with this and helps these companies to have a strategy for go-to market and to understand what is the go-to market. This is how we built our team. We help the companies take it from the technology. "I have a POC. I have a product. Now, what am I going to do with it?" This is a huge something that you need to do to help these companies to take them to the next level.
If I were to ask any of your entrepreneurs or anybody around you to describe you in a few words, what would they say?
I think very involved, very keen to help, and a good person to partner with.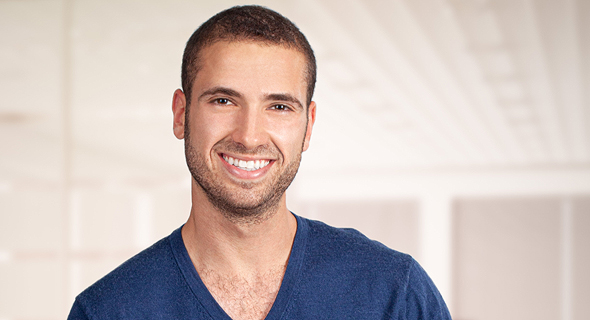 Michael Matias. Photo: Courtesy

Michael Matias, Forbes 30 Under 30, is the author of Age is Only an Int: Lessons I Learned as a Young Entrepreneur. He studies Artificial Intelligence at Stanford University, is a Venture Partner at J-Ventures and was an engineer at Hippo Insurance. Matias previously served as an officer in the 8200 unit. 20MinuteLeaders is a tech entrepreneurship interview series featuring one-on-one interviews with fascinating founders, innovators and thought leaders sharing their journeys and experiences.

Contributing editors: Michael Matias, Megan Ryan