The three forces driving the Impacttech revolution
Impacttech is everywhere - and Sir Ronald Cohen and Laura Lauder have some ideas on the main factors that are causing its latest boom
"There is a revolution taking place today, an impact revolution," Sir Ronald Cohen said in his opening remarks as keynote speaker at J-Ventures' second annual LP Meeting and Investor Conference. "This time, it's a revolution driven by three very powerful forces."

Sir Cohen joined philanthropist Laura Lauder in a 1-on-1 discussion about impact and leadership, followed by a Q&A session. In its second year, the theme of the 2021 conference was impact investments and 'Tikun Olam', the Jewish expression loosely translated to 'Repair The World'.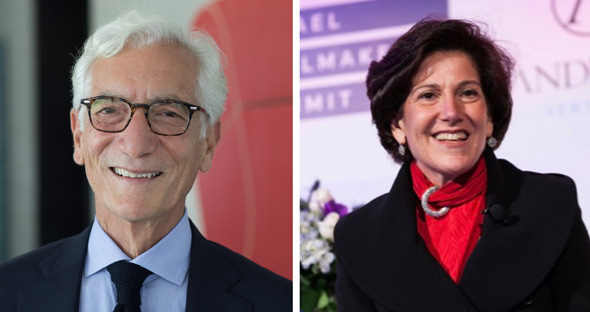 Sir Ronald Cohen in conversation with Laura Lauder. Photo: Roy Bar

"The first is the force of changing values, where we started to see 10-15 years ago young people refusing to buy the products of companies whose values they didn't like," he continued. "And we saw them refusing to work for these companies, which became noticed by investors. Today, we have $40 trillion invested in Environment, Social, Government investments, or ESG, which is going to achieve impact as well as profit."

Sir Ronald Cohen is the Chairman of The Portland Trust and Bridge Ventures, as well as the founder of Apax Partners and founding Chair of Big Society Capital, Britain's first social investment bank.

He continued: "The second force is very familiar to everyone in this conversation, which is the force of technology. It is taking huge leaps with artificial intelligence, machine learning, and augmented reality - and areas incidentally where the U.S and Israel have great strengths. Technology is allowing us to deliver impact globally, in ways we could never contemplate before. You're beginning to see new business models around learning, which enable a student with no means to get an education, to get a job and then start paying for their education. We're seeing remote health, clean energy, and financial platforms."

According to Sir Cohen, who shared his insights with Lauder, the third force is that this technology helps us measure the impact of companies. "You can measure in dollar terms the impact the companies create on the environment, on their people, through their employment practices, and on the planet through its products. You can compare, in dollar terms, the impact and profits of companies. Take these three forces together, and you have something really powerful driving this impact revolution."

Lauder, who was steering the conversation between the two, said: "Impact investing has grown to massive proportions - trillions of dollars worldwide - but doing it in community with kindred spirits makes it even more impactful and fun."

The J-Ventures conference also announced the launch of J-IMPACT, its first Tikun Olam fund. The firm operates as a collaborative community of leaders with shared values and a network of connected capital. Its fund is backed by 250 experts across a variety of industries and the event had 28 speakers and 400 participants.