Opinion
The education technology dilemma – how to penetrate a resistant market?
Succeeding in edtech may take more than innovative technology, excellent user interface, or proven academic progression
The edtech global market is booming. According to Holon IQ, the global edtech market will reach $404 billion by 2025. Grand View Research forecasts an annual growth rate of 19.9% from 2021 to 2028. So far, over $10 billion has been invested in such companies in the first half of 2021 as edtech unicorns have emerged. Previously a slow-moving niche market, the pandemic has opened decades of bottlenecks in adopting education technology, and hundreds of billions of dollars have streamed into this sector to compensate for the educational halt experienced during 2020-2021.

Edtech addresses education throughout life – from early childhood through elementary, middle, and high schools (K-12), higher education, employment and the workforce, hobbies, languages, and more. EdTech companies choose different go-to-market strategies spanning B2C, B2B, and B2G (business to government) methods.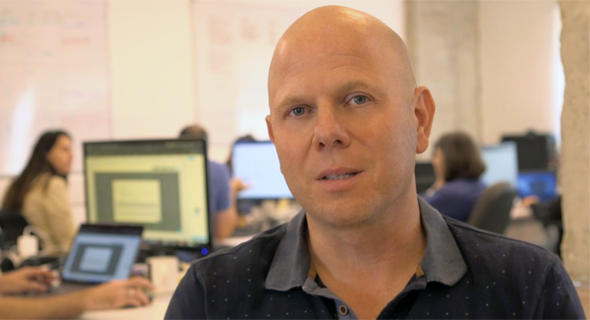 Yair Shapira of Amplio Learning. Photo: Chen Serfaty
At Amplio, we serve school students who face special needs – speech and language challenges, dyslexia, learning disabilities, autistic spectrum, and more. Around 20% of all students have special needs. We chose to enter the market via U.S. K-12 schools, mandated by law to serve these struggling students and spending over $100 billion annually on special education. Despite the vast expenditure, U.S. schools struggle with slow students' progress, chronic staff shortage, and colossal compliance burden. The pandemic amplified the challenges by order of magnitude.
We have used other routes to reach children in need, such as addressing parents or working with health insurers, yet decided to take the road less traveled. Our business plan seeks to impact as many children as possible. The tough penetration is well compensated by the large number of children's lives we inspire and change, and the close relationship we have with our customers, whether school districts or state agencies. Our B2G strategy translates into sizable, long-term contracts.
As we started commercializing in 2019, all factors were working against us: long procurement cycles in K-12, typically 12 to 18 months; Our disruptive solution, which requires market education; Professionals, who might feel threatened by technology; K-12 decision-making, based on reputation and local relations, which we lacked. Building these would take years, which doesn't work well for high-paced startups who want to change the world. We had to find a shortcut.
We wanted to offer a fresh, new perspective. Students with special needs do not progress as they should, so parents are disgruntled, educators are frustrated, and administrators are overwhelmed. Having that said, decision-makers, namely school administrators, have indeed signed up to educate and help children, but the system they operate in is crushing them. They oversee thousands of educators, who are in constant shortage and serve tens and hundreds of thousands of children and parents, who are chronically dissatisfied, under strict regulation and constant scrutiny. They are overwhelmed with survival before they manage to optimize their system. Admins also know that many educators push back on new methods and systems, so they are already considered a liability. We had to ensure they'd survive before pitching the other benefits.
School superintendents and boards are often elected officials and constantly need to justify their decisions. Changing education requires a leap of faith. To support this leap, we are working with an advisory council composed of top-notch opinion leaders: heads of national professional associations, former district and state leadership, leading university professors, and former federal department of education officials. These groups are intimately involved with steering and examining our product, and take an active role in our customer activities.
Remember, education possesses inherent localism. Schools are part of a community, are primarily funded by property taxes, and most of its employees and vendors are local. Testimonials from another state or even county often are discounted. Schools also take a local form, depending on the local population blend and culture. That's why a local representative, who is sensitive to the local needs and culture, is a must.
Public school districts are enormous operators, serving tens and hundreds of thousands of students each, have tens of thousands of employees, and billions of dollars in budgets, while being under strict regulations that cover every aspect of their operations. Bidding processes are tough and long, and procurement is often a rabbit hole. Options such as functioning as a single-source vendor status, umbrella requests for proposals, piggybacking on partners' awards are all alternative solutions, but after adopting them, the real challenge begins.
Many hierarchical layers separate a district school admin, who decides to purchase a system, and the end-user, such as the educator. Schools hardly mandate the use of systems and leave it to the educator's discretion. However, more often than not, educators did not buy your product, did not select it, or may not have even heard of it. Software as a Service contracts are paid per teacher or student seat and discontinued if not broadly utilized. Your only insurance is high utilization.
That's why you must promote your product within the district. Education systems dislike revolution. They do embrace impactful evolution. We worked to connect the dots between the status quo and the future as we envisioned it: between a manual, labor-intensive intervention, and tech-aided therapy; between a one-size-fits-all curriculum and a precision, individualized, AI-based course; between endless manual documentation and automatic reporting, which facilitates data-driven decision making. This migration path enabled professionals to take smaller bites and test the waters before fully committing. Growth, land-and-expand techniques are also highly impactful if the educators love your product. Some companies even start bottom-up before they go to the admins to seed this educators' layer. Schools do mandate the use of systems when it comes to compliance, and you might want to consider a compliance facet to your solution.
The edtech market is fascinating and rewarding, both morally and financially. Yet, introducing a new product to schools is challenging. The landscape is complex and fragmented, and you need to satisfy all stakeholders. Being creative and sophisticated in approaching this market, appreciating the different environments and interests where your clients operate, and providing an excellent product, will increase your likelihood to succeed.
Dr. Yair Shapira is the founder and CEO of Amplio Learning.