Sheba Medical Center startups raise over $110 million in 2021
Its ARC Innovation Center focuses on digital health technologies including precision medicine, big data, artificial intelligence (AI), and more
Sheba Medical Center, Israel's largest and one of the world's leading hospitals, has today announced that $110 million was raised in 2021 by six companies from its ARC Innovation Center. All the companies are based on technology invented and developed out of Sheba.

"The ARC Innovation Center has been focusing on ground-breaking, innovative technologies with a prime directive to redesign healthcare," said Professor Eyal Zimlichman, Sheba's Chief Innovation and Transformation Officer. "Our commercialization efforts enable us to expand the reach of these technologies and create global impact on a wide scale."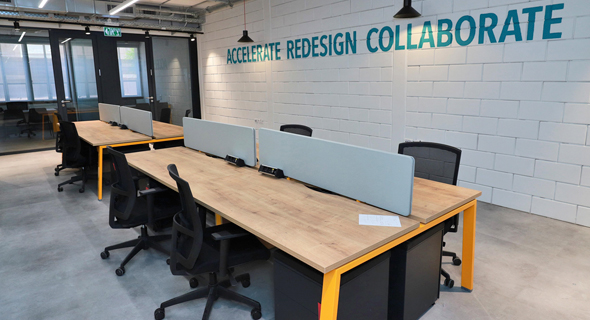 Sheba Medical Center's ARC Innovation Center. Photo: Sheba Medical Center

The ARC (Accelerate Redesign Collaborate) Innovation Center hopes to bring new technologies into the hospital and community ecosystem to help patient care. It facilitates the collaboration of innovators, scientists, startups, high-level developers, large corporate companies, investors, and academia all under one roof. The Center focuses on digital health technologies including precision medicine, big data, artificial intelligence (AI), predictive analytics, telemedicine, and mobile health.

The six companies from Sheba to secure investments in 2021 include:
Aidoc - which raised $66 million and helps analyze medical images by using AI.
BELKIN Laser - which raised $13.75 million and develops an automated one-second laser treatment for glaucoma.
Starget Pharma - which raised $10 million and develops products for the diagnosis and targeted treatment of cancer through radioactive radiation.
Append Medical - which raised $7.6 million and develops a next-generation transcatheter Left Atrial Appendage (LAA) closure system.
Innovalve Bio Medical - which raised $7.2 million and is a medical device company developing catheter-based heart valve therapies.
TechsoMed - which raised $7 million and developed BioTrace, the world's first real-time monitoring and control systems for ablation procedures.

"The quality of innovation at Sheba has earned the trust of healthcare innovators and industry alike," added Dr. Sylvie Luria, CEO of Sheba's Technology Transfer Company, which handles ARC's commercialization efforts. "Moreover, the funding of six companies this year is a testament to investor confidence in Sheba-developed innovations, which aim to solve complex clinical challenges and make healthcare systems more efficient. Reaching $1 billion in investments in ARC technologies over a decade is a milestone, but the impact of these investments in improved healthcare delivery and patient outcomes is exponentially greater."