A Day in a Life
The Aquant painter helping technicians fix machines
Pavel Larionov, a Research Engineer at Aquant, feels much better working from the office and loves that he can feel his impact and value to the customers
ID
Name: Pavel Larionov
Age: 30
Living in: Tel-Aviv
Company: Aquant
Position: Research Engineer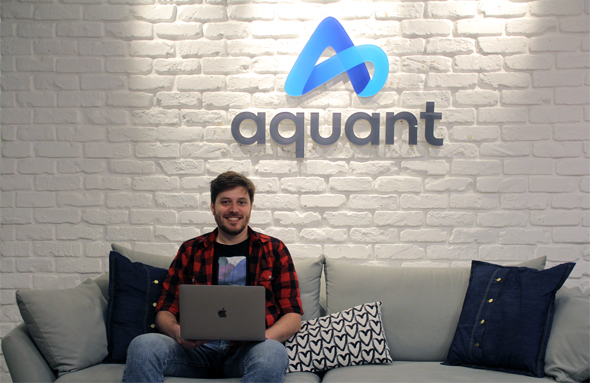 Pavel Larinov of Aquant. Photo: Aquant

For a Starter

I grew up in Holon, and after high school, I served in 8200 as a Radio Frequency technician. During my bachelor's degree at the Technion, I worked as a student in different fields like electronics and embedded software. Finally, the field that I liked the most was Data Science, so after my studies, I moved back from Haifa and joined Aquant as a Research Engineer in the Data Science team.

What's so special about what your company does? I like that it is very easy to explain what we do in Aquant. Imagine you're a fresh MRI machines technician - just finished the training. You were assigned to fix an MRI machine, a model you'd never seen before. What do you do? Luckily, with Aquant, you have an AI system, which learned from years of other technicians' experience, how to fix this MRI machine. With its help, you're not a newbie anymore but an expert. Of course, the system is not limited to MRI but can help fix any device you can think of.

What do you enjoy the most about your work? As an engineer, I like solving problems. When working in a startup, you work with real customers and solve real-world problems. In small companies, you can feel the impact you make and your value to the customers.

Preference - working from Home / Office / Hybrid: Since I started working in Aquant, I have never worked from home, and I feel much better and effective when I work from the office. Moreover, today I live 5 minutes door-to-door from the office, so working from home makes no sense.

My Daily Routine

09:00

I wake up, get ready and go to the office on foot. It usually takes 5 minutes, and right after that, I have my first coffee and start working.

12:30

I eat lunch with my colleagues

13:30

I get back to work - gathering and analyzing data, experimenting with different ML models, and developing algorithms.

15:30

Team meeting and brainstorming.

18:00

Zoom call with USA-based colleagues to update our projects.

After Hours

What do you like to do in your spare time? Typically, I spend my spare time meeting friends, reading books, teaching python and Machine Learning, but apparently, my most exciting hobby is drawing and painting. I started drawing when I was a kid and have liked to do it ever since. During my army service, I even considered selling my works on eBay. I painted a landscape on a canvas and listed it for $600. Luckily, no one bought it, so today, this painting is hanging on a wall in my living room.

Apple or Android? Android, I guess. I don't have a strong opinion on this.

What type of music do you listen to? I don't listen to music, and I prefer to watch YouTube or listen to a podcast.