ProfiSea Labs raises $2 million in Seed to visualize assets for CloudOps industry
The company claims it can help customers save up to 90% of their cloud spendings and is already supported by AWS
ProfiSea Labs, an AI-based next-gen multi-cloud management platform, has announced that it has raised $2 million in Seed from American angel investors. The company, founded in 2020, is developing a cloud management platform to help CloudOps engineers and IT managers visualize their cloud assets and reduce their IT costs.

According to Gartner, end-user spending on public cloud services is expected to reach more than $480 billion in 2022, with spending expected to exceed 45% of all enterprise spending by 2026. ProfiSea Labs claims to be able to leverage their DevOps experience to develop a CloudOps platform to help customers gain control over their cloud infrastructure.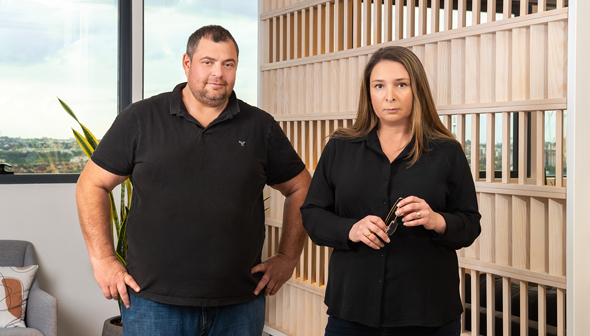 ProfiSea Labs' founders Vladi and Vera Shulman. Photo: Aviv Kurt
ProfiSea Labs' approach is built around a visual representation of all company cloud assets, coupled with AI-based cost optimizations so customers can see wasted areas and make saving decisions quickly and safely. The company claims it can help customers save up to 90% of their cloud spendings and is already supported by AWS. It is understood that support for Google Cloud and Microsoft Azure will follow in the future.
"I know how frustrating the chase for cloud cost reduction of large cloud accounts can be," says Vladi Shulman, ProfiSea Labs' Founder and CTO. "My dream is to enable DevOps engineers, FinOps experts, R&D, and IT managers to easily and automatically manage cloud spending and have more time to focus on creative and business-related tasks. In the world of technology and machine learning, there is no need to spend the priceless time of DevOps specialists on manual diagrams mapping and analyzing cloud costs in their efforts not to exceed the budget when automation could do it for them."
The company is currently working to integrate its platform with popular DevOps CI/CD tools and infrastructure as code concepts. The hope is that the DevOps mindset will be applicable for cost optimization challenges as well as productivity goals.
"We genuinely want businesses of all sizes to reap the benefits of our innovations and enjoy the technological excellence that will boost their growth and development," added Vera Shulman, ProfiSea Labs' Founder and CEO. "ProfiSea Labs empowers users to take full advantage of cloud investments and guarantees that managing cloud environments has never been easier."
ProiSea Labs' team currently numbers 15 people and is geographically spread across Israel, Ukraine, Spain, and the U.S. Vladi and Vera Shulman both come from the cloud industry and own a DevOps boutique consultancy.