20-Minute Leaders
"For brick-and-mortar stores in the pandemic, I believe we were the lifeboat."
Automating solutions for small to medium businesses to increase sales and reach new customers has always been at the heart of StoreYa's mission, shares co-founder and CEO Yariv Dror.
Automating solutions for small to medium businesses to increase sales and reach new customers has always been at the heart of StoreYa's mission, shares co-founder and CEO Yariv Dror. The company started nearly ten years ago with a product to take items from online stores and bring them into Facebook to reach fans. Now they use these extracted products in automated online advertising services for sellers. Dror explains that the technical aspects were easy for their CTO, but finding the patterns to base the algorithms upon and reaching out to explain to merchants how they will benefit from StoreYa's tools have been the more challenging aspects. While the world of online advertising has changed a lot in ten years, Dror says he loves the dynamic environment. He foresees e-commerce continuing to grow on the other side of the pandemic, and he is happy that StoreYa was able to help many stores go online and survive 2020 and beyond.

Click Here For More 20MinuteLeaders

Tell me about yourself and the founding story of StoreYa.

I'm 44. I'm married to a clinical psychologist and father of three kids. I was a captain in the IDF, but in the artillery forces. I initially studied to be a lawyer, and I was an intern for the Israeli president of the Supreme Court.

But my actual school was 888.com, where I learned how to do performance advertising. That was about 15 years ago. This is my profession. I'm an online advertising person. I joined another profitable startup, Minovus.com. I founded the marketing department. For the past nine years, I am the co-founder and CEO of StoreYa.

Ten years ago, as you were founding StoreYa, what was online advertising? Why create a company in that space?

The idea and the vision were actually of my partner and brother, Eyal Reich. He was actually an online retailer. He told me, "Listen, I have an online store and I have a Facebook community. I keep trying to get the Facebook fans out of Facebook to my store. Maybe we could just bring the products of the store into Facebook." We figured out that if he needs that and there is no solution for it, we can actually automate it on behalf of all the SMBs out there.

We were joined by our CTO, Pavel Zaft. He actually taught the computer to extract the feed of products from any e-commerce store and generate a new store inside the Facebook arena. That was the first product that we developed 10 years ago.

What was the process that led yourself and your co-founder to find this product market fit?

Everything that we ever developed was always a complete SaaS, always totally automatic. This is what enabled us to serve more than 400,000 merchants from 186 countries around the world with a team of only 12 people. We always seek to have minimal work on the merchant's end. We don't expect the merchant to be doing the work. We want our system to be doing the work, and everything needs to be automated. If it has one click for us, it's not set up. It needs to be zero clicks on our end, and a maximum of three clicks on the merchant's end.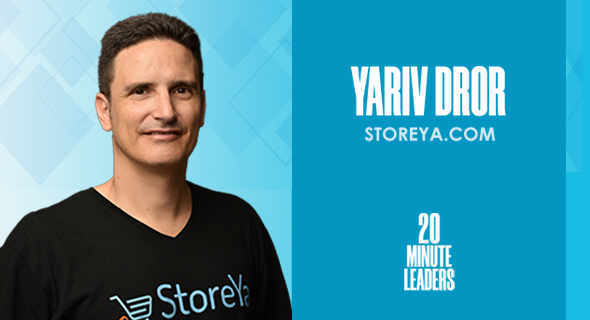 Yariv Dror, co-founder and CEO of StoreYa. Photo: Roie Kashi
What was the most challenging part to reach this phase? What was the process like for you?
Reaching out to those merchants. Pavel Zaft could build a ship to the moon. He can do anything. But we always need to find a way to reach out to the merchants and groups of merchants and explain to them what they are going to achieve by using our tools and why that is important for them. I think this was, and still is, the most challenging.
Fast forward 10 years. Where is StoreYa today? What is the core mission of this company?
So our flagship product is the "traffic booster," which fully automates Google, Facebook, Instagram, and Bing advertising on behalf of those small to medium businesses. Once the merchant submits his domain, geo-targeting preferences, and initial paid plan, our system will set up the accounts for him in Google and Facebook, optimize those accounts in real time, and report back with the money that went out in each channel.
The initial extraction of products that we built 10 years ago is still serving us in this product because we extract the product and then we modify them to fit each and every advertising method on Google and Facebook.
What's different today than it was 10 years ago, from your perspective?
Everything. What I love about this world is that it is so dynamic. Ten years ago, you had, in Google, maybe only the search. Since then, you have dynamic search and you have shopping and smart shopping. It's a totally different ball game than it was 10 years ago. Ten years ago, Facebook was not that great of an advertising platform for e-commerce SMBs. And nowadays, it's a fantastic one. If you know how to use their system correctly.
Are you identifying that the biggest pain point in today's online advertising space is the ability to quickly and efficiently deploy these targeted advertisements through the abundant platforms?
Yeah. The main point is always how to acquire new potential customers. My CTO, Pavel Zaft, tried to convince me for years that online advertising can be automated. I kept telling him, "Listen, every time I optimize an account, it's something different." And he told me, "No, no. You will find the pattern, and I will teach the system to run it automatically and in real time."
As always, he was right. It can be automated. And it should be automated because this way, you get better results. You are able to work with a larger number of merchants and with a larger number of products.
If you're looking at your own journey as an entrepreneur and trying to reflect back on these 10 years, what were some of the most exciting moments for you on a personal level?
What makes us tick is to really enable the SMBs to be using tools that normally only enterprise would be able to use. To get a thank you letter from a seller saying, "You helped me fulfill my dream because I was able to make money due to your platform," that's an excitement. To be able to split dividends back to our investors and to become a profitable company over the years, that's exciting.
Going through large sales cycles of enterprises: two years ago Google introduced us to PayPal. It took two years of long POC in which PayPal drove the merchants from their end and even provided the advertising budget, on one condition: that the merchant would share the performance they had before using StoreYa and while using StoreYa. To see your app in PayPal's recently launched app store as the sole solution for advertising for all of the PayPal merchants, that's something that is very, very exciting.
If you had to reflect back on the single most challenging moment you've had, what is a moment that was really rough that you overcame?
I don't want to rank. There's quite a few over a period of 10 years. Fundraising was a tough experience. The climate was not as easy as today, and it took much longer. The roller coaster of working with PayPal or Google or Facebook. They are enterprises. They work differently than a startup. It's always challenging to find ways to work together, to collaborate.
Play a game with me. How do you see the online advertising world changing in the next two or three years?
We already played that game in March 2020 when the pandemic hit the world. For existing sellers of ours, April and May 2020 were like November. It was like black Friday every day for two months. For brick-and-mortar stores that only switched to online during the pandemic, I believe we were the lifeboat because they really needed to find their traffic that we were able to drive to their new stores.
People that now become familiar with making their purchases online are likely to get used to it and to like it. So the e-commerce world is only going to benefit and get stronger out of the other side of the pandemic.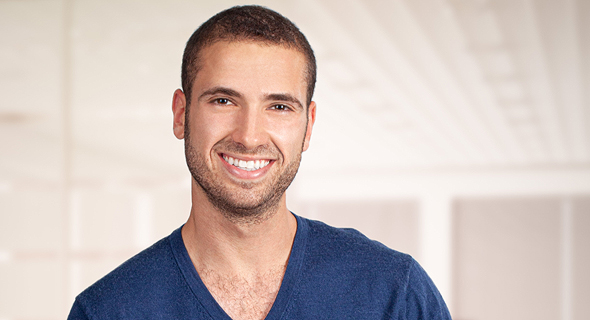 Michael Matias. Photo: Courtesy

Michael Matias, Forbes 30 Under 30, is the author of Age is Only an Int: Lessons I Learned as a Young Entrepreneur. He studies Artificial Intelligence at Stanford University, is a Venture Partner at J-Ventures and was an engineer at Hippo Insurance. Matias previously served as an officer in the 8200 unit. 20MinuteLeaders is a tech entrepreneurship interview series featuring one-on-one interviews with fascinating founders, innovators and thought leaders sharing their journeys and experiences.

Contributing editors: Michael Matias, Megan Ryan