20-Minute Leaders
"At Good Company, we are starting from the 'why.'"
Making change in the world has been a passion of Shahar Botzer, co-founder and managing partner of Good Company, since childhood
Making change in the world has been a passion of Shahar Botzer, co-founder and managing partner of Good Company, since childhood. As a teenager, he filed an appeal with the Supreme Court to improve accessibility for disabled people at a local school. After working in the social and business sectors, he saw an opportunity to combine them in impact investing with 2B-Community. Today, Botzer has co-founded a mission-driven VC seeking startups whose main KPI benefits the business and the world. He shares that companies with separate goals for profits and social or climate change often experience mission drift. Good Company begins the investment process with the why, working with big corporations to identify problems that entrepreneurs can help solve. Botzer explains that he can identify with founders more after doing the fundraising for his own fund, but he advises them to focus on building their company, not the funding rounds.

Click Here For More 20MinuteLeaders

Shahar, tell me a little bit about yourself.

I'm 39. I have four kids, Nevo, Yanai, Arad, and Daria, who is three months old. I'm an investor, a managing partner in Good Company that we started two years ago. I see myself more as a "changemaker." I happen to do it in the business sector, tech industry, and early-stage because I believe that's where my talent is. But my passion is creating positive change.

I came from a background of both social sector and business sector. Then Yoel Cheshin invited me to join him and start 2B-Community. We thought that every business can be an impact business and put a lot of emphasis on measuring social or environmental KPI. I've been doing it since 2014.

I only started hearing about impact investing maybe in 2019.

When we started and I met potential investors or entrepreneurs, they asked me who they should donate to. But we did find people who believed in us and gave us the opportunity, of course.

After doing it for almost 15 companies, being the first investor and a board member and working with the entrepreneurs, I understood that the big opportunity is the places where there's a single bottom line, and not the double bottom line.

What does that mean?

Instead of looking for companies who can show you their business KPIs and then a separate slide on climate or social issues, we are looking for companies with a north star KPI, a single KPI of the business that will also indicate that they are solving a climate or social problem.

I believe that's the scale of impact perspective. Of course, there will always be room for philanthropy and CSR in companies you can't really change the world with. You do need perspective on how you affect your employees, the environment, and the community.

But I think the scale of impact perspective in business is in those spaces that are looking for the world's biggest problems and trying to solve them through technology.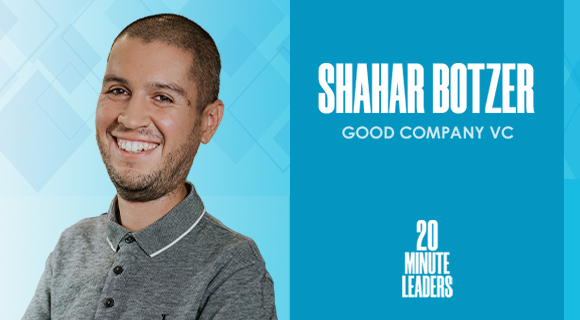 Shahar Botzer, co-founder and managing partner at Good Company. Photo: N/A
When you're looking at a company as a pre-seed investor, how do you gauge this added extra layer of complexity?
What we're trying to do is to work the opposite. We are starting from the "why." So in Good Company, what we do is we work with multinational corporates in the fields of agriculture, digital health, the future of work, and sustainable supply chain, energy, etc. We're working with them to map where their climate or social crisis is ahead that we can build a billion-dollar company around.
Then we study the market. We study the competition. We look for Israeli founders who solve that proactively. We know what we are looking for. The product itself is solving an issue. We don't even need to discuss the mission.
Can you give me an example of a single line KPI?
At BeeHero, they are saving bees. By saving bees, they're enlarging pollination, making more yield in the field. We are measuring how many acres they serve. The more acres they serve, the more money that will make and the more bees they will save. So there's no need to have separate KPIs.
What I experienced is companies that have separate KPIs have "mission drift." Or they don't succeed in bringing in follow-on investors, which means the business is not growing very well. Then they will speak a lot about social impact.
How do you differentiate those that are actually making a positive impact versus those just saying they want to?
First of all, it's becoming mainstream. We hear more VCs talking about being mission-driven, and we see it as a positive thing. We think that will also help the areas that we invest in to evolve.
Because we know what we want to solve, naturally, it's all about the people. We invest early-stage, so the product is going to change and the go-to markets are going to change. What we do is talk with the founders and try to see how they think. You go to their assumptions, challenge them, and see why they decided on this problem and this specific solution.
Why go to impact investing in 2014 when nobody really is talking about it?
I have a unique CV of being in a few micro careers in very various fields until I found myself as an early-stage investor, which is primarily mentoring, investing, strategic planning, and understanding about people. But it took me time to find myself there.
In a way, my career started at the age of 13. I filed an appeal to the Supreme Court because the school in my city wasn't accessible. There is a legal precedent with my name now. That's something that helped a lot of people with disabilities to enter the regular system.
My father represented me in front of the Supreme Court although he wasn't a lawyer then. My mother is a true lioness. They wouldn't accept any other option but me being completely independent.
Not every boy at the age of 13 finds himself in that kind of change-making position, seeing everyone saying that you can't do something and you're changing it. That was probably something that affected me in a significant way.
Also, Good Company is not an impact VC. We are a mission-driven VC.
Tell me about founding Good Company.
I had an amazing opportunity and experience in 2B. Then the Corona started. I was, for 11 months, at home because I'm at risk. It was a big opportunity to listen to yourself and what you really want. My partner, Ido, started looking at more meaningful things to invest in. He said, "I'm starting a fund. Let's do it together."
We didn't have any co-LP, we had nothing, and a lot of people told us, "It's too early." But we said, "This is the time." In March 2020, the deal flow was amazing. Ido left F2; I left 2B a bit later and we started investing our own money. We both have a very good relationship with our previous funds.
Fundraising your own fund also makes you a better investor. We are always good company for our founders. I think that's our main asset, what founders that we work with think about us. Until you do the process of fundraising yourself, you don't really understand the roller coaster of being a founder.
We had the feeling that we were in the right place. People in the ideation just did an exit, wanting to do their next startup in energy reaching out to us and have the opportunity to go and support them in the pre-seed.
Right now, the market is flooded with money, but I think there's still a few areas who are underserved, especially in the pre-seed. We have a good position in the market to enter those deals.
One of the top tips you would give to an entrepreneur that wants to be mission-driven and also be very profitable.
Build it as you fly. Don't try to over-plan, over-research. Meet the market as soon as possible. Learn as you're building the startup. But be focused on building the business and not building the funding. Building the startup is building the team right, deciding who are your customers, and making sure that you get feedback and adapt the product properly.
This will also help the impact happen. Being focused on the business is the thing that is going to make you mission-driven. One of our LPs told me that impact is no excuse for bad business. I think it's even more than that. Being a mission-driven company, you need to prove more than others that you are able to scale the company.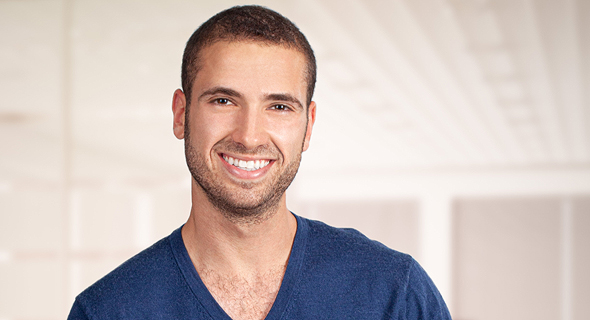 Michael Matias. Photo: Courtesy

Michael Matias, Forbes 30 Under 30, is the author of Age is Only an Int: Lessons I Learned as a Young Entrepreneur. He studies Artificial Intelligence at Stanford University, is a Venture Partner at J-Ventures and was an engineer at Hippo Insurance. Matias previously served as an officer in the 8200 unit. 20MinuteLeaders is a tech entrepreneurship interview series featuring one-on-one interviews with fascinating founders, innovators and thought leaders sharing their journeys and experiences.

Contributing editors: Michael Matias, Megan Ryan