BiblioTech
CTech's Book Review: A search for health, wealth, and happiness
Moshe Shlisel, CEO and Co-founder at GuardKnox, shares insights after reading "The Almanack of Naval Ravikant" by Eric Jorgenson
Moshe Shlisel is the CEO and Co-founder at GuardKnox, the developer of high-performance secure computing platforms. He has joined CTech to share a review of "The Almanack of Naval Ravikant" by Eric Jorgenson.

Title: "The Almanack of Naval Ravikant"

Author: Eric Jorgenson

Format: Book

Where: Home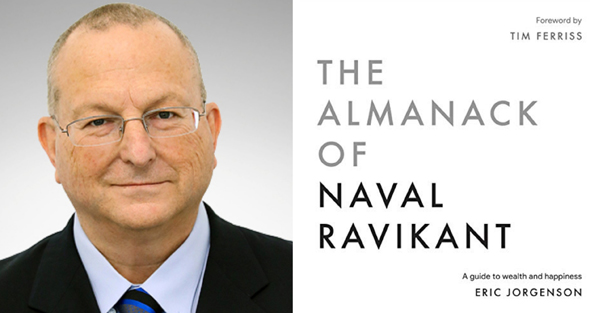 Moshe Shlisel, CEO and Co-founder at GuardKnox. Photo: Omer Keidar/Amazon

Summary:

"The Almanack of Naval Ravikant" is a collection of essays, posts, tweets, and other stories combining Naval's insights about the hi-tech world, financial intelligence, and personal success into one entertaining format. The book starts off with Naval's humble beginning as a young immigrant raised by a single mother in New York, complete with the life lessons and stories that shaped his values and outlook which guided him to his eventual status as a successful Silicon Valley icon. One of the things that makes "The Almanack of Naval Ravikant" unique is how his wisdom extends beyond financial and business success and into logical, actionable, and easy to grasp lessons to be a happier, more at peace human being as well as an effective leader. The eBook and PDF versions are also completely free on his site: https://www.navalmanack.com/

Important Themes:

Health, wealth, and happiness.

If I had to distill the compilation of Naval's tweets, podcast appearances, blogs, and other writings into his three main pillars, those would be them.

The book takes a simple, unassuming approach to Naval's 'teachings' and presents them along with central topics but in a way that the reader can flip through to different sections based on their interest (or the topic that they wish to focus on most first.). In fact, the forward by the author even spells it out: 'This is a choose-your-own-adventure book. Jump to anything that interests you and skip anything that doesn't.'

This is especially apt as Naval's words are often an incredible mix of harsh truths, philosophy, and meditation, and kicks to the rear as needed to challenge the status-quo while forcing us to take a step back and reevaluate what we hold to be true and important.

This work is a tribute to a lifetime's worth of lessons from someone that introduces us to their journey from their avid love of books in their youth but maintains that experience and doing have no true replacement.

As Naval said: "...at the end of the day, I can't quite teach anything. I can only inspire you and maybe give you a few hooks so you can remember."

What I've Learned:

"The Almanack of Naval Ravikant" is unlike any other book I have ever read. It was made completely free and publicly available because the intrinsic value people achieve from not just reading it but from internalizing Ravikant's teachings and applying it to their own lives can help change the trajectory of their careers, personal relationships, and overall happiness. The book shared a few lessons that specifically resonated with me: things that I try to work into my own life on a daily basis. Below are two lessons that stand out in my mind:

Happiness is there when you remove the sense of something missing in your life: According to Ravikant, happiness is freedom from pain and desires; essentially he is saying that happiness is not a destination but rather a skill you can learn through finding your own meaning and then honing in on the skills that support that meaning. This is a powerful counter view to a growing mainstream opinion that happiness is something we achieve by possessing a certain amount of stuff – whether it be money, possessions, friends, or customers - or by completing a project or reaching a certain level in your career.

Play long-term games with long-term people: The idea that everything in your life compounds from your interpersonal relationships, building companies, and your daily routines. This includes saying 'no' to people or things that do not share the same values as you. Or finding businesses that succeed in the long term – businesses that people want to work at for a long time.

Who Should Read This Book:

Any person that wants to achieve success across all its faces: financial, career, happiness, relationships, and much more - would be amiss if they didn't pick up "The Almanack of Naval Ravikant by Eric Jorgenson".