A Day in a Life
The off-road motorcyclist leading automation at cyber insurance unicorn At-Bay
Nir Pinchas serves as Automation Tech & Team Lead for At-Bay, but away from work he looks forward to his off-road motorcycling weekend meetups
ID
Name: Nir Pinchas
Age: 40
Living in: Ramat Gan
Company: At-Bay
Position: Automation Tech & Team Lead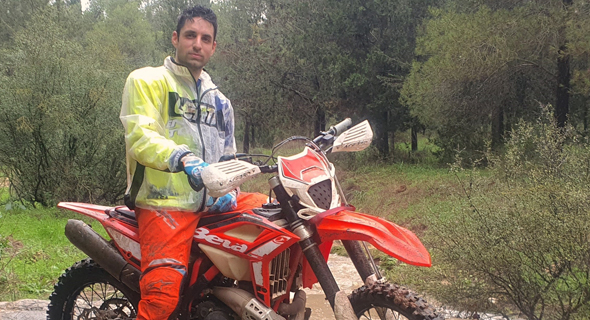 At-Bay's Nir Pinchas on his motorbike. Photo: Ido Gal

For a Starter

I grew up in Ramat Gan and served in a combat unit. After working for a few years abroad, I earned my first degree in biotechnology and maneuvered into the high-tech industry. I started as a manual QA engineer 13 years ago, and I was quickly drawn to automation technologies, which I found fascinating. During my career, I worked at NICE, WalkMe, Payoneer, and At-Bay for the past year.

I am married and am a proud father of two small children.

Apart from my job, my main passion is off-road motorcycling. Every weekend, I ride with a group of friends to many parts of the country. Once a year, we fly abroad for a riding excursion. I look forward to riding all week, and it is my weekly meditation and way to relax. Going out into nature and doing extreme sports helps me find peace of mind. When I am alone on the motorcycle and in nature, I am concentrated and present. I also get to meet many people from industries other than tech. We have doctors, policemen, engineers, and other professionals in our riding group. While we ride, we try to minimize our impact on the natural environment, riding only on marked trails and respecting other travelers.

After a long ride, I feel calm and at peace, ready to head into the weekend and to spend quality time with my family.

What's so special about what your company does? At-Bay offers cyber-attack insurance to organizations. The concept is unique and innovative. We approach the issue of cyber-attacks differently. I like to work in companies that revolutionize their market. We address digital risk in a way that everyone, from brokers and business owners to CISOs and CFOs, can understand. We question, analyze, and monitor every company's risk in our portfolio—not just once but continuously—so we can educate, advise, and support our brokers and our insureds throughout our partnership. Because digital risk never rests, and neither do we.

What do you enjoy the most about your work? I love and enjoy testing. As an automation leader, I had the rare opportunity to build multiple automation software projects from scratch while using and implementing different technologies and programming languages. I love the challenge of designing new projects and writing code.

I also interact with all departments and positions, such as with developers, team leaders, product managers, architects, and data scientists.

I am currently building a new team and eager to share my knowledge and expertise with others while building a state-of-the-art automation operation.

Preference - working from Home / Office / Hybrid: Hybrid, unless the kids are at home.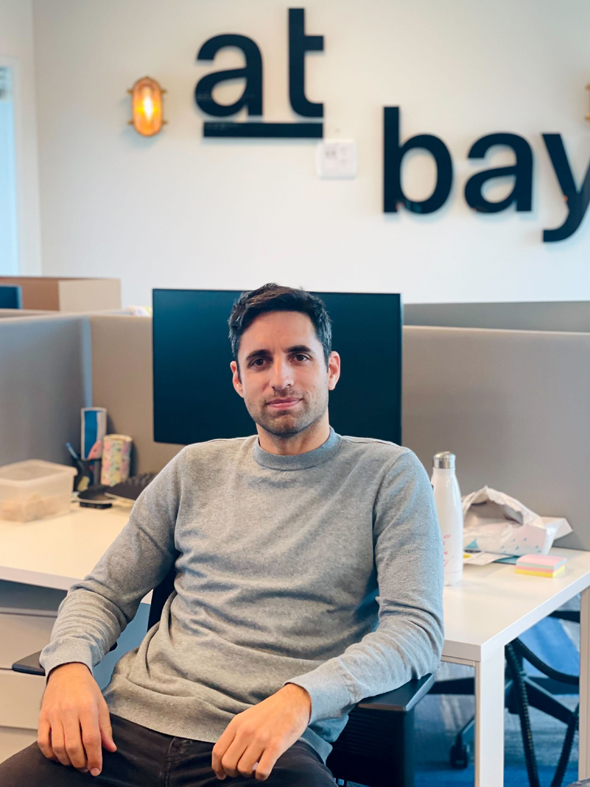 At-Bay's Nir Pinchas at work. Photo: Dorin Cohen
My Daily Routine
07:30
Wake up, take the kids to the kindergarten, and spoil myself with fresh ground coffee.
09:30
When I work at the office, I arrive after climbing 30 flights of stairs. After another quick coffee, I start to work, participate in meetings, projects I work on, guide developers and recruit more employees to my team.
12:30-13:30
Lunchtime. We either order in or go out. I prefer to have lunch out.
13:30-16:00
The second part of my day is the same as the first half.
16:00
Coffee break and snacks
18:00-19:00
Resolving urgent issues, and then, time to go home.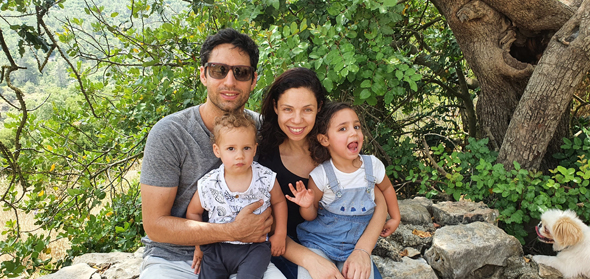 At-Bay's Nir Pinchas with family. Photo: Courtesy

After Hours

What do you like to do in your spare time? My motorcycle is my main passion. Sometimes, I work on my motorcycle in the evenings during the week to prepare it for my next ride, or I browse the web for parts and new gear. I like to watch movies and documentaries and work on special home improvement projects. In addition to my motorcycle passion, I love spending most of my free time with my two little kids, playing and running around with them.

Apple or Android? Android with no real agenda.

What type of music do you listen to? Israeli music and 70s-90s rock