Whatslly merges Salesforce and WhatsApp to tackle new-age sales tricks
The startup integrates the two popular platforms to help salespeople maintain relationships and follow federal compliance laws
Tap, tap, send - and wait for the read receipts. Communication nowadays between businesses and customers has developed outside of email, calls, or letters. A technology shift only accelerated by the pandemic means that salespeople and companies are increasingly communicating with clients through informal messaging services like iMessage or WhatsApp. Today, car dealerships, bankers, doctors, and even journalists (annoyingly) are contacted through WhatsApp to manage their business and workflow.

According to Yanir Calisar, it's a shift in behavior that is unsustainable for those who are required to operate solely within Salesforce - a CRM system that, in his view, doesn't yet have the capabilities to manage the data and information that is collected informally. Whatslly, his plug-in, can be installed into WhatsApp web browsers in a few moments to help combine the two services and help clients and customers manage their relationships better. This way salespeople can maintain their relationships while also collecting important information like previous purchases, engagement, and intent.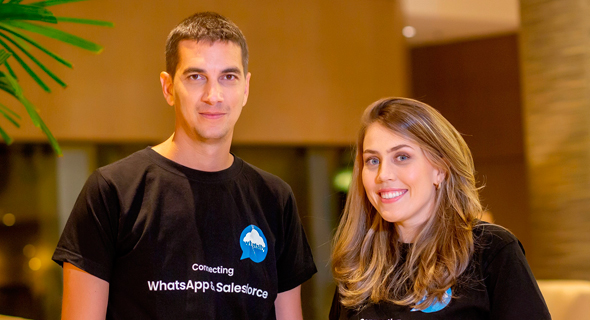 Whatslly founders Yanir Calisar and Deborah Palacios Wanzo. Photo: Cristiano Pinheiro Soares

"If you think about it, salespeople are frustrated by the CRM the most," explained Calisar, Whatslly's Co-Founder and CEO. "Simply because they want to do business. They do business when they are sitting and talking to customers. They then need to log into Salesforce and have two screens open: WhatsApp, where they do business, and Salesforce, where they must update the data manually - this is nonsense. It doesn't make any sense."

In Israel, Calisar has identified a pain point felt among many in the tech or customer service industries. Time and time again people are increasingly using WhatsApp to communicate with doctors, landlords, bankers, and whoever else might favor the tool. Documents can be shared and reviewed, money can be sent and received, and its low bandwidth makes it easy to use with low data or limited wifi.

Americans might not feel the urge to install Whatslly just yet. WhatsApp, owned by Meta (formally Facebook), is used mainly outside the U.S. While it can boast 2 billion users with 78% of Americans using the app weekly, it is kept in competition with applications like iMessage and traditional texting services. Calisar noticed that Whatslly has been an instant hit in a surprising region: Latin America.

"In Israel, we do everything over WhatsApp, in Latin America they do everything ONLY over WhatsApp," he stressed. Whatslly has already signed a deal with Volkswagen in Argentina whose dealers sell cars to customers directly over the messaging service. The relationship, and the data gleaned from the interactions, are not being used or monitored properly until the plugin is installed.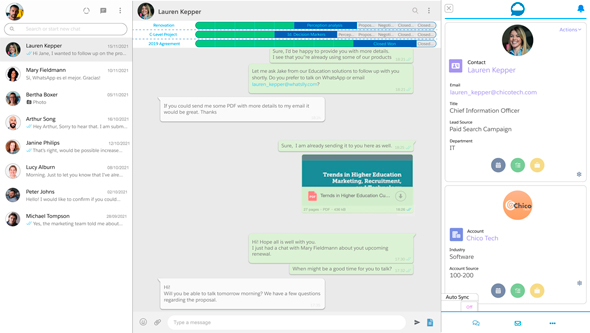 An example on how Whatslly operates. Photo: Whatslly

Another market for Whatslly is Brazil. Calisar's research indicated that a massive 97% of Brazilians use WhatsApp, and 82% of businesses there use it to engage customers. In the last two years, Salesforce has doubled its headcount in Brazil and they plan to continue expanding in LATAM, open more offices, and grow the headcount significantly.

A tool like Whatslly isn't only a benefit for sales teams who have been creating blindspots by taking their interactions to message services, it can also help companies maintain compliance regulations that run the risk of being ignored. In December 2021, JPMorgan was hit with $200 million in fines because of federal laws in the U.S that require records of electronic messages between brokers and clients. In a relaxed and more informal pandemic world, communication too easily slid into the DMs of WhatsApp to circumvent the laws.

"This is a huge pain point we are solving, and we are already in the process of talking to a few banks in the U.S and Israel to help them solve this challenge," he said. "We were planning to get into the U.S next year but we already started the process of getting there. Even before that, the Latin American market is huge. It's the second-largest market for WhatsApp around the world."

Whatslly exists as the sweet spot to help teams collect and manage their data on their customers, and also allows companies and large institutions to maintain compliance in an ever-changing world where emails are replaced with gifs and voice notes. The company, which recently raised an $11 million Seed round led by early-stage venture fund Zeev Ventures is looking to grow its employee headcount from 15 to 100 by the end of the year, while expanding the Israeli product and R&D teams and focusing the business development on the Latin American market.