Pecan AI raises $66 million from Insight Partners, Google, to automate predictive analytics
The Israeli startup's proprietary AI algorithms optimize and train predictive models to get effective results as quickly as scientifically possible
IsraeIi company Pecan AI announced on Wednesday that it has raised $66 million in a Series C round led by New York-based global private equity and venture capital firm Insight Partners, with participation from GV (formerly Google Ventures) and existing investors S-Capital, GGV Capital, Dell Technologies Capital, Mindset Ventures, and Vintage Investment Partners. The company didn't reveal its valuation, which has risen since its previous round, although Calcalist has learned that it has yet to reach Unicorn status. Pecan has raised $117 million to date. Part of the Series C financing will be used for secondary deals. The company didn't specify how much of the money will go towards acquiring shares from employees and veteran investors, but it is believed to be in the region of several million dollars.

"We have raised over $100 million in nine months," Zohar Bronfman, CEO and co-founder of Pecan, told Calcalist, with Pecan announcing a $35 million Series B last May. "Our staff has grown from 30 to 100 employees and we will double that number in the coming year. The funding will be used to continue our commercial expansion in the U.S. and investment in our product, which is in great demand."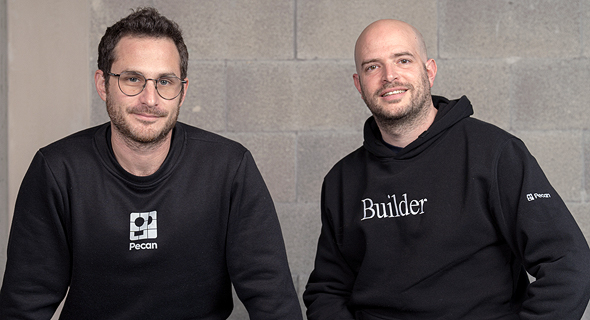 Pecan AI co-founders Noam Brezis (right) And Zohar Bronfman. Photo: Daniel Hanoch

Sitting at the nexus of AI and data analytics, Pecan's low-code predictive modeling and data science platform empowers business intelligence (BI) analysts to predict revenue-impacting risks and outcomes. Users can turn massive amounts of raw transactional data into accurate predictions of critical key performance indicators that directly impact revenue and profitability. Over the last year, Pecan once again more than tripled its annual recurring revenue, although it wouldn't elaborate on the actual sum of its sales.

"Companies like ours are measured according to their growth rate," explained Bronfman. "We have always been careful with our expenses, but our goals are very aggressive and we will continue to grow. Pecan provides a necessary business tool in both good and bad times. Companies that don't use data science during tough times are the companies that will die out."

Pecan was founded in 2018 by Bronfman and Noam Brezis, who met during their Ph.D. studies in computational neuroscience at Tel Aviv University. Both are also alumni of Unit 8200.