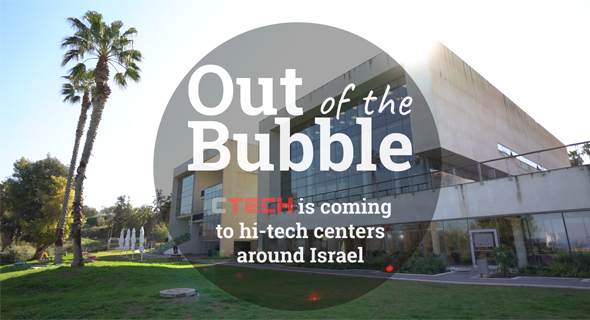 Out of the Bubble
"Out of the Bubble" - CTech is coming to hi-tech centers around Israel
In a new series of events, CTech journalists will travel to tech centers throughout Israel to meet the entrepreneurs and the companies that are flourishing outside the country's center
We love to label Israel's high-tech sector as "Startup Nation", but when you break down into detail the activity in the industry a slightly different picture is revealed. The lion's share of the "Nation" is centered in the center of the country and consists of employees working for companies with headquarters mainly in the Tel Aviv and Herzliya area. But technological entrepreneurship and innovation are actually spread out across the country's different geographical regions - from Kiryat Shmona in the north to Eilat in the south of the country. The ongoing activity in these regions receives little media exposure, which is why we are launching our new series "Out of the Bubble" in which CTech journalists will be visiting tech centers across Israel.




There are many dozens of hi-tech and tech centers across the country built upon local initiatives, remote sites established by corporations, educational and academic organizations, as well as the vision of private entrepreneurs excited by a particular geographic region or who grew up in a certain region and are interested in nurturing it. That is why we decided at CTech to hit the road and see with our own eyes these centers established outside the Tel Aviv bubble and meet with the entrepreneurs scattered across the country, trying to highlight the advantages and challenges characterizing each geographical region. In a series of video features that we will be publishing over the coming weeks and months, we will reveal to CTech readers in Israel and the world these centers and the people filling them with creativity, initiative and a sense of mission.

In the first event, filmed during last week (the end of January) at the Kinneret Innovation Center, which operates in the Jordan Valley region on the Kinneret College campus, we spoke to entrepreneurs, investors, and academics regarding the technological activity in the region and its unique challenges. Cowboys harnessing technology for herding, water and energy experts, and isolated community security solutions are just some of the ideas being built in the Jordan Valley ecosystem, with the talents that live there and the unique characteristics of the region.