AI Week kicks off to celebrate artificial intelligence progress
The three-day conference is highlighting how AI technology is revolutionizing business strategy, policy, and future development
Today marked the first day of AI Week 2022, a 3-day conference from The Blavatnik Interdisciplinary Cyber Research Center and Tel Aviv Center for AI and Data Science at Tel Aviv University. It invites data scientists and AI professionals to discuss artificial intelligence and learn how it can be applied to corporate, business, policy, and general future development. The virtual conference collects insights and predictions from some of the leading professionals in their respected areas of AI.

The conference includes a long list of sponsors such as Intel (co-founder), PayPal, Toga Networks, Earnix, Elbit Systems, TCS Research, Google, Amdocs, Meta, Lightricks, Applied Materials, and Pagaya. The first day had a full agenda that included sessions on 'AI in the Quantum Age', NLP, 'AI and Automotive' (moderated by CTech), and 'Deep Learning for Tabular Data', moderated by a researcher at PayPal.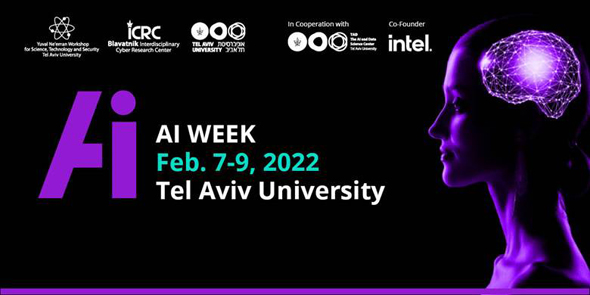 AI Week is taking place February 7-9, 2022. Photo: Screenshot/AI Week

The second and third days, still open for the public to register, will touch on 'The IDF's New Information and AI Strategy', 'AI and Finance', 'AI in Health and BioMed', and plenty more. Speakers include Maj. Gen. (Ret.) Prof. Isaac Ben Israel, Chairman, AI Week Online; Director, Blavatnik ICRC, Tel Aviv University; Co-Head of Israel's AI Initiative; Jack Hidary, Head of Sandbox; Sana Khareghani, Head of the UK Government's Office for AI; and Dr. Kira Radinsky, Chairperson and CTO, Diagnostic Robotics. The conference's partners include 8200Bio, Disruptive AI Venture Capital, and American-based Gradient Flow with cooperation from the Israel Innovation Authority.

This year marks the third AI Week, first occurring in 2019 with a break during the pandemic. Guests are still invited to attend the two remaining days here.