Cyberstarts fund I records 300% annual return amidst cybersecurity boom
50% of the companies that have raised their Series A round or more on Gili Raanan and Lior Simon's firm's portfolio have already become unicorns
Gili Raanan has long been considered to be one of the leading cybersecurity investors in Israel. He showed exactly why when his VC Cyberstarts, which he heads with Lior Simon, revealed on Wednesday that Cyberstarts fund I, a $54 million fund, raised in 2018, has shown a weighted annual return to investors of an impressive 300%.

According to Cyberstarts, 13 of its portfolio companies reached a combined valuation of $20 billion this past year, with 50% of the portfolio companies that have raised their Series A round or more, already becoming unicorns. Companies in the portfolio include: Fireblocks, Wiz, Transmit Security, Island and Dazz.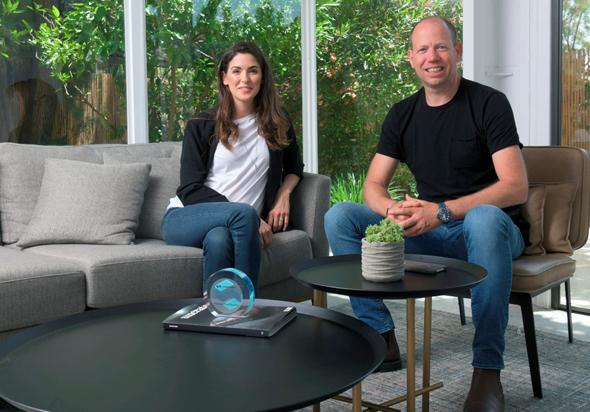 Gili Raanan (right) and Lior Simon. Photo: Yossi Zeliger

Research by Cambridge Associates which monitors 2,113 funds since 1996 found out that Cyberstarts' fund performance is better than the average of the top 5% funds each year for the past 26 years.

The small team of Cyberstarts, including Gili Raanan, Lior Simon, and Jason Clark, has been joined by Curtis Simpson to help with the product-market alignment process. Curtis has 20 years of experience as the Chief Information Security Officer (CISO) at Armis and as a client that managed information security for Sysco, a Fortune 100 corporation.

Cyberstarts made four new investments (three of the four are first-time entrepreneurial teams) throughout 2021, all of which were decided on before the startup incorporated as a company.

The investors behind Cyberstarts are some of the most successful entrepreneurs in the world in the field of cybersecurity and include the entrepreneurs Shlomo Kramer of Cato Networks, Imperva, and Check Point, Marius Nacht of Check Point, Nir Zuk from Palo Alto, Udi Mokady from CyberArk, Mickey Boodaei and Rakesh Loonkar from Transmit, Roy Zisapel from Radware, Yevgeny Dibrov and Nadir Israel from Armis, Assaf Rappaport from Adallom and Wiz, Demisto entrepreneurs and more.