Female Founders
Sigalit Mutzafi, RadGreen - Creating a safer and healthier work environment
"Raising money is probably more challenging. There is a need to prove your ability and professional knowledge to gain trust within the first moments of conversation," she said
Sigalit's cloud-based environmental quality monitoring and alerting platform is something we are seeing more and more corporates and facility/property management companies looking into to create a safer and healthier work environment. Sigalit sees exactly how communication is key, especially when it comes to fundraising, you can see that they understand the overall investment process and how it works. This is also visible when it comes to feedback and how founders keep an open mind and acknowledge feedback, but more crucially, figure out what to do with it.

As part of the Female Founders' program we have been running at StageOne, which has led us to meet over 90+ founders in the past two years, we've decided to introduce you to some of the founders we met from both Israel and the U.S. They operate in different industries and their startups' are at different stages, but they have all impressed us with their company, leadership, and drive. This program gives us the opportunity to keep in touch and maintain ongoing relationships with many of these founders. We can hear about their companies' growth, connect to relevant investors, assist when we can, and have follow-up meetings to go over their progress.
Sigalit Mutzafi of RadGreen. Photo: Tamar Mutzafi
Meet Sigalit Mutzafi, co-founder of RadGreen
RadGreen was founded in 2016 by Sigalit Mutzafi and Erez Mutzafi who met during their army service. The company is located in Tel Aviv.
Can you tell us a bit about RadGreen?
"RadGreen is a cloud-based environmental quality monitoring and alerting platform. It tracks air quality, pollutants, viral index, thermal comfort, noise, and radiation parameters — 24/7, both indoors and outdoors. Users access real-time results and gain actionable recommendations to improve the health and safety of their buildings' inhabitants and provide transparency to tenants, employees, and customers."
What inspired you to develop your idea?
"We were looking for environmental information for personal use and didn't find any good solutions available."
What are some of the challenges you've faced (if you have), regarding building a company as a female founder?
"Raising money is probably more challenging. There is a need to prove your ability and professional knowledge to gain trust within the first moments of conversation."
What are the secrets to your success?
"Resilience and persistence. We have a great product that provides value to our customers, and we intend to grow even further."
What do you want to achieve next?
"RadGreen recently started its expansion to North America. We will raise funds to expand in the U.S. this year."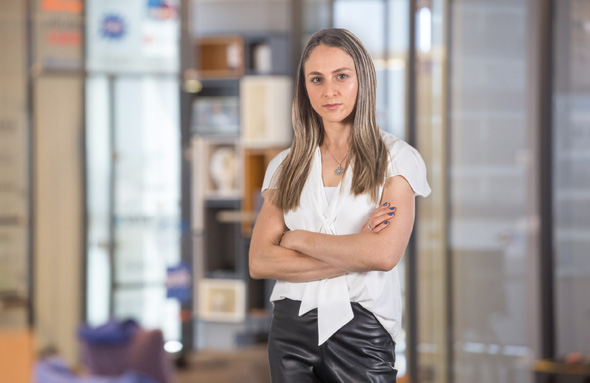 Yael Eckstein of Stage One Ventures. Photo: Dudi Moskovitz

Yael Eckstein, Marketing Director at StageOne, started the Female Founders Office Hours program, in which StageOne Ventures is continuously looking to invest time and resources so that innovations get the support, networking, and know-how they need to receive funding. The program involves a one-on-one meeting in our offices with the fund managing partners and team, so we can connect, hear the company's pitch, and obtain concrete advice, consult, and network.