A Day in a Life
The folk dancer helping Novidea bring high-tech to the insurance world
Shelly Shaked Marmary, a Business Analyst at Novidea, learns something new every day at work but when away from the office is obsessed with folk dancing and spends the entire summer vacation at the seashore with her family
ID
Name: Shelly Shaked Marmary
Age: 43
Lives in: Binyamina
Company: Novidea
Position: Business Analyst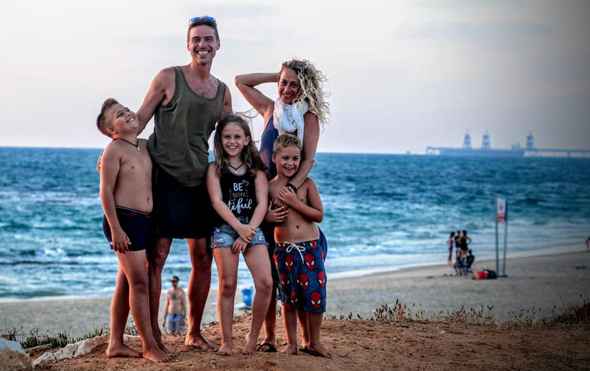 Shelly Shaked Marmary and family. Photo: Sheva Elbocher

For a Starter

My name is Shelly and I live in Binyamina with my husband, Mor, our three children (Liad (13.5), Ziv (11) , Ido (9)) and our dog, Camelot. I have been working at Novidea for about a year now, and prior to that, I worked for many years in insurance companies, mainly in digital and customer facing positions. Outside of work, my family and I are beach and sea lovers. For us, it's more than a place to visit occasionally. Every year in the summer months, we park our caravan at the seashore, and live there full-time during the entire summer vacation.

What's so special about what your company does? I love that Novidea brings high-tech to the insurance world which is known to be very conservative and traditional. Novidea's insurance platform, built on Salesforce, uses advanced technologies which change the way brokers and agents work, interact and utilize data.

What do you enjoy the most about your work? Working at Novidea challenges me on a professional level. I learn something new every day. Our product is sophisticated and the fact that it is developed on Salesforce's infrastructure allows such a wide range of capabilities and possibilities. Beyond that, what I like most about the company is the people, the culture and the working atmosphere.

Preference - working from Home / Office / Hybrid: Hybrid - As a mother of three, this is the perfect solution for me. It's the best of both worlds. I have the days in the office where I meet my colleagues, and other days at home so I maintain more presence in my children's lives.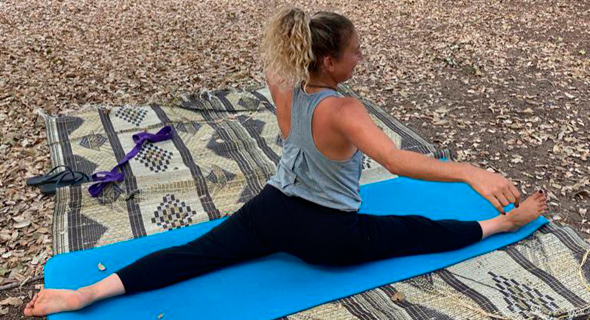 Shelly Shaked Marmary practicing yoga. Photo: Courtesy
My Daily Routine
07:00
Wake up.
08:00
Take kids to school.
08:30
Start working.
09:30
Daily meeting with the development team.
10:00-13:00
Write system requirement specification documents.
13:00-15:00
Meet with customers for requirements.
15:00-17:00
Work on the Israeli product and work plans.
17:00-18:00
Kickup sprint product.
18:30-20:00
Yoga class.
21:00-1:00
Folk dancing.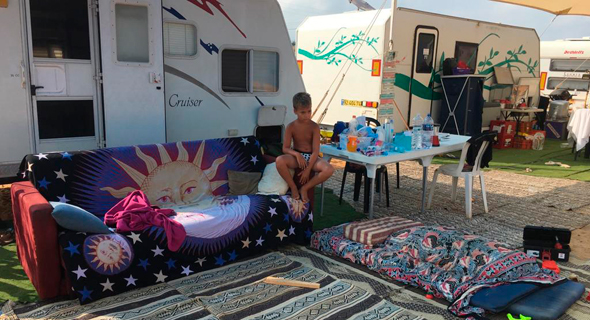 Shelly Shaked Marmary's caravan. Photo: Courtesy

After Hours

What do you like to do in your spare time? From the moment my kids grew up a bit, I discovered folk dancing and I became obsessed. While they sleep, I dance with groups all over the country. Today's folk dances are a little different from the dances of yesteryear (less Hora - more Eyal Golan) but keep the same idea - they all dance together in a circle. Dancing for me is the greatest happiness - I can dance day and night.

In the last two years, at the beginning of the pandemic, I started practicing yoga and it has become a very important part of my life. I practice at least 4 times a week - Power Yoga and Vinyasa Yoga. And beyond the physical development (I manage to do a front split!!) the connection to the mind elevates me and strengthens me.

In the summer season (only - I'm cold in the winter), I surf, and water ski.

Apple or Android? Apple

What type of music do you listen to? Israeli music, electronic music (Infected Mushroom).