BiblioTech
CTech's Book Review: Adopting extreme ownership in life and business
Alon Silberberg, Co-Founder and CEO of YuviTal, shares insights after reading "Extreme Ownership: How U.S. Navy SEALs Lead and Win Book" by Jocko Willink and Leif Babin
Alon Silberberg is the Co-Founder and CEO of YuviTal, a digital health and fitness solution for organizations. He has joined CTech to share a review of "Extreme Ownership: How U.S. Navy SEALs Lead and Win Book" by Jocko Willink and Leif Babin.

Title: "Extreme Ownership: How U.S. Navy SEALs Lead and Win Book"

Author: Jocko Willink and Leif Babin

Format: Audiobook

Where: Home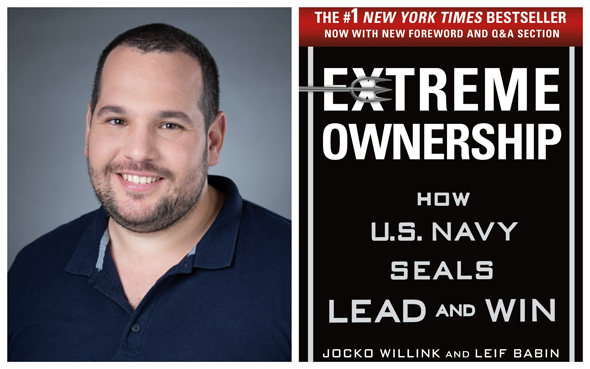 Alon Silberberg, Co-Founder and CEO of YuviTal. Photo: Hadar Youavian/Amazon

Summary:

Extreme Ownership is the practice of owning everything in your world, to an extreme degree. It means you are responsible for not just those tasks you directly control but also those that affect whether or not your mission is successful.

Jocko Willink and Leif Babin are two former Navy SEAL combat officers that share their stories and insights from their special forces service and deployments, based on the "Extreme Ownership" state of mind and how one can implement it in the business world.

In high-pressure, high-stake situations, leaders need to take actions and decisions with immediate impact. On the battlefield, this could mean life or death, with effects on the mission and the operation outcome. In business, this could determine if the company sinks or prospers.

Important Themes:

The book's main principles include:

A leader must fully understand the mission. Otherwise, you can't really push the team to success.

In order to make sure a team "gets the job done" - Everyone on the team has to take full responsibility for the team's decisions. It starts from the leaders and must spread throughout the "chain of command" both in the military world and the business one.

The mission is more important than ego. As the leader, you have to manage it and focus everyone on the mission and understand that everyone, including yourself, will make and have bad calls - Therefore, you have to be open to constructive criticism.

Stay calm and keep making decisions. You need to know how to make the best based on the available information you have. The worst thing you can do is stop taking decisions

Like in the battle, a team needs to cover and move. This means you need to make sure different teams help and support each other for the company to function.

Business leaders have to understand that in order to take their organizations forward, they have to realize that everything starts and ends with them. The responsibility is a heavy burden that must be carried by those who lead. And this is the difference between a manager and a leader.

What I've Learned:

The bottom line of this book written by the two Navy SEALs focuses on one critical point: the team behind the business is everything.

The more we understand that all team members (especially the leader) are fully responsible for every task, the greater the chance of achieving success.

When it comes down to achieving goals on the one hand and facing difficulties and challenges on the other, it all boils down to the way that I, as the leader, steer the ship: It is my sole responsibility, for better as well as for worst. I'm the owner of each and every one of the decisions that take place in the company.

Extreme Ownership requires that you put aside your ego and review what you have to do in a different way as a leader in order to create success. Which means securing your resources, accepting criticisms, building processes, and more.

As a former special unit commander myself, and a business leader today, it was fascinating to deep dive into the connections between them.

Critiques:

Pros:

The book is an excellent "playbook" on how to become a more mature leader. It gives a great point of view on management during "storms" and difficulties, or in the book's case, even during life and death situations.

For me, it is also a great reminder of the great value combat soldiers and commanders can bring to companies due to extreme life experiences that lead to incredible problem-solving skills.

Cons:

The book sets a very high standard to achieve in your daily work. It's an everyday struggle to be that kind of manager.

Who Should Read This Book:

Every business leader at all levels and industries. Also, combat leaders and commanders.