Exodigo digs up $29 million in Seed funding for 3D subsurface imaging platform
The Israeli startup's platform can create a digital geolocated, 3D map of buried assets – from man-made pipes and cables to soil layers, rocks, minerals, and groundwater across any terrain
Israeli company Exodigo, which has developed a non-intrusive subterranean mapping platform for construction, mining, and utility companies, announced on Thursday that it has raised $29 million in Seed funding led by Zeev Ventures and 10D Ventures, with participation from SquarePeg Capital and JIBE Ventures. Strategic industry leaders Tidhar Construction, Israel Canada, and WXG Ltd. also joined the round.

Exodigo was founded by CEO Jeremy Suard, CPO Yogev Shifman, and CTO Ido Gonen. All three are fresh alumni of IDF intelligence units 8200 and 81, completing their military service just over a year ago.

"We have been dreaming of founding a startup for several years, but we kept postponing our discharge from military service because we found it difficult to leave. Ultimately we decided to end our service in January 2021. There was a lot of pressure on us to continue in the military, but we understood that we wanted to try something else and we succeeded in recruiting top minds who we met mostly during our service," the three co-founders told Calcalist.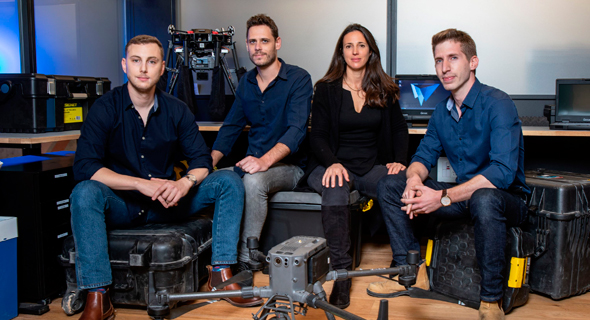 Exodigo team. Photo: Exodigo

The three were decorated during their service for their roles in significant military projects. "For us, the thrill of setting up a startup is very similar to the thrill we got in the military. We wanted to solve a real problem with the tools we had and didn't want to focus on cybersecurity. In our vision we see our company sending drones to discover water on Mars."

Every year, Exodigo estimates that more than $100 billion is spent on unnecessary excavation and drilling to discover what lies underground in an attempt to avoid hitting gas pipelines, water sources, oil, and other potential hazards hidden beneath the surface. The constant use of heavy equipment creates avoidable greenhouse gas emissions, wastes billions of dollars per year, damages the planet, and causes spills and explosions that can cost lives. As an example, the Common Ground Alliance estimates $30 billion in societal costs resulting from damages to critical U.S. underground infrastructure each year. Carried by drones or small carts, the Exodigo sensor system effectively provides 3D subsurface imaging that eliminates the need for exploratory excavation and powers smart drilling and sustainable operations by derisking the discovery process across industries.

"We told investors that we are raising a Seed round which is essentially a Series A round and we completed it in five days," they added. "We recruited 15 people before we even had a company. We went to Yahel Zilka of 10D Ventures and he gave us $5 million that started off this round."

Exodigo can rapidly create a digital geolocated, 3D map of buried assets – from manmade pipes and cables to soil layers, rocks, minerals, and even groundwater across any terrain. Exodigo said it is set to commence pilot projects in California, Florida, and Texas in the coming weeks. The company plans to use the funding to accelerate its expansion, with a focus on building a California-based team to support the commercial rollout in the United States. Yahal Zilka of 10D and Oren Zeev of Zeev Ventures have joined the Board of Directors.

"Offering next-generation noninvasive subsurface imaging, Exodigo delivers precise and complete data faster than other solutions," noted Asaf Touchmair, owner and chairman of the board, Israel Canada. "Exodigo can help businesses avoid unexpected consequences like spills and explosions that cost millions of dollars each year and lost time accidents."

"Traditional underground discovery techniques are grossly outdated and incredibly inaccurate. Exodigo is the future of underground mapping. Led by a team with unequaled experience, Exodigo will solve costly, and at times devastatingly catastrophic, problems that have plagued developers and engineers for decades," said Gil Geva, CEO of Tidhar Construction.