Lawsuit against Palmer Luckey, Oculus VR, Resurfaces
On Tuesday, a lawsuit alleging Mr. Luckey used the intellectual property of another company to build the prototype headset that became the Oculus Rift was re-filed
A lawsuit claiming Oculus VR founder Palmer Luckey used the intellectual property of another company to build the prototype headset that became the Oculus Rift resurfaced.
On Tuesday, attorneys on behalf of Total Recall Technologies, a Hawaii-based company, re-filed the lawsuit in a California district court.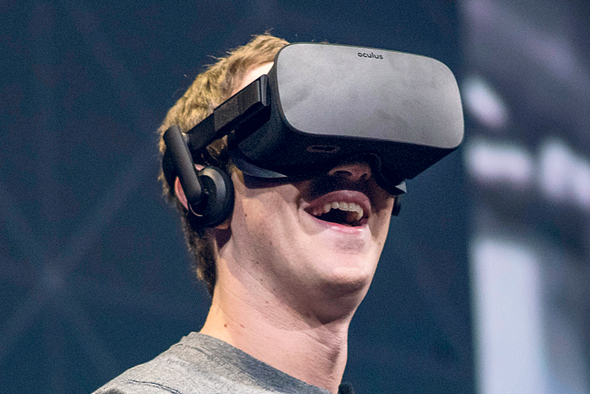 Facebook CEO Mark Zuckerberg with the Oculus headset
In June, the lawsuit was stayed by a California federal judge, as one of the two Total Recall co-founders, Thomas Seidl, did not want to move forward with the legal proceedings.
After the June ruling, Total Recall's other co-founder, Israeli-born Ron Igra, bought Mr. Seidl's shares.
According to the lawsuit filed Tuesday, in 2011 the founders of Total Recall paid Mr. Luckey to build a prototype virtual reality headset according to their specifications.
After building the specified prototype and sending it to Total Recall in August 2011, Mr. Luckey went on to use the prototype he built passing it off to others as his own, the lawsuit alleges.
The next year Mr. Luckey formed Oculus LLC, the predecessor of Oculus VR Inc., and launched a Kickstarter campaign to raise $250,000 for the development of a VR headset. Exceeding his expectations, Mr. Luckey raised a whopping $2.4 million dollars and overnight was hailed as Silicon Valley's new golden boy.
In 2014, Oculus VR was bought by Facebook for $2 billion two years later in a cash and stock deal.
Shortly after the acquisition, gaming company ZeniMax filed a lawsuit against Oculus, alleging the headset uses software code developed by one of its former employees at a time he was still working for the company. In February, a court of jury ordered Oculus to pay ZeniMax $500 million, ordering two of the company's executives, Mr. Luckey being one of them, to pay another $200 million to ZeniMax.
Naming both Mr. Luckey and Oculus VR as defendants, the lawsuit re-filed Tuesday alleges the defendants knowingly converted property owned by Total Recall to their use, including the mentioned headset, monetizing the assets without the latter's consent.
On his LinkedIn account, Mr. Igra writes that in 2011 "Total Recall Technologies contracted Palmer Luckey to build the prototype VR headset which later became known as the Oculus Rift."
In 2011 Mr. Igra and Mr. Seidl were living in Hawaii and communicated with Mr. Luckey, a resident of California, via email and Skype, said Mr. Igra. They supplied Mr. Luckey with $800 to pay for parts necessary to build the headset, he said.
After they received the first version assembled by Mr. Luckey they sent it back with further specifications and continued their correspondence with Mr. Luckey throughout 2012, Mr. Igra added.
Last week, Facebook announced plans to launch its new VR headset in 2018. The upcoming headset will run on the Oculus software and carry the Oculus name.
Facebook declined to comment.