A Year After SpaceX Explosion, Satellite Operator Struggles to Recoup
In September 2016 Facebook's web access initiative satellite was destroyed in a SpaceX rocket explosion. The Israel-based satellite operator is still dealing with the fallout
The AMOS-6 communication satellite could have supplied millions of people with access to the web, as part a Facebook initiative to provide web access in Africa. On September 1, 2016, it was destroyed when a SpaceX Falcon 9 rocket exploded on its launch pad in Florida during pre-checks. Space Communication Ltd., the Israel-based satellite operator, is still dealing with the explosion's fallout.
On Thursday, Shanghai-listed telecommunication technologies supplier Beijing Xinwei Technology Group Ltd. announced its board of directors decided to scrap a previous decision to acquire Space Communications, also known as "Spacecom."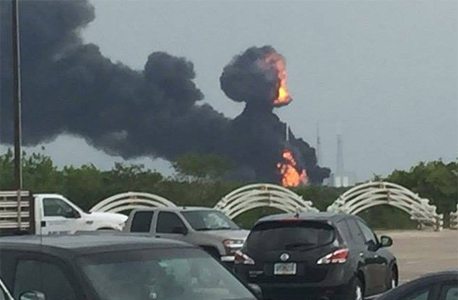 AMOS-6 destroyed in a Falcon 9 explosion in Florida, September 2016
Spacecom's board approved a $285 million acquisition offer by Beijing Xinwei a week before the explosion. A successful launch was a pre-condition for the deal. The talks between the two sides ground to a halt in January 2017.
Founded in 1993 with the goal of marketing AMOS-1, the first Israeli made satellite, Spacecom was spun off from Israel Aerospace Industries Ltd., the satellite's manufacturer. Its parent company remained the builder of most of the company's satellites. In 2005 Spacecom listed on the Tel-Aviv Stock Exchange.
Spacecom finances the construction and launch of commercial satellites, contracting third party suppliers. After the satellite enters orbit the company positions the satellite in space according to customers' requirements. AMOS-6 was to be its sixth commercial satellite.
The company received $218 million compensation for the satellite destroyed, but it wasn't enough to cover the financial fallout—it lost a five-year contract with Facebook worth $95 million and was forced to lease another satellite at the cost of $22 million a year.
The added expenditure resulted in a 42.7% drop in Spacecom gross profit year-over-year. While Spacecom said several other entities besides Beijing Xinwei had expressed interest in buying the company, its stock is now trading at a little over half of its price a year ago.
Following the destruction of AMOS-6, in February Facebook announced a plan to lay nearly 500 miles of fiber cable for wireless internet in Africa.
After a four months hiatus following the explosion, SpaceX resumed launches in January 2017.