Hyperloop Line has Potential to Replace Tel Aviv–Aqaba Gulf Flights
A 20 minutes ride on a Hyperloop line between Tel-Aviv and the Gulf of Aqaba could replace a near hour long flight, say Israeli entrepreneurs working with Hyperloop One
A 20 minutes ride on a Hyperloop line between Tel-Aviv and the Gulf of Aqaba could replace a near hour long flight, say Israeli entrepreneurs working with Hyperloop One, a Los Angeles-based company working to commercialize the futuristic mass transit system promoted by entrepreneur Elon Musk.
In May 2016, Hyperloop One kicked off a contest, calling individuals, universities, companies, and governments to "develop comprehensive proposals for deploying Hyperloop One's transport technology in their region."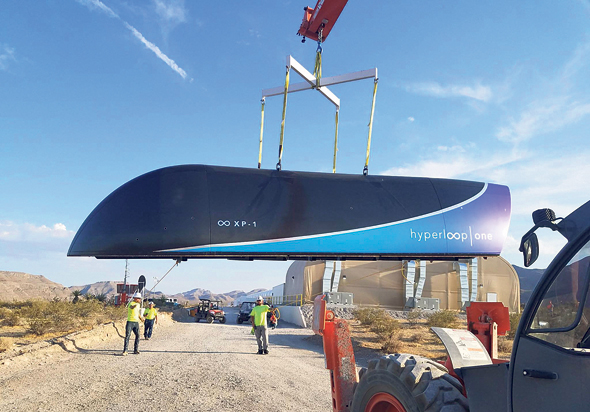 A Hyperloop One test vehicle transported in the Nevada Desert
In April, the company announced 35 semifinalists, including a proposal to build a Hyperloop line connecting Tel-Aviv with Eilat, a popular Red-Sea resort town located 175 miles south of Tel-Aviv. With a population of nearly 50 thousand, it is Israel's southernmost city.
Three Israeli-born technology entrepreneurs, Eran Tal, Omri Rahamim and Yotam Drechsler, collaborated with McKinsey analysts to co-author the proposal.
Israel still mulls a longstanding $2 billion plan to build a railway to Eilat, and travelers going between the greater Tel-Aviv region and the resort town take local flights or hit the road, expecting a 4 hours drive.
Building costs for the proposed Hyperloop plan would be as low as a third of the cost of a fast train, to be built along the same route, says Mr. Tal, one of the plan's co-authors and a chairman of the board at online foreign currency trading platform company FXEmpire.com.
As a preliminary stage, a Hyperloop line can be built to connect Eilat with a new airport located 12 miles north of the town, expected to start operating in the next 12 months, said Mr. Tal in an interview with Calcalist.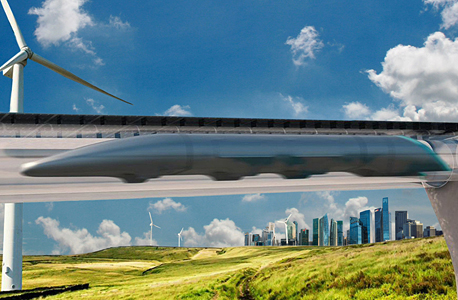 Hyperloop concept design
Built in the Timna Valley, a historic copper mining site, the new airport is named after Ilan and Assaf Ramon, the first an Israeli-born astronaut killed in the Columbia space shuttle disaster in 2003, the second, his son, killed in a training accident in 2009, while training to become a fighter pilot in the Israeli air force.
A Hyperloop line between Eilat and Timna can be used to shuttle travelers and cargo to and fro Eilat, Mr. Tal added. Eilat's seaport is currently jammed with traffic, and a Hyperloop line can "make a real change," he said.
The planned proposal includes stops at Israeli port-town Ashdod, 22 miles south of Tel-Aviv, and Beer-Sheva, 57 miles south of Tel-Aviv, Israel's 8th most populated city, and a growing technology hub.
Currently, a train ride of over one hour, the commute from Be'er Sheva to Tel-Aviv could take as little as five minutes, said Mr. Tal.
Acknowledging that the first Hyperloop lines will be built the U.S. and in Dubai, the authors of the proposal hope Hyperloop One, would choose Israel as its next stop, Mr. Tal said.
The proposal authors collected signed documents attesting to the support given to the plan by Israeli administrators and regulators.
The feasibility of overcoming bureaucratic challenges makes for a significant factor in choosing the target locations for the next lines, giving the Israeli proposal tailwind, Mr. Tal added.