Hedge Fund Manager Turned Entrepreneur Raises Funds for Text Analysis Startup
Co-founded by Nathaniel Storch, previously of HighBridge Capital and Talpion, Amenity Analytics extracts insights from company filings, earnings reports and analysts notes
Co-founded by CEO Nathaniel Storch, a former hedge fund manager, data mining startup Amenity Analytics IL Ltd. raised $7.6 million in Series A funding, the company announced Monday.

Amenity Analytics utilizes text-mining software to extract insights from company filings, earnings reports, and analyst notes. These are then used to generate investment strategies for clients.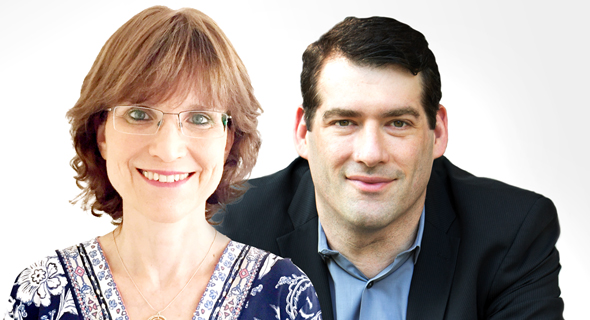 Amenity Analytics co-founders Hedva Feldman (left), Nathaniel Storch (right)

Before founding Amenity in 2016, Mr. Storch held senior positions at HighBridge Capital Management LLC, a $25 billion investment management firm, and at Talpion Fun Management LP, a New York-based investment company managing over $1.5 billion.

The funding round was led by State of Mind Ventures, a Tel Aviv-based early stage venture capital fund co-founded by Pinchas Buchris, a former head of Unit 8200, the Israeli equivalent of the NSA and GCHQ, the British Communications Intelligence Agency.

Amenity Analytics' chief scientist Ronen Feldman founded ClearForest, a text analytics company that was acquired by Reuters in 2007. Amenity Analytics' chief operation officer Hedva Feldman, a veteran of the Israeli technology industry, is also a co-founder.

The company works with investment banks, investment funds and media companies, said Mr. Storch in an interview with Calcalist.

"These are entities that require highly accurate data, and we can offer them 20-25% improvement in performance. In today's information-flooded world, companies that use an active approach to their data are the victors," Mr. Storch said.