Exclusive
In Reykjavík, Urban Drone Delivery Service Takes to the Air
Icelandic online marketplace Aha.is utilizes a small fleet of drones to deliver sushi, hamburgers, waffle makers, and dishwasher tablets
Reykjavík-based online commerce company Aha.is has partnered with Tel Aviv-based delivery drone startup Flytrex Aviation Ltd. to launch an urban drone delivery system, the companies announced Wednesday.

DJI Matrice 600 drones with an added communication module by Flytrex now take-off from Aha's logistical base in Reykjavik and fly across a nearby Elliðavogur bay to a spot about 1.5 miles away carrying sushi, hamburgers, waffle makers, and dishwasher tablets, cutting the usual delivery times from thirty minutes to four minutes.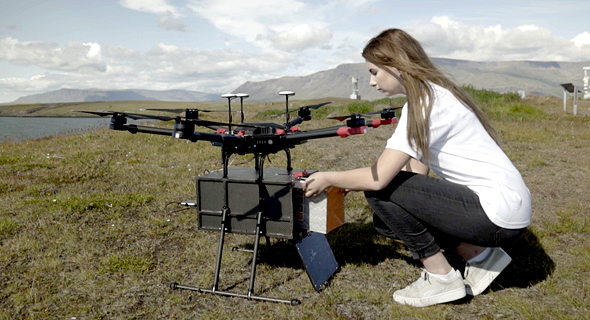 A Flytrex drone in Iceland
Nicknamed "Mules," the adapted DJI drones can fly at a speed of 33 miles per hour and carry up to 6.5 pounds.
Delivery by drone has been tested lately by several companies such Amazon.com Inc. and Domino's Pizza Inc., but Aha's delivery system is the only current operational commercial service utilizing delivery-drones.
Per Iceland's Transport Authority regulations, the last leg of the delivery must still be completed by a delivery person.
Founded in 2013, Flytrex developed a communication module making it possible to control consumer drones via cellular networks, enabling the operation of drones out of line of sight. The company raised $3 million in funding to date.
Aha, Iceland's largest online marketplace, will use the on-demand drones alongside its existing vehicle-based delivery network. The company plans to increase its current trial of 20 drone-deliveries per day to 60, citing reduced costs as the main benefit.