Intel's Lobbying Power Essential for Driverless Car Push, Says Mobileye CEO
To facilitate a dialogue with regulators, Mobileye recently published an article describing a roadmap for bringing down driving-related deaths through automated driving capabilities
Jerusalem-based automotive technology company Mobileye aims for the serial production of an autonomous car by 2021. To get there it needs to overcome both technology and regulation challenges, said company CEO Amnon Shashua at Calcalist's 2017 National Economic Council held yesterday in Tel-Aviv.

To sway regulators, Mr. Shashua added, the company needs Intel. "Mobileye can talk with the Israeli regulator, but Intel can talk to the American regulator," he said.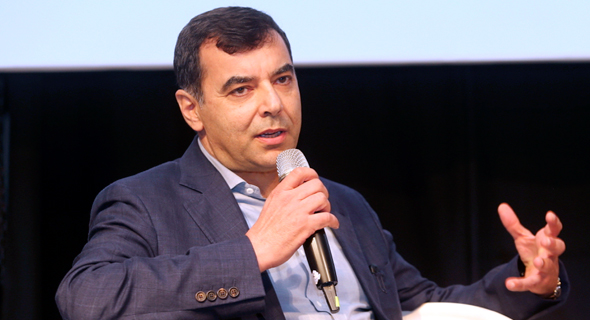 Mobileye CEO Amnon Shashua

In March 2017 Intel announced a $15.3 billion deal to buy Mobileye. The first stage of the acquisition was completed August 8, when Intel secured 84% of Mobileye's shares, positioning the chip-maker as a tier-one competitor in the global autonomous driving market.The reverse merger has seen Mobileye placed at the helm of Intel's automated driving group, and Mr. Shashua named CEO of the company, now called Mobileye an Intel Company.

Regulators are still unsure about where to place liability when it comes to self-driving vehicles. In California and Texas, regulators require that a human driver be present to take control of the car when the need arises. The U.K. government has similar requirements in place.

Mr. Shashua believes the way to regulators hearts goes through enhanced safety. "We don't want to invest money just to have the autonomous vehicle-making accidents and being shut down by the regulator. That's why autonomous vehicles have to be safe," said Mr. Shashua.

To facilitate a dialogue with regulators, Mobileye recently published an article describing a roadmap for bringing down driving-related deaths through automated driving capabilities.

Compared to design blunders in consumer goods such as smartphones, engineering failures in autonomous driving can lead to car accidents and deaths, said Mr. Shashua.

In 2016, Mobileye parted ways with Tesla following an autonomous car accident that killed a Tesla test-driver in May that year.

"An autonomous vehicle cannot make mistakes. The U.S. has 35 thousand driving-related deaths a year. If robots replace drivers and you'll still have ten thousand deaths a year, it won't work. But if there will only be ten deaths, then it will work. We don't want to invest money just to have the autonomous vehicle making accidents and being shut down by the regulator. That's why autonomous vehicles have to be safe," Mr. Shashua said.

"The chances of dying while driving is one in a million now. We need it to be one in a billion. It will bring driving-related deaths down to a third of current rates," he added, comparing the chances of dying on the road to "the statistical chance of a plane's wing detaching during flight."

Discussions with regulators, Mr. Shashua, said, need to move from the hypothetical to the practical. "We all know airbags in cars save lives, but most people don't know that they also kill people. Society can live with it because the risk is minor, but it can happen. If we manage to get the number of deaths down to that level, the ethical consideration won't matter."

"The change brought on by our partnership with Intel worried us," said Mr. Shashua on stage. "You don't make such a big investment just to lose the creativity; that's why Mobileye is staying independent. Intel is the shareholder and the resource provider," he added.

"Intel is providing us not with a financial back, which we already have, but with an industrial back. Our organic growth is just too slow to conquer this kind of industry, and that's why we partnered with Intel," he said.