Israel Is a Tech Nation, But Mostly for Men
New government study examines the gender divide of Israel's leading industry
A study published in August by the Israeli Ministry of Finance in collaboration with the Ministry of Social Affairs and Social Services shows that the wage gap between men and women working in the tech industry increases with age. At 29, men earn 7% more on average than women employed in similar positions. By the age of 40, the gap increases to 18%.

According to the study, based on data for people born in the years 1975-1985, women are represented in lower numbers in each and every stage of the Israeli tech employment cycle, from education to entry-level jobs, and particularly in higher-level positions. Women make up 24.3% of all tech employees, a number significantly lower than the percentage women represent in Israel's working population (49.5%).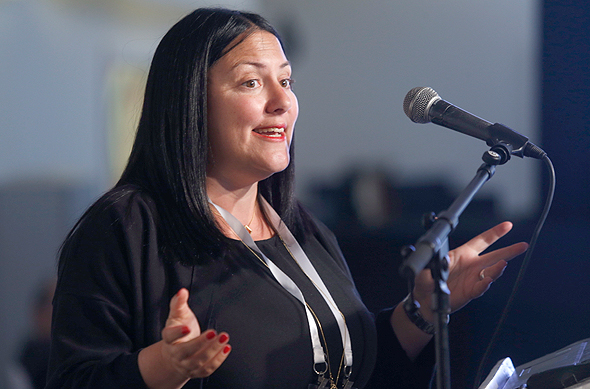 Whitesmoke founder Hilla Ovil-Brenner

The study suggests that the slower integration of women into the tech industry in general, and in particular into its most desirable sub-sectors and key positions, is key in explaining the discrepancy in the salaries of men and women. The wage gap has been previously attributed to fewer hours worked and differences in negotiation abilities.

In the years 1985-2014, 55,500 men received a bachelor's degree in Israel in one of the primary tech professions, such as Computer Science and Electrical Engineering, compared to 12,800 women. This is despite the fact that only a small gap exists in entrance exam grades, considered an indicator for compatibility.

Even when adjusting for other potential factors such as demographic background and personal capabilities, women have a significantly lower chance of entering the tech industry compared to than that of men, the study found. And once they enter the male-dominant industry, they find it difficult to advance there.

Efrat Fenigson, vice president of marketing at automated drone company Airobotics Ltd., is one of two women in a ten-member management team. The company employs around 150 people, 20% of them women.

"We're putting an emphasis on hiring more women," she said in an interview for Calcalist "but there aren't many female engineers out there and it's harder to find them. A company has to show it embraces women – not every woman feels comfortable working in a company made up of over a hundred men and hardly any women."

Women hold only 3% of executive positions in new Israel-based startups, said Hilla Ovil-Brenner, citing unofficial government data. Ms. Ovil-Brenner is the founder of Yazamiot, a non-profit organization with over 2,000 members that promotes women entrepreneurship in Israel, and of Tel Aviv-listed online English grammar software Whitesmoke Ltd.

Israeli culture does not promote equal obligations for men and women when it comes to child rearing, Ms. Ovil-Brenner added. "Women leave the technology industry after giving birth, in ages that are critical for career building. When they want to come back, they find that they've missed out," she said.

Ms. Ovil-Brenner is also part of the team behind Moms Campus TLV, an organization offering women on maternity leave an opportunity to network and learn tech and entrepreneurship skills.

According to the study, the lack of women trained in the tech professions also leads to underrepresentation in tech entrepreneurship. Women make up only 9% of Israeli tech entrepreneurs, and the number of women working in startups declines as they move through the startup life cycle: women represent 10% of employees in pre-seed and seed level startups, and only 5% of startup employees in more advanced funding stages.

Ms. Brenner noted that there's now a positive trend in the rate of women in Israeli tech, due to efforts on behalf of the government and companies like Google and Microsoft. "Technology companies should pay attention to this trend and do as much as possible to pay equal salaries and enable employees to leave home early," she said.