London 2017
Manchester United Exec Weighs in on Sport Innovation
Tony Strudwick, head of athletic development, thinks the next game changers are innovations that could increase players' cognitive development and speed of decision
Manchester United "has a culture of success that drives the club even from an innovation point," said Tony Strudwick, head of athletic development at Manchester United, at Calcalist's 2017 London Tech conference Thursday.

Mr. Strudwick joined Israel-born Yossi Moldawsky, founding partner of sports technology-focused venture capital firm Home Run Ventures and a longtime entrepreneur and investor in the technology sector, for a discussion of current and future innovations in sports technology and their effects on the sports played today.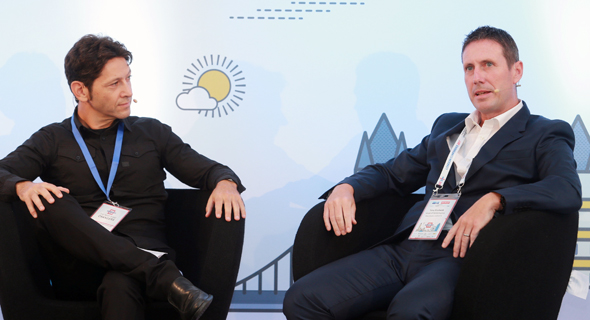 Left to right: Yossi Moldawsky and Tony Strudwick

Sport technology is one of the fastest growing sectors of technology investments in the world, totaling $2.7 billion in 2016 and predicted to surpass that in 2017, said Mr. Moldawsky, who has a deep-rooted interest in sports; he is a former owner and chairman of two Israeli football clubs and a former board member of Hapoel Jerusalem basketball Club.




"We're not good at sports in Israel, let's admit that," said Mr. Moldawsky. "But we would be very successful, I believe, in sports technology. Probably the best in the world, because we have the underlying technology that is relevant for sports."

Israeli sports technology has been making headlines lately, albeit indirectly; In April this year Intel entered a partnership with the NFL to offer the league's games in 3D using a special viewing technology called FreeD. The technology, which utilizes multiple ultra high-definition cameras installed in the stadiums to record events in 360-degrees, was developed by a Tel Aviv-based startup called Replay Technologies, bought by the chip maker in 2016 for $175 million.

The sports technology market includes more than just media-based technologies such as virtual reality or smart stadiums; some have a biological background, like DayTwo Ltd., an Israel-based startup that analyzes the DNA of gut microbiomes to provide highly individualized dietary recommendations for Israel's national basketball team; some focus on performance enhancement, like Tel Aviv-based RSPCT, a startup working with the NBA to improve basketball shooting. And some focus on gear and equipment, like faster bikes or safer helmets.

When asked whether the English football world, generally considered conservative, is open to the adoption of new technologies, Mr. Strudwick said "since 2002 the game is getting quicker, and premiere clubs are compelled to look at ways to improve performance. The game is moving at such a speed that we have to keep up. Consequently the conservative approach of not looking outside a sport is very much changing."

He said that Manchester united, as one of the leading football clubs in the world, was the first to adopt GPS player tracking 10 years ago, the first in the premier league to create a performance lab and the first club in England to import a light lab in order to supply players with vitamin D.

Mr. Strudwick did admit that it's very difficult to get new startups "in the door", since such big organizations are usually tied up with commercial partners and also have to take extra care when it comes to their players' well being.

"Obviously we want the edge, so invariably we have worked with a number of companies, startups really, to try to get that competitive edge," he said, but generally they have to vet new technologies thoroughly and not go with the latest fad.

Mr. Strudwick thinks the next game changer in football, and in sports in general, will be innovations that could increase cognitive development and speed of decision.

"We're not really changing human physiology", he said, citing as an example the difference between Jesse Owens' 1936 record of 10.3 seconds at 100 meters and Usain Bolt's 2016 record of 9.63 seconds. "We've got a good grasp of where we are from a physical perspective. We need to go to the next step and maximize decision making."