NFL Kicks Off 3D Video Partnership with Intel
3D replays of the games played on Thursday, Friday, and Saturday now available on NFL.com
The NFL kicked off its 3D video partnership with Intel with the league opening on Thursday, and in games played Friday and Saturday.

Intel's 3D viewing technology, called FreeD, is developed and manufactured by Tel Aviv-based startup Replay Technologies, established in 2011. Intel bought the startup in 2016 for $175 million following a 3-year partnership.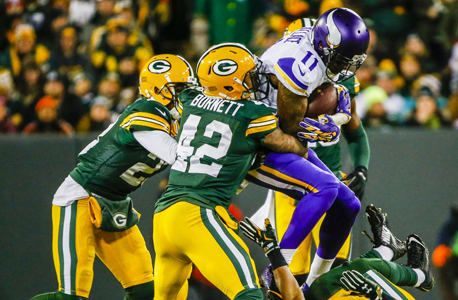 NFL Game

FreeD uses multiple ultra high-definition cameras to record events in 360-degrees, enabling broadcasters to slow a specific play, zoom in and out and offer various viewpoints that are usually not available, such as the viewpoints of the players themselves.

Intel first announced the NFL partnership in April, ahead of the 2017 season. The technology was then deployed at the home stadiums of the Baltimore Ravens, the Houston Texans, and the San Francisco 49ers.

Replay's systems have now been installed in the arenas of eight more teams: the Arizona Cardinals, the Carolina Panthers, the Cleveland Browns, the Indianapolis Colts, the Kansas City Chiefs, the Minnesota Vikings (site of Super Bowl LII), the New England Patriots and the Washington Redskins.

3D replays of the games played in these arenas are now available on NFL.com, the NFL Mobile app, the NFL YouTube channel and across NFL team digital offerings.

"During Super Bowl LI, fans experienced a pivotal play from the quarterback's point of view. Seeing key plays up close and from new perspectives is redefining what it means to watch the game," said James Carwana, general manager of Intel Sports, said in the announcement.