Automated Medical Diagnosis Startup Raises $30 Million
Israel-based MeMed develops an automated blood testing device that can distinguish between bacterial and viral infections. The company previously raised funds from the U.S. Department of Defense
Automated medical diagnosis startup MeMed Ltd. has raised $30 million in funds so far, the company announced Monday. This funding is in addition to the $20 million the company has received in the form of development contracts and grants from entities such as the U.S. Department of Defense and the European Commission.
Among the company's investors are Palo Alto, California-based investment venture capital firm Social Capital, Hong Kong-based billionaire Li Ka-shing, and Jaan Tallinn, the developer of Skype.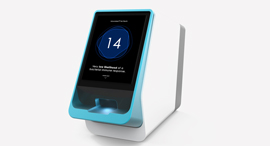 MeMed's device

MeMed was established in 2009 by CEO Eran Eden, who holds a Ph.D. in systems biology, and Kfir Oved, who holds an M.D. and a Ph.D. in molecular immunology. Headquartered in Tirat Carmel, a town in the north of Israel, MeMed develops an automated blood testing device that can diagnose whether an infection is bacterial or viral. It tests the response of the immune system and provides answers within minutes or hours, quicker than current tests on the market that rely on identifying the infecting agent.

A distinction between bacterial and viral infection is crucially important for both individual and global health. Antibacterial drugs are used to treat bacterial infections such as Strep and E. Colie, but are useless against viral infections, such as the flu, which is usually treated by vaccines and antivirals or by addressing the symptoms. Besides the risk that incorrect treatment poses to patients and the unnecessary costs it generates, unnecessary treatment with antibiotics poses the risk of creating antibiotic-resistant bacteria, sometimes known as "superbugs."

The company announced yesterday that it had completed a successful external and double-blinded clinical trial of its blood testing device, called ImmunoeXpert. Conducted in both Switzerland and Israel, the trial found that the blood test distinguished between bacterial and viral patients with 94% sensitivity, meaning it correctly identified positive infection in 94% of cases, and 90% specificity, meaning it correctly identified non-infected people in 90% of cases. It also had a negative predictive value of 98%—the probability that subjects identified as non-infected are truly healthy.

The current trial paves the way for real-world applications, business opportunities, and collaborations, Mr. Eden said in an interview with Calcalist. "We now have enough certainty to start treating patients," he said.

While the previous trial, published in December 2016, focused only on respiratory diseases in children aged three months to five years, the current trial tried to simulate situations a physician would see in an emergency room, testing wider ranges of age and infectious diseases, he added.