Israel's AI Scene is Booming
Flush with venture capital cash, Israel's Artificial Intelligence industry is growing
The artificial intelligence industry is projected to be worth $59.8 billion by 2025. AI startups are flush with venture capital cash and Israel is well placed among the world leaders to become a driving engine of AI technology.

In an effort to track the state of AI in Israel, I researched and analyzed Israeli startups that are employing AI technology. More than 450 Israeli startups use AI technology as a core part of their offering, 300 of which are funded and active. To date, these startups raised a combined $3.5 billion.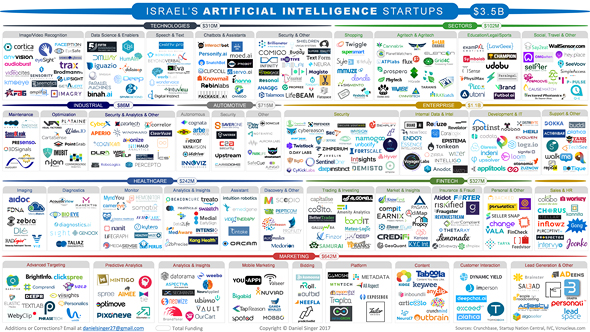 AI landscape of Israel

The startups are separated into eight categories: Technologies, Sectors, Industrial, Automotive, Enterprise, Healthcare, Fintech, and Marketing, and the technology is being used for a myriad of purposes.

Based on my research into Israel's AI industry, here are my top 10 insights:

1. Funding for Israeli AI startups is heating up. For the 2017 year-to-date period, Israeli AI startups have raised $837 million, more than the total amount raised in 2016. This number represents a fifteen-fold increase in the last five years.

2. The number of startups using AI technology has nearly tripled in size since 2014. Almost 300 startups were founded since 2014, representing over 60% of all Israeli AI startups.

3. Most of the new AI startups founded since 2014 are in the Marketing and Enterprise sectors. The global Enterprise AI market is valued at $31 billion and growing by 64% annually. By 2020, more than 40% of new IT expenditures are expected to go toward AI solutions. Last year, a survey conducted by the National Business Research Institute (NBRI) found that 38% of enterprises are already using AI, growing to 62% by 2018.

4. The majority of startups are business-facing — 85% are classified as B2B, while 15% are B2C.

5. Among the AI technology utilized, 57% use machine learning techniques, 15% use deep learning techniques, 7% use natural language processing, 4% use computer vision.

6. The top 10 most active investors to date in the Israeli AI space are: Microsoft Accelerator, the Israeli Innovation Authority, JVP, Nielsen Innovate, OurCrowd, Magma Venture Partners, UpWest Labs, Aleph, Glilot Capital Partners and Horizons Ventures.

7. More than half of the active startups have raised $500 thousand or less in total funding. The average age of these startups is 2.8 years.

8. The Marketing, Enterprise, Healthcare and Fintech sectors have the largest concentration of growth/later stage startups. Fraud and Insurance-focused startups dominate the Fintech sector, representing a combined 63% of the total Fintech sector. For growth stage startups, the Enterprise sector has received the majority of funding ($760 million), represented mostly by cyber security startups.

9. There has already been $1.0 billion in total exits, and the average exit deal size is $72 million. Based on the available data, Israeli AI startups are exiting at an average multiple of 8.2 times their total funding, ranging from a low of 2.0 to a high of 20.0 times. The time lag from founding to exit takes 5.4 years on average.

10. Half of the exits occurred in the last two years, and half of the exits were Marketing related startups. Corporate giants like Apple, Microsoft and Google are actively competing to gobble up AI startups and attract the best talent.

This article was originally published on Medium.

Daniel Singer is passionate about unique businesses solving complex problems. PE & VC Analyst, Canada and Israel, Singer holds a B.A. in Finance from John Molson School of Business, Concordia University.