SAP to Use New Acquisition to Address EU Privacy Regulation
SAP announced its acquisition of Gigya, a company that manages 1.3 billion customer identities for clients such as the NBA, Forbes and Tommy Hilfiger
Walldorf, Germany-based enterprise software company SAP SE bought customer identity management company Gigya Inc., the companies announced Sunday. The deal is expected to close in the final quarter of 2017.

The companies did not disclose the terms of the deal. SAP agreed to pay $350 million in cash according to one person familiar with the matter who spoke on conditions of anonymity.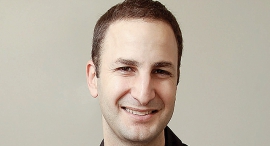 Gigya co-founder Rooly Eliezerov

Founded in Tel Aviv in 2006 and headquartered in Palo Alto, California, Gigya enables companies to manage their customers' profiles, preferences and consent settings through a platform that protects the privacy and data of the customers. Gigya currently manages 1.3 billion customer identities for clients such as the NBA, Forbes and Tommy Hilfiger.

Gigya's service "addresses changing geographical privacy issues and manages compliance requirements such as the upcoming General Data Protection Regulation (GDPR)", the companies said. The GDPR, which will become enforceable as of May 2018, is a regulation intended to strengthen data protection for European Union citizens and unify the varying legalization that currently exists throughout the member countries. As part of the regulation the EU will force companies to comply with user requests to detail algorithmic handling of specific users.

"Consumer trust is the main currency to succeed for customer-driven organizations. This is what Gigya is known and recognized for," said Carsten Thoma, president and co-founder of SAP-subsidiary SAP Hybris.

Gigya has been a partner of SAP Hybris, which provides an omnichannel customer engagement and commerce software to organizations, since 2013. It will become part of the SAP Hybris business unit for customer engagement and commerce.

With the acquisition, SAP Hybris intends to become the first organization to offer a cloud-based data platform that enables companies to profile and convert new customers, SAP said.

"Our identity is being transferred to digital space today, but in actuality your Facebook identity is not yours and you have no control over it," Gigya co-founder Rooly Eliezerov said in an interview with Calcalist. "We believe that your identity should be owned by you and SAP was the only company who thought like us."

Sources familiar with the matter who asked to remain anonymous told Calcalist that Gigya held negotiations with several strategic partners this year with no intention of selling, until negotiations with SAP developed.

"We had other offers but the organization culture of the other companies didn't consider the employees," Mr. Eliezerov added. "SAP's vision matches ours. We can make a big change in the world if we use SAP's impact to make identity privacy a standard."

Gigya has previously raised $104 million in seven funding rounds from investors such as Intel's investment arm Intel Capital, Adobe Systems Inc., San Francisco-based venture capital firm Benchmark and Owings Mills, Maryland-based venture capital firm Greenspring Associates. The company's last round, in 2014, was according to a company value of $300 million.