Agritech Focused Venture Capital Fund Raises $105 Million
Santa Monica-based Pontifax AgTech Management is the fifth fund of the Israel-based Pontifax Group
Santa Monica, California-based venture capital firm Pontifax AgTech Management announced the closing of its first fund, the Pontifax Global Food and Agriculture Technology Fund, on October 12.

The fund's commitments, totaling $105 million, came mainly from financial institutions, university endowments, investment firms, large-scale growers and family offices.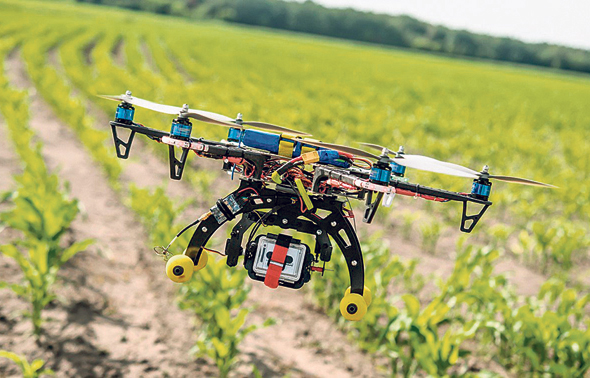 Crop spraying drone (illustration)

Founded in 2014, Pontifax AgTech is the fifth fund of the Pontifax Group, an Israel-based life sciences investment firm that was founded by Eli Hurvitz, former CEO of Teva Pharmaceutical Industries Ltd. Pontifax AgTech invests globally in businesses with proven technologies in the fields of agricultural productivity, nutrition, health, sustainability and supply chain efficiency.

Pontifax AgTech's portfolio currently includes five companies: Durham County, North Carolina-based crop protection startup AgBiome, Florida-based plant nutrition company Anuvia Plant Nutrients, Berkeley, California-based gene editing technology company Caribou Biosciences Inc., Minneapolis, Minnesota-based farm management software company Conservis, and Blue River Technology, a robotic crop management platform acquired by John Deere for $305 million in September 2017.

"Food demand is increasing dramatically, with global population trending to 10 billion by 2050 and increasing per-capita consumption. In contrast, the agriculture supply chain is confronted by declining resources and increasing sustainability pressures," said Phil Erlanger, co-founder and managing partner of Pontifax AgTech.

"Significant innovation is critical to address these market dynamics," he added. "We see numerous opportunities to invest in disruptive technologies which add value to the agricultural supply chain."

During the first quarter of 2017 $216 million were invested across more than 50 deals involving agritech companies, according to a May report by venture capital database CB Insights, making it the most active quarter in the field since 2013.