Israel's Flagship Company Stayed its Course
The share price of veteran cybersecurity company Check Point reached a record-breaking $120 over the weekend
Tel Aviv-based Check Point Software Technologies Ltd. has long been considered one of the strongest players in the Israeli tech industry. But just two years ago, analysts were concerned that the cybersecurity veteran was losing its advantage. Check Point's competitors grew stronger, while the company that pioneered Firewall technology appeared to be struggling to adjust to a new reality in which hackers often had the upper hand.

Then Check Point pulled itself back up. The Company bought two cybersecurity startups, adopted an aggressive sales strategy and managed to surprise even its harshest critics with a nearly 50% rise in share price. This weekend, Check Point's Nasdaq stock reached a record price of $120, making Check Point the highest valued Israel-based public company at a market capitalization of $20 billion. The company last held this position in 2000, with a market capitalization of $25 billion, just before the dot-com bubble burst.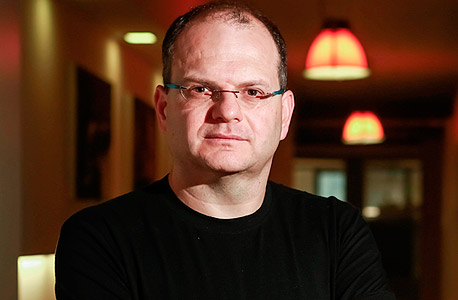 Check Point CEO and Co-Founder Gil Shwed

Founded in 1993, the company is considered an Information security market leader. Ever since it regained its footing after the market crash in 2000, it had been growing slowly but surely.

In 2014 Target reported massive theft of customer data, including addresses, personal information, and the details of 70 million credit cards, triggering a hike in cybersecurity investments.

"Investors saw Check Point as a mature company with limited growth capabilities," Sergey Vastchenok, Managing Director at Oppenheimer & Co. investment house, said in an email sent to Calcalist. Companies like FireEye Inc. which had a fracture of Check Point's sales and was registering heavy losses, neared the latter's market capitalization.

"Everyone ran after 'hot' stocks of younger companies," Mr. Vastchenok recalled.

According to Mr. Vastchenok, the cybersecurity market had since begun turning to a more holistic approach to cybersecurity. Instead of looking to a number of small companies, each one providing a specialized solution and building a security platform made up of multiple security patches from multiple sources, companies began favoring integrated solutions provided by a sole company.

"Organizations likely had difficulties integrating multiple systems and moved on to focus their security investment on a few leading companies that provide a complete cybersecurity platform, such as Check Point, Palo Alto Networks, and Cisco," Mr. Vastchenok said.

In February 2015, Check Point announced it reached an agreement to acquire Tel Aviv-based Hyperwise, a cyber company that developed a CPU-level threat prevention engine with a higher capture rate of threats during the earlier phases of an attack. Two months later, Check Point acquired mobile information security company Lacoon Security, another Tel Aviv-based startup.

In addition to acquisitions, the company invested heavily in research and development. In 2016 it introduced Sandblast, a real-time malware protection capable of isolating and virtually inspecting potential threats before they enter and damage the network. The technology, called sandboxing, was pioneered by Check Point competitor Fire Eye, which saw its stock price drop by 50% following Check Point's introduction of its competing product.

The company is known to practice share buyback to provide value to its shareholders, a policy adopted by Check Point in 2003. Two months ago the company reported a plan to buyback shares at a value of up to $250 million per quarter. In May 2016, Check Point announced a plan to buy its own shares at a value of $1.5 billion, a tenth of its then market capitalization. In 2015, the company bought its own shares for $1.23 billion. SInce 2003 the company has acquired 144.9 million shares for $6.3 billion, and it currently owns 162.8 of its own shares, leading to a decrease of 36% in the company's share number since 2005.

Gil Shwed, co-founder and CEO of Check Point, has been vocal regarding the fact that he made the majority of his personal fortune from stock options and not from drawing a salary. Mr. Shwed has been listed on Forbes' the 100 Richest Tech Billionaires in the World list multiple times. In August 2017 he was listed at the 85th place, with a personal fortune valued at $2.9 billion.

About 45% of Check Point's 4,280 employees are based in Israel. In the last quarter, Check Point's strong Israeli ties had a meaningful impact on the company's bottom line, when despite consistent growth the company's stock dropped by 7% in one day.

"The final day of each quarter is responsible for about $30 million of the revenue," Mr. Shwed said at a press conference. "We found out that the last day of the third quarter of this year fell on Yom Kippur, and so we lowered our forecasts by $15 million. I hope we can explain this situation to U.S. Analysts." U.S. analyst apparently failed to understand Mr. Shwed's unique predicament - Yom Kippur is the Jewish Day of Atonement, the holiest day of the Jewish calendar, and in Israel it marks a complete, 24-hour market shut down - and sent the stock price down.

In its last quarter, Check Point reported revenues of $459 million, an 8% hike compared to the same quarter last year. Its operating profit was $248 million, leading to a net profit of $212 million, or $1.26 per share, a 16% hike compared to last year. Additionally, the company had more than $3.8 billion in cash.

Check Point's reported an increase in revenues due to robust demand for its products following an increase in high-profile cyber attacks in recent months. Another reason for its growth trend is the April launch of the Infinity security platform, capable of integrating a variety of the company's cybersecurity products.

"Very interesting," is how Mr. Shwed summed up 2017's second quarter in statement earlier this year. "The May 12 cyber attacks on hospitals in the U.K., factories in France and a car manufacturer in Japan - these are things you don't see every day. The worm is spreading fast, causing damages all over the web, and this is exactly what everyone is afraid of."

"Our message is that you can prevent these attacks, contrary to the industry's position that these attacks are inevitable," Mr. Shwed said then. "There are over 1000 cybersecurity companies, and most of them work to manage the damages," he added.

In two weeks Check Point will publish its third-quarter results, and analysts are optimistic. "Recently we researched 20 distribution channels for Check Point in the U.S. and Europe, and based on the data we collected we predict the company will meet the consensus forecasts - revenues of $450 million with a potential for positive surprise," said Oppenheimer & Co. Investment House.