Ofo Launches Israeli Bike-Sharing Pilot
On Monday, Chinese bike-sharing company's service started operating on the campus of Israeli University Bar-Ilan
The yellow bicycles of Beijing-based bike-sharing company Ofo are now available to students roaming the campus of Israeli University Bar-Ilan, located in the greater Tel-Aviv area and chosen as the company's first operational site in Israel.

On Monday, Ofo launched its pilot in the country with just 100 bikes, but plans to deploy 1,000 bicycles in Israel by the end of the year, Ofo said in the announcement.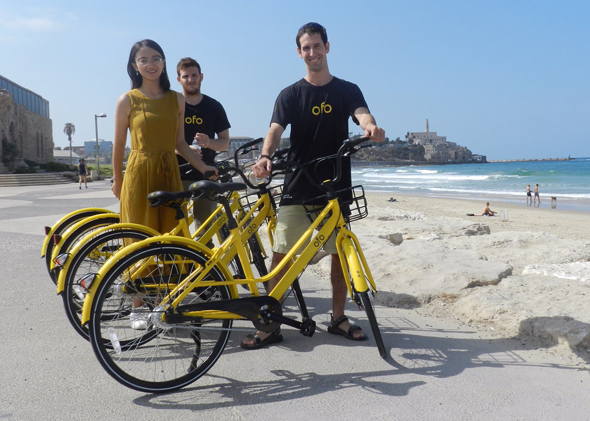 Ofo rental bikes

The company has been at the center of far-reaching changes in China since it was founded in 2014, motivating a switch from cars to ride-sharing and bicycles sharing services. Counting around 20 million rides per day just in Chinese cities, Ofo said it operates over 10 million bikes in more than 180 cities, with 200 million global users. In July the company announced $700 million in a funding round led by Alibaba.

"Israel is an important part of our global expansion strategy," said Ofo's founder and CEO Dai Wei in the announcement. The company's intention to enter the Israeli market was first reported by Calcalist in July.

"Ofo is committed to bringing our services to every city that needs green, convenient short-distance transportation solutions," Mr. Wei added.

Tel-Aviv already has a bicycle rental service called Tel-O-Fun, used by many of the city's residents. The service was developed in collaboration with German railway company Deutsche Bahn AG and is operated by Tel Aviv-based FSM Ground Services Ltd.