INSPIRE
Community Health is the Future of Medicine, says 19Labs CEO
Medical devices and advanced sensors increasingly allow doctors to diagnose and treat from afar, says Ram Fish
Healthcare practitioners working at local clinics within communities will be instrumental to the future of the medical field, said Ram Fish, the founder and CEO of Menlo Park, California-based 19Labs, which is developing a digital first aid kit called Gale.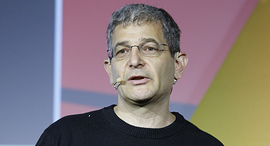 Ram Fish, CEO of Labs19

Mr. Fish predicted that within the next ten years, machines will be able to conduct many of the medical tests and treatments that now require a patient to visit a hospital, and doctors would make diagnosis and prescribe treatment from afar. As an example, an ultrasound could be performed at home with the help of artificial intelligence, with such devices costing as little as $100.

"We will have better medicine," he said "This is not just for us but also for places like Africa, China, and India where there isn't always a doctor 10 minutes away."

Fish previously led the iPod group at Apple and was in charge of Samsung's health tracking gadget Simband.