INSPIRE
Israel on Track for a Record $100 Billion in Exports in 2017
Technology development services and an increase in trade with Europe are driving the country's export up
Israel is projected to export more than $100 billion worth of goods and services this year, which would mark 2017 as a record year, said Ramzi Gabbay, the chairman of the Israel Export & International Cooperation Institute, yesterday at Calcalist's annual conference about trends in digital and mobile.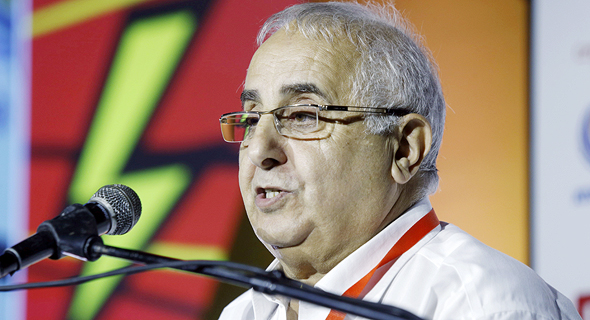 Ramzi Gabbay, chairman of the Israel Export & International Cooperation Institute

Israel's technology industry has been the leading factor driving the growth in Israeli exports this year, according to an August report from the governmet-run Israel Export Institue. Exports of technology services totaled $11 billion in the first half of 2017, a 6.5% increase from the same period last year. Exports of tourism and transportation services have also seen growth.

With a 14% year-over-year increase, export to EU countries was a significant factor behind the record level of exports in 2017. Export to Asian countries and sub-Saharan Africa declined while exports to Latin American have stayed stable.

Israel's exports have grown from 39.3 billion in 2002 to a high of $99.4 billion in 2014, according to World Bank data. The steep increase in exports from Israel over the past 15 years has been driven by the robust growth of the country's technology industry. Multinational tech companies like Intel, IBM, and Microsoft have have opened up research and development centers here and Israel recognizes their activity as exported services.

Mr. Gabbay warned that the presence of multinationals drives local wages up, incurring higher costs on Israeli companies. "We have a problem," he said, "we are talking about investments by multinationals in Israel, but the question is how beneficial this is."

Aiming to encourage Israeli exporters, the Israeli central bank has been buying up dollars in an attempt to shore up the exchange rate in favor of the American currency. While being paid in dollars, exporters pay local employees in shekels, and by driving the Israeli currency down the central bank helps these businesses widen their margins.

Speaking on the main stage of Calcalist's conference Monday, Mr. Gabbay announced he would soon be stepping down from his position at the agency after serving three terms as chairman.