INSPIRE
Mobile Web is Winning, Says SimilarWeb's CEO
Smartphones and tablets have become "an app cemetery," said Or Offer, founder, and CEO of the digital market intelligence company
Mobile web is winning, and native apps are losing, at least in the long run, according to Or Offer, founder, and CEO of digital market intelligence company SimilarWeb Ltd. Mobile may be undergoing the same transition that have already seen client-side software products intended for PCs transformed into web applications, Mr. Offer said speaking at Calcalist's seventh digital and content conference held in Tel Aviv Monday.

Smartphones and tablets have become "an app cemetery," said Mr. Offer, adding that the need to update apps frequently makes native apps less attractive to developers.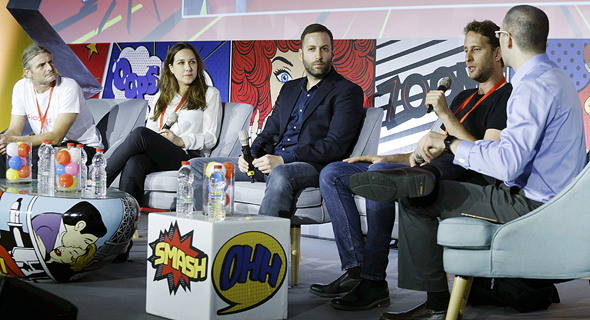 From the left: Ben Enosh, Natalie Refuah, Pini Yakuel, Or Offer, and Omer Kabir

"We forecast that when the world moves from 4G to advanced future technologies, there would no longer be a need to download apps and everything would be web-based," Mr. Offer concluded.

Ben Enosh, co-founder, and chairman of audio content indexing startup AudioBurst Ltd. concurred with Mr. Offer. "There are 3 billion people who are joining the web who were never connected before and did not go through the same web usage evolution that we all did," Mr. Enosh said speaking on the panel, adding that he predicts that the web would move towards simplified interface and that apps would become obsolete.

"At the end, it is a game of computing power and user experience," said Pini Yakuel, marketing company Optimove Marketing Ltd., another panel member. "Google advanced the web, and it made such strides that our browsers have become a seamless operating systems (OS) that we can do almost anything on. The web is not there yet, but I think in future 90% of apps would move to exist on the browser," Mr. Yakuel said.

"Almost every startup today knows it will be difficult to get funding for just an app," said Natalie Refuah, a partner at Israel-based late-stage venture capital fund Viola Growth, speaking on the same panel.