Cybersecurity Foundry Team8 Reveals New Cyber Startup
Called Sygnia, the startup will focus on cybersecurity consulting and incident response
Israel-based cybersecurity startup foundry Team8 LLC. announced on Tuesday the launch of cybersecurity startup Sygnia Consulting Ltd., which will focus on cybersecurity consulting and response to complex cyber attacks.

Team8 made the announcement on the floor of Nasdaq in New York City as part of a Cyber event. Former NSA Director Keith Alexander and former FBI Deputy Director Sean Joyce participated in the event, in addition to New York City officials and top Nasdaq, Citigroup, IBM and Intel executives.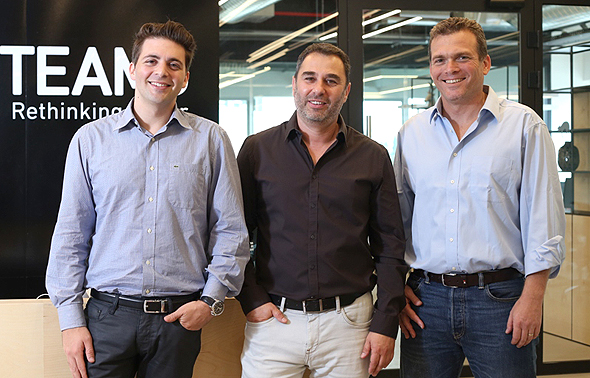 Team8 cofounders Liran Grinberg (left), Israel Grimberg (middle), and Nadav Zafrir (right)

Sygnia is the third cybersecurity startup launched by Team8 since it was founded in 2014. The foundry has launched Illusive Networks Ltd. and Claroty Ltd., both in 2014. Team8 did not disclose financial details about Sygnia, which has been stealthily active for two years.

Team8 was co-founded by CEO Nadav Zafrir, a former commander of unit 8200, the Israeli army's signal intelligence unit. Co-founder Liran Grinberg serves as the foundry's chief marketing and business development officer. Israel Grimberg, another co-founder serves as the foundry's chief innovation officer. Team8 is backed by multinationals including Microsoft, Cisco, Intel, and Singapore's governmental holding company Temasek.

Earlier this month, Calcalist reported that Israeli entrepreneur Yuval Shachar had joined Team8 as a partner following his departure from Innovation Endeavors, a venture capital firm owned by former Google CEO Eric Schmidt.

"Cyber threats are constantly growing in volume, velocity and sophistication," said Shachar Levy, founder and CEO of Sygnia in the company's announcement. "When an organization is confronted with an advanced attack, it needs the strongest capabilities on its side. In many cases, an incident response engagement is in fact a battle within a network. The operational art, experience and speed of our response teams can mean the difference between a minor blow and a devastating impact on performance and reputation."