Couriers Pay Price for China's Roaring Food Delivery Business
In Nanjing, in Eastern China, 2,473 people were killed in 3,242 accidents involving delivery drivers in the first half of 2017
Food delivery is one of China's fastest-growing industries, fueled by the success of meal-order applications that offer a vast variety of dining options, delivery under 30 minutes and couriers that don't expect tips. Behind this thriving industry is an army of motorized couriers, many of whom work migrants from rural China, often riding cheap electric mopeds that do not require a driving license. They are paid low wages, often get involved in car accidents, and some customers even expect them to take out the trash.

Food delivery drivers join the rickshaw couriers who deliver packages for online retailers such as Alibaba. The biggest employers are apps include Ele.me, founded in 2008 by Shanghai Jiao Tong University students, Beijing-headquartered Meituan, and Baidu Inc.'s food service Baidu Waimai. Couriers working for different companies are distinguishable by the color of their shirts: yellow for Meituan, blue for Ele.com, and red for Baidu.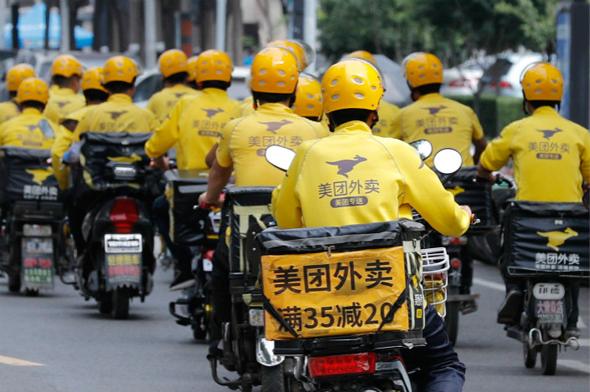 Meituan motorized couriers in China

In September, Reuters estimated there are about three million delivery drivers in China today. A few years ago, these drivers would have likely gone to work at China's many factories. The move is mirroring the transformation of the Chinese economy, from dependency on mass production to a service-based economy. While new, these service jobs aren't necessarily better than the old factory jobs.

Similarly to factory workers, couriers work long hours for low wages and have a low social status. In many cases, these couriers aren't employed directly by the companies whose branded shirts they wear, but by subcontractors.

295 million people in China used food delivery services during the first half of 2017, according to data published by the China Internet Network Information Center (CNNIC), a Chinese government research institute. This number represents an increase of 41.6% from the second half of 2016. Market leader Meituan, which also sells movie tickets and provides restaurant ranking and coupons, is valued at $30 billion. It is ranked the fourth highest valued startup in the world, ahead of Airbnb, Inc. and Space Exploration Technologies Corp. (SpaceX). Only Uber Technologies Inc., Didi Chuxing and Xiaomi Inc. have higher valuations.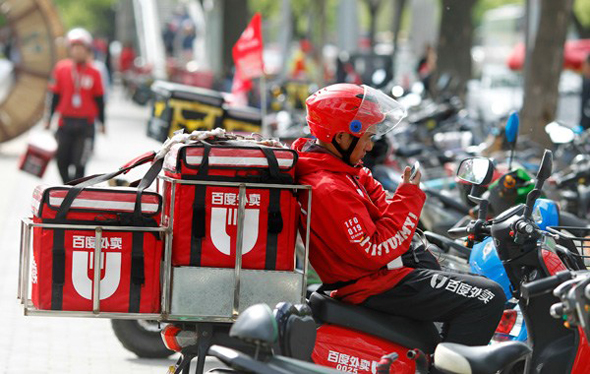 Baidu couriers in China

According to a survey published earlier this year by Beijing Jiaotong University in collaboration with AliResearch, Alibaba's research arm, about 80% of couriers in China work shifts of over eight hours, and during peak demand time shifts can be as long as 12 hours. More than half of delivery companies in China reported they pay drivers 2000-6000 yuan a month ($300-900), in a payment system based on the number of packages or meals delivered, with fines charged for lost packages, late delivery or bad reviews.

Food delivery drivers endure the highest pressure. Delivery applications let users follow, in real time, the progress of the courier from the moment the order is taken. Any deviation from the fastest route could cost a courier review points and fines. The dependency on positive reviews compels drivers to adhere to customers' excessive demands. It is not unheard of that customers would expect delivery drivers to run errands or throw out the trash.

In Nanjing, in Eastern China, 2,473 people were killed in 3,242 accidents involving delivery drivers in the first half of 2017. In Shanghai, police warned representatives of delivery companies over an increase in traffic accidents involving couriers.

According to the China Labour Bulletin, a Hong Kong-based non-governmental workers rights organization, food delivery drivers are increasingly protesting their work conditions, paychecks and lack of insurance. Taxing work conditions lead to high turnover. The Beijing Jiaotong University survey found that half the drivers have been with their current employer less than a year.